Yo-Yo Ma and Emanuel Ax, Barbican Hall |

reviews, news & interviews
Yo-Yo Ma and Emanuel Ax, Barbican Hall
Yo-Yo Ma and Emanuel Ax, Barbican Hall
Chopin and Schumann in an unusual view as cello composers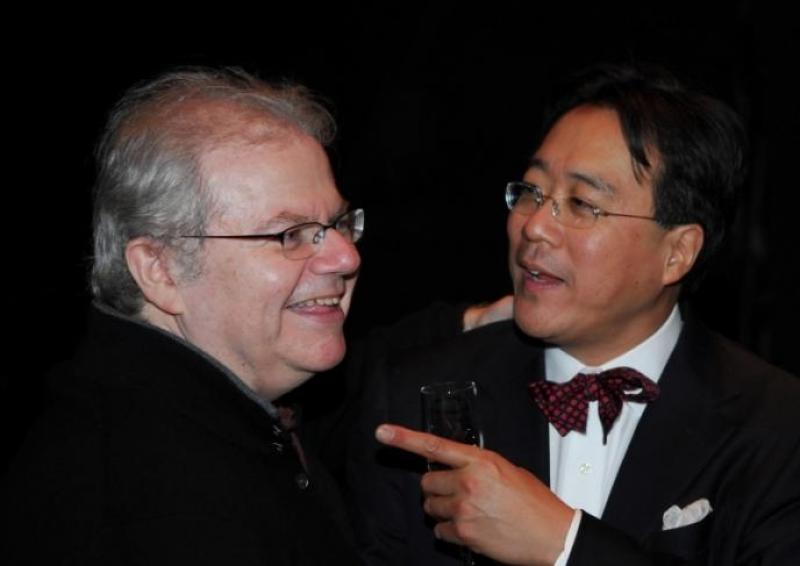 Emanuel Ax and Yo-Yo Ma: 'There appears to be an uncommonly warm and smiling relationship between them'
In every partnership there is a leader, and it's not always the featured name. While the hall was packed with Ma followers for this rare cello-and-piano recital, what emerged was a richly sensitising foretaste of what the Emanuel Ax residency is going to offer over the next fortnight. This is one marvellous pianist.
But then Yo-Yo Ma is an excellent cellist too, and their programme of Schumann and Chopin either side of a new commission for them by Peter Lieberson displayed Ma's very amiable personality and light touch, and indeed what appears to be an uncommonly warm and smiling relationship between him and his pianist. Like two great friends who go on holiday together, they beamed at each other, clasped each other around the waist as they bowed, and in their playing too showed the uniting power of chamber music in just such a fashion as Schumann and Chopin must have intended in those salons of the 1840s.
This is good stuff, strongly suggestive, rhythmic, barbed and textured
The two composers were born in 1810, and both died young, both wonderfully deft and gifted at the salon piece, miniatures as sweetly capricious as frowns and smiles, moods gusting past in a trice. Both of them can be long-winded on sonata scale, but Schumann's fantasies and Chopin's dances are jewels of music, minutely faceted, each one radiant with its specific emotional light. Both of course were pianists above all, but the cello was Schumann's second instrument, and Chopin's close friend was a cellist. Both therefore wrote enthusiastically for the instrument (even if some of the compositions had to earn their keep by being equally transcribable for other instruments).
Of the three Schumann pieces here only one, the Five Pieces in Folk Style, was written specifically for cello - the Adagio and Allegro was for amateur horn-players, and the Fantasiestücke Op 73 was a multi-tasker for piano with violin, clarinet or cello. The timbre of the instrument has a very strong effect on how you hear a piece - the cello is a mood-shifting instrument, a capricious, thin-skinned wail one moment, a blustering harrumph the next, yet able to feather and taper phrases in a second that a wind instrument must blow steadily through. If you know the confident clarinet sound in the Fantasiestücke, the paperiness, even the touchiness of the cello makes a strange jolt. Ma has the textural variety and fine intonation from bottom to top of his instrument, but for much of this recital I felt him ceding to Ax the territory of fantasy and rich allusiveness, while he supplied a more conversational cello narrative.
This doesn't, for me, suit Schumann. He took to the cello after he damaged his right hand trying to enlarge his reach, and although he wrote only two works specifically for the instrument, the cello concerto and the Fünf Stücke, they possess an unforced, darkly coloured lyricism that often evokes fears and sickly shadows. Schumann gets the cello's comic side too - the Fünf Stücke start with a guffaw that can't be imagined on a higher instrument, and the Brahmsian tread and sway of the Stark und markiert fifth piece spans visceral bottom notes and an almost falsetto range. Ma's genial and basically untroubled soul was not quite the involving musical personality needed, especially in the haunting third piece. Fortunately Ax was, his rubati and exact judgment of volume adding poetic suggestion, bitterness and sweetness.
There's a much more conscious display of Ma's wide-ranging style in Peter Lieberson's splendid new sonata for him and Ax, Remembering Schumann, which had its UK premiere here and surely will be seized upon by cellists everywhere - perhaps even with more personality than Ma. It's like Weill at first, a dark, unsettling piano thudding under high cello harmonics, then reversing the dynamics with deep stabbing bass notes on cello and some haunting soft piano effects. This is good stuff, strongly suggestive, rhythmic, barbed and textured, with flavours of jazz alongside its Schumann quotes, the shortness of its phrases in the Schumann spirit.
As I say, Ax was constantly beguiling, but it seemed to me that we didn't fully meet the real Ma until Chopin. The Pole's dancing pulse is sunnier and more limpid than the halts and turns of Schumann, and possibly Ma takes to this more instinctively. At any rate, the Introduction and Polonaise brillante (a showstopper composed in 1830 when Chopin was 19) crackled with virtuosity from both players, double-stop trills, scales skittering upward like squirrels up willows.
Still, it was not until the last piece, Chopin's Cello Sonata (1845), that Ma and Ax reached complete accord and equality in the rich melodious weave of Chopin's tapestry, Ma's tone ringing out in equal power and long, caramel-soft phrases, his cello part given an autonomy in dialogue with the piano not fully released in the Schumann. At some transcendent point time seemed to freeze, Ma commanding silence with whispering tone, and Ax pouring gentle waters quietly beneath him. Inevitably, after the long, fulfilling Allegro and the salty Scherzo, one felt that Chopin hadn't got enough to offer for two more sections, but never mind, the climax had been achieved.