The Blind Side |

reviews, news & interviews
The Blind Side
The Blind Side
Sandra Bullock's Oscar-winning turn is the heart of a feelgood movie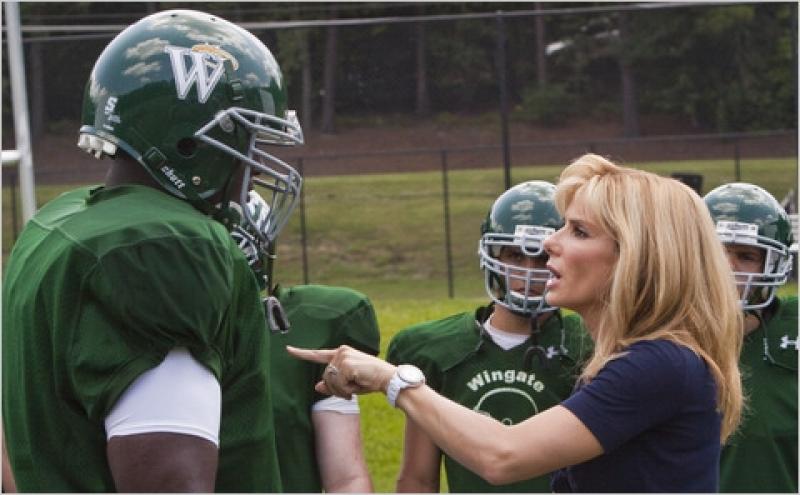 Quinton Aaron (Michael Oher) and Sandra Bullock (Leigh Anne Tuohy): reassuring feelgood redemption or deeply racist?
John Lee Hancock's film is a fairly straightforward adaptation of Michael Lewis's biographical book The Blind Side: Evolution of a Game. Michael Oher is virtually homeless when Leigh Anne spots him wandering the streets of suburban Memphis one freezing night, dressed only in shorts and T-shirt.
When her daughter Collins (Lily Collins) tells her he attends her Christian private school (because of his bulk, the gridiron coach had persuaded the school's governors to offer him a free education), Leigh Anne invites him home for the night. But what was a simple offer of a bed becomes a lifetime commitment as the Tuohys learn Michael's backstory in Memphis's mean projects; he is literate but cannot settle in a classroom, having attended 11 schools in nine years. He is one of 12 children, his father is dead and his mother a crack addict, and he is severely introverted.
We soon realise that Michael and the Tuohys are both benefiting from this arrangement. They become his guardians, he thrives through learning to play American football, and they encourage him to have ambitions of gaining a college scholarship, while they learn something about the responsibility that comes with fabulous wealth and privilege. But Michael's grades are abysmal, so they hire tutor Miss Sue (Kathy Bates) who has one of the film's best lines, which feeds another. Seated in the Tuohys' Southern mansion, deep in all-white Republican territory, Miss Sue accepts the job with the words, "There's something I have to tell you... I'm a Democrat." Later Leigh Anne's husband, Sean (country singer Tim McGraw), says, "Who ever thought we would have a black son before we knew a Democrat?"
But it isn't a first-straight-to-last-base (to introduce a different sporting metaphor) success story, as conflict comes when college authorities question whether the Tuohys have put undue pressure on Michael to accept a place at their alma mater, where they met and to which they donate considerable amounts of money. It's in this segment that we can question whether Leigh Anne's actions are driven by a truly Christian ethic or because she's a control freak. We see also the sneering, racist hypocrisy of some of Michael's teachers and Leigh Anne's Southern-ladies-who-lunch friends. While they push $18 salads around their plates, one of them asks, "Aren't you worried about a black boy sleeping in the same house as your teenage daughter?" It's a shocking, horrible moment.
Quinton Aaron as Michael, who says very little but is required to do a lot of acting, has a beautifully expressive face and manages to convey a huge range of emotions - love, disappointment, confusion, anger, to name a few - with just a flicker of his eyes or a shift in his body. When we first meet him he looks lumpen; when he is delivered by the Tuohys to his new college he has grown into his bulk and has already begun changing into the commanding athlete he now is. Oher graduated last year with a degree in criminal justice and now plays for National Football League team the Baltimore Ravens.
This is the role of Bullock's career, and McGraw gives great support as Sean, who has long since learned that his force-of-nature wife is best allowed to have her own way. Jae Head provides much of the film's humour as their young son, SJ, delighted to have gained a big (in every sense) brother overnight and I'm delighted to report that his scenes, while always touching, are never cutesy.
And back to the racist charge. Unless you are willing to accuse Oher - who cooperated with the makers of this movie and news footage of whom appears at its end - of being a self-hating African-American (and he's a big guy, so I wouldn't), then you have to accept this is a true story with which some dramatic licence has been taken. Rather,
The Blind Side
neatly exposes America's two-nation statehood, which divides just as much along class as colour lines. More disturbing for many is that the film shows what their faith demands of a true Christian (or, for that matter, a Jew, a Muslim, a Buddhist, etc) when they are faced with someone who desperately needs their help. And the possibility of faith-based humanity being a force for good sits uneasily with some, I believe. For the rest of us, however,
The Blind Side
can (odd awkward moment aside) be enjoyed as something Hollywood does reassuringly well - the redemptive, feelgood movie.
The Blind Side is on nationwide UK release from Friday.

Explore topics
Share this article