Green Zone |

reviews, news & interviews
Green Zone
Green Zone
Do Matt Damon and Paul Greengrass shake off the Bourne legacy in Iraq thriller?
Green Zone's director Paul Greengrass (left) with Matt Damon
It seems both Matt Damon and director Paul Greengrass felt it was time to leave the Bourne franchise on the shelf for a while, fearing they would corner themselves into making The Bourne Redundancy. Instead, they have transposed their working partnership into this Iraq war saga.
The result is a fast-moving conspiracy thriller, but with an underpinning of
actualité
in the way Greengrass alludes to a war waged on a false premise, and spotlights the criminal ignorance and stupidity of American attempts to rebuild Iraq. These latter aspects of Brian Helgeland's screenplay derive from the book
Imperial Life in the Emerald City: Inside Iraq's Green Zone
, by
Washington Post
correspondent Rajiv Chandrasekaran.
How successfully those different dimensions fit together is the film's thorniest issue, but Greengrass is yet again on sizzling form as an action director, and if you switch off your brain and buckle up, Green Zone is a brilliant thrill ride. Combat sequences are captured with such sweaty, spine-rattling immediacy that you emerge from the cinema with sand in your boots and smelling of cordite, while Greengrass makes the ground quake as he choreographs helicopter ballets thunderous enough to make the British army sick with envy. The opening sequence of the "Shock and Awe" assault on Baghdad in 2003 is a mini-coup in itself, introducing the key character of General Al-Rawi as he scuttles for shelter from cruise missiles, then pulling back to a widescreen panorama of the night-time city lit up by flares, anti-aircraft fire and immense gold-coloured detonations.
Then we cut to the aftermath. Baghdad is stunned and smouldering, George W. Bush is congratulating himself on a resounding military victory, and hordes of technocrats, spooks and military personnel are installed in Saddam Hussein's former palace in the so-called Green Zone. The Zone is a world of delusion and wishful thinking, wholly disconnected from the wrecked and struggling country outside.
Prominent among the American officials is the Pentagon's Clark Poundstone (a nod to the secret Treadstone programme in the Bourne movies, perhaps?), played by Greg Kinnear in stony "don't bother me with the facts, my mind is made up" mode. Damon plays Warrant Officer Roy Miller, leader of MET D (Mobile Exploitation Team Delta), who have been tasked with finding the weapons of mass destruction which provided the pretext for the invasion. When Miller's team keep homing in on the map locations where intelligence briefings tell them those WMDs – or "WMD", as Miller punctiliously calls them - should be, they can't find 'em.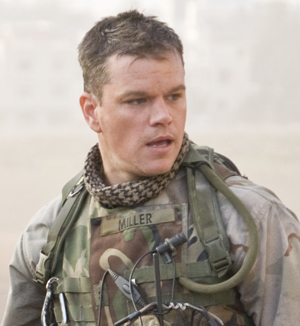 Miller is an earnest, conscientious soldier, and being supplied with worthless intel which is costing him casualties is an affront to his professional pride. He raises objections with his superiors, but is told to shut up and follow orders. Then he meets rumpled CIA station head Martin Brown (Brendan Gleeson, looking as if he just fell out of a tumble dryer), who shares Miller's suspicions that something is amiss. It's the trigger for Miller to go "off the reservation" in pursuit of the facts. As he hunts the mysterious intelligence source Magellan and is drawn into the murderous factionalism of post-war Iraq, he finds conspiracy, lies and corruption.
Greengrass has worked diligently to integrate the film's brain and body, and he's well served by Damon's ability to convey unflashy integrity and dogged determination. He only starts coming unstuck when the conventions of a big-budget Hollywood actioner demand closure and symmetry. This isn't a problem in the wholly fictional Bourne world, but becomes tricky in a film with recognisable entanglements with real-world events. There are obvious parallels between the Poundstone character and Paul Bremer, George Bush's original Baghdad placeman who left a legacy of chaos and managed to "lose" $9bn in cash. Likewise, the Wall Street Journal reporter Lawrie Dayne (Amy Ryan) who has been gullibly recycling Poundstone's WMD propaganda is a ringer for New York Times reporter Judith Miller, who did exactly that in the run-up to war.
But while the real-life players ping-pong around an infinite mosaic of rumours, suspicions and denials, the movie homes in on a handful of characters and a single unambiguous solution. The notion that one noble, rather naïve soldier could unlock the tangle of global politics and multi-billion dollar corporate interests that culminated in the Iraq invasion belongs in the realm of Robert Ludlum. Green Zone leaves us to chew over some prickly questions, but maybe Greengrass and Damon ended up making The Bourne Inheritance after all.