Women Beware Women, National Theatre |

reviews, news & interviews
Women Beware Women, National Theatre
Women Beware Women, National Theatre
Thomas Middleton's blood-soaked tragedy smolders but doesn't catch fire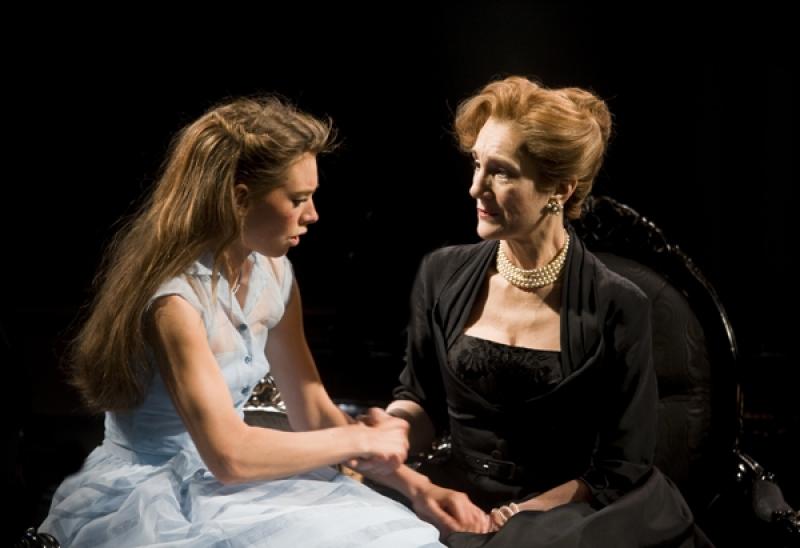 Vanessa Kirby as Isabella and Harriet Walter as Livia: 'the use of sexual power is itself an aphrodisiac'
The recent fuss about British culture being anti-Catholic just because some civil servant wrote a spoof memo satirising the Pope's upcoming visit may have been overblown, but it is certainly true that, in the past, Italy was a byword for rank corruption. To doughty English Protestants, Rome was a stew of sin and Italians were Machiavellian plotters and idolators.
Little wonder that Thomas Middleton's 1621 tragedy, a large-stage revival of which opened yesterday, is brimful of illicit sex, cunning intrigues and vicious revenge - and set in Renaissance Italy.
We are at the Medici court ruled by the lascivious Duke of Florence. When, during a procession, he catches sight of young Bianca, the new bride of Leantio, he asks Livia, a mature widow who has already buried two husbands, to help him seduce her. In fact, Livia is quite busy. She has already been called on by her salacious brother Hippolito to help him seduce young Isabella, engaged to be married to a rich young fool. Since Hippolito is Isabella's uncle there's a strong whiff of incest to add to the pervading atmosphere of lust. Yes, this is a show where desire is never simple: it is usually perverse, corrupt and evil.
Middleton's Livia, played with enormous relish by Harriet Walter, is an arch schemer and seductress. For her, the use of sexual power is itself an aphrodisiac. But when she falls for Leantio, the sexual politics of the 17th-century world count against her. Women should, if the play's title is right, rightly beware of scheming women, but, in the end, it's the men who rule the roost. Still, Walter's Livia is a fab superbitch, half Grace Kelly, half Cruella De Ville, her husky voice sometimes imperious, sometimes rasping, always seductive. So enjoyable is her performance that you almost forget how deeply unpleasant her character is: a procuress who preys on 16-year-old girls.
All the characters get some good lines. Middleton's text is full of comments such as "Sin tastes, at the first draught,/ like wormwood water/ But, drunk again, 'tis nectar ever after." Now, I must admit that I've never sipped any wormwood water but, judging by the effect that sin has on these aristos, I'm rather glad. This is a play of loud passions and cruel revenge, all decked out in glittering metaphors - such as the chess game used by Livia to get Bianca in her clutches - and verbal point-scoring.
Marianne Elliott's production is set in 1950s Italy, a rather predictable and not very interesting choice, with Leantio's mother dressed as a southern peasant while the aristocratic women sport swishing dresses and sip cocktails. For clarity, Bianca is dressed in white and the fool is clownesque. As you'd expect, Livia, at all times, looks terrific. But the huge set, designed by Lez Brotherston, is hard with marble, lit by huge chandeliers, and heavy with a sense of oppression. References to Italy's fascistic past fail to add to the play's topicality.
It has to be said that the first half of a long evening is rather slow and unengaging, but sparks do begin to fly after the interval with a bright, sharp and comic banquet scene. There's also a wild episode in which the fool and his mate try to look up the skirts of Isabella. Best of all is the final bloodbath scene, which Elliott has choreographed as a darkening nightmare, all dance movement and complete with some rather charming black-costumed demons, all of whom wear lovely little wings.
As well as Walter, there is good acting from Raymond Coulthard as the ardent and suave Hippolito, Richard Lintern as the powerful Duke, and Samuel Barnett as a fresh and youthful Leantio. Lauren O'Neil's Bianca is more convincing than Vanessa Kirby's Isabella. As a study in the destructive power of greed, Women Beware Women is interesting enough, although in the end I wasn't convinced that there was any good reason for this revival, which smolders well enough but very rarely catches fire.