Gnosis, Akram Khan, Sadler's Wells Theatre |

reviews, news & interviews
Gnosis, Akram Khan, Sadler's Wells Theatre
Gnosis, Akram Khan, Sadler's Wells Theatre
Life-enhancing solos and a haunting dance of death from the Kathak star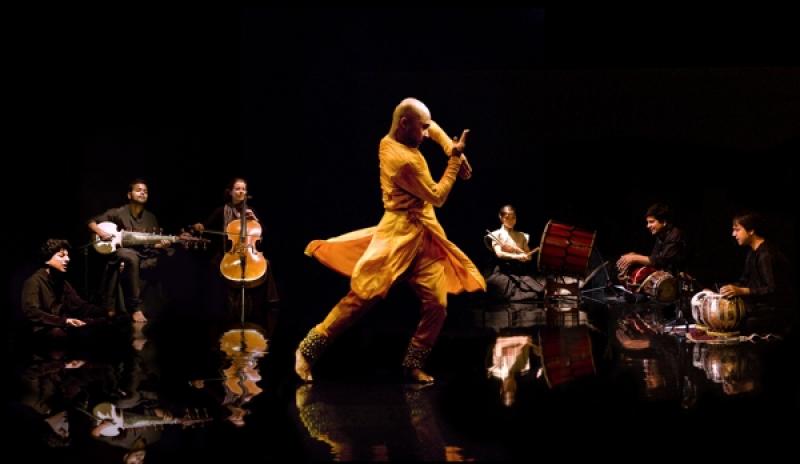 Akram Khan in Gnosis: 'his dancing makes you hear the music so clearly of his five superb musicians'
Gnosis means spiritual knowledge, or recognition. Surely Akram Khan has some unusual intuition about what it means to die, since his latest creation is truly a dance of death and the gods certainly seem to have been bent on preventing it.
It was intended to be unveiled last November, but Khan hurt his shoulder. It was then intended to be premiered in Abu Dhabi - but the sheikh died on the day of the premiere. It was then supposed to be premiered in Oman - but it was cancelled two days before. It was then at last premiered in Istanbul last week - while the Icelandic volcano ash billowed over the skies and doubled the travelling time for all those involved.
So Gnosis made it to Sadler's Wells at last, and if that makes one feel a little more respectful to the gods that is all to the good in experiencing an evening which insistently invokes them. This is a two-part show where British-Asian music and dance fuse across time-eras in Khan's brilliant and epicurean style. Most of the material he in fact did give us last November: the hour-long marathon multiple solos of the first half, the floor-scorching Polaroid Feet, the sharp-chiselled and fascinatingly 3-D traditional-style solo given to Khan by his guru, Sri Pratap Pawar, called Tarana, and the "unplugged" improvisations in which Khan puts on his audience-access hat and talks to us while demonstrating some of Kathak's specific bravura beauties.
Good dance is always about perishability, time urging the step along, the sand running out of the glass, and now Khan is 36 he is becoming bolder than ever with his Kathak eye, resurrecting the old classical body with rejuvenating passions and contemporary fears. When he goes traditional, deep into the north Indian dance form that contains some of the most exciting steps you could ever see, this is sometimes when he is at his most arresting, lithely, dazzlingly expounding the diamond-cut facets of Kathak, playing mind-crunching rhythm games with his tabla player, just by shaking his bare feet or rattling his tongue on his palate.
He has something rarely found now, and he has it in common with Mark Morris and Petipa (the 19th-century classical ballet choreographer), in that all of them etch little specific storytelling moments into sheets of purely exciting dance-as-dance. With fingers as delicate as spider's legs, Khan plucks a daisy, looks in a mirror, mimics a fish with his hand, then suddenly spurts off in a circle of spins, or a flurry of squat thrusts and winding arms. The contrasts alone of soft and hard, microscopic and huge, specific and suggestive, refresh the eye, unused nowadays to Western choreography of such clear oppositions. Images seize your eyes in the currents of his dancing, like flowers floating on a river in flood. In this vein Khan is a treat, especially as his dancing makes you hear the music so clearly of his five superb musicians, with traditional tabla, sarod and Indian vocals partnered by a reticent cello and assertive Japanese taiko drums.
This time round I thought the staging put too much distance between Khan and the musicians, sitting at the extreme sides of the stage, a little too royal and starry for such a very involved chamber collaboration. The stage felt warmer, in fact, when Khan was off changing from his olive tunic to a sunny yellow one, and the band, led by the honey-voiced Faheem Mazhar and tabla master Sanju Shai, played a long, mournful song of rapt melodiousness and little vocal frills, which Khan's father (whom I encountered in the interval) told me was a famous classical song from the Moghul court about memories of love in the moonlight, a royal serenade in a sense.
A cosier first half would have enhanced the jolting impact of the second, the half-hour Gnosis itself. Khan is as much a contemporary London dancer as he is a traditional Bengali one, and this is a compellingly atmospheric and modern-styled telling of an odd story from the Mahabharata about a queen who blindfolded herself for life in order to share her husband's blindness. By doing so, she effectively lost control of her 100 sons who started a lethal war in which they all died. She and her husband then perished in a forest fire, unable to see their way.
Khan has said he was fascinated by the character of this queen, but the story is also a gift to movement metaphors. Soaked in eerie electronic enhancement of the live musicians, the atmosphere's ratcheted up coldly with a wall apparently made of rocks (cunningly cold lighting by Fabiana Piccioli). His masterstroke was to take full advantage of the multiple talents of his drummer, a taiko performer from the Kodo troupe called Yoshie Sunahata, who may be little but she is mighty fiery, able to bring a drum from a whisper to an apocalyptic roar within a few seconds.
The phenomenal happens, something almost supernatural, when his body suddenly seems to be consumed in total physical breakdown
Taiko drumming is highly declamatory in its physical style, with deep sliding pliés from side to side, intimidatingly flourishing arms, and turbo waves of power speeding through the whole body into the stick that whacks those great drums. Sunahata is a mistress of the movements, and Khan has instinctively used her combustible power and elegance to write this complex story for them both. Khan likes to have a contrasting woman around him - ballerina Sylvie Guillem and actress Juliette Binoche have both come to duet with him - and Sunahata, in her black warrior trousers and sharply shouldered white top (designed by Shingo Tokihiro), is his match in many ways, taiko's combination of coil and release making a true counterpoint to his super-smooth unrolling of power.
As the blindfolded Queen Gandhari, Sunahata wields her long white staff to underscore her intense vulnerability, while Khan as her eldest son teases her and gently makes her walk on his body. He takes over her part in the mesmerising final sequence, evoking the death by fire, his hands at first cradling his face, like a mother caressing her child, then more rapidly licking around his head, like flames - until the phenomenal happens, something almost supernatural, when his body suddenly seems to be consumed. He shakes and quivers in a horrendously vivid evocation of total physical breakdown. The body appears to be crackling, drying up, shrivelling and cracking into powder inside the flames, just from an extraordinary harnessing of imagining to incarnation. With Sunahata's aching blindness and Khan's quivering conflagration, Gnosis contains a frightening glimpse into death, and the gods may well have been uncomfortable about letting Khan do it.
With fingers as delicate as spider's legs, Khan plucks a daisy, looks in a mirror, mimics a fish - then spurts off in a flurry of spins
Explore topics
Share this article