Johnny English Reborn |

reviews, news & interviews
Johnny English Reborn
Johnny English Reborn
A little too much stupidity from Rowan Atkinson's idiotic secret agent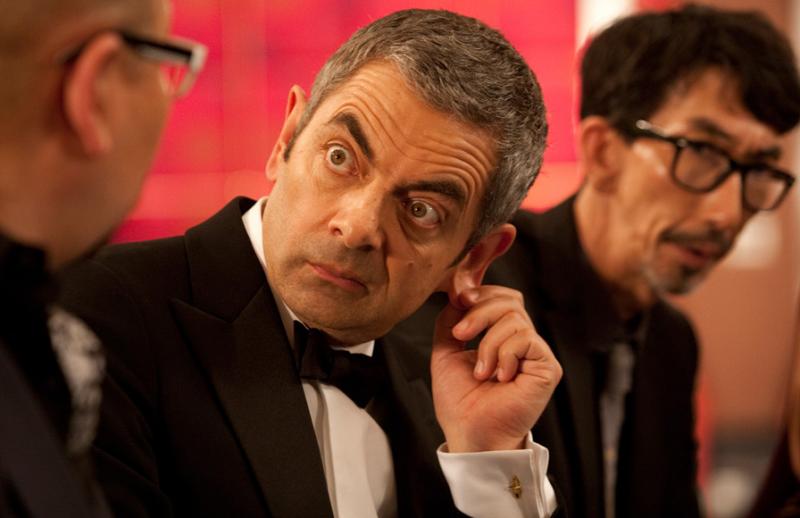 MI7's master spy Johnny English practises his poker face
"Barclaycard? This man's in no state to go shopping!" Thus we remember the credit card commercials which formed the "origin story" of blundering secret agent Johnny English, then known as Richard Latham. Better name in fact, but no matter. Eight years after his big-screen debut, English is back, older and even more stupid.
Here's the set-up. Six years earlier, Johnny English was sacked in disgrace by his employers, MI7, following his bungled effort to prevent the assassination of some president or other in Mozambique (we catch a glimpse of the tabloid headline "Doh-Zambique!"). He retired in shame to a monastery in Tibet, where he learned ascetic self-discipline from a chap resembling a super-ancient Ho Chi Minh, and applied himself diligently to the study of martial arts. Not the least of his attainments is the ability not to double up or even gasp when kicked in the testicles, a feat accomplished by walking around with rocks attached to his tackle (the knives are out for English, pictured below).
So when English is recalled to MI7 to contact an informant (Agent Fisher, played by The West Wing's Richard Schiff) who will speak only to him about a plot to murder the Chinese premier, it is supposedly a wiser, more mature agent who strolls through the refurbished portals of his old alma mater. MI7 has changed too, though not for the better. The sign outside identifies the building as the headquarters of Toshiba British Intelligence, an organisation whose proud motto is "Spying for You".
The screenwriters (all four of them) could have mined much more from this idea of a satire on the intelligence services in an era of budget cuts, cretinous branding and commercial sponsorship, but instead they've settled for a toothless mash-up of spy-movie clichés and a plot that betrays its TV-commercial origins by being little more than a series of random sequences laid end to end. English goes to Macau to find Fisher, who is almost immediately assassinated by the little Chinese cleaning lady who keeps cropping up like a distant, diminished echo of Mrs Meers's white slaving racket in Thoroughly Modern Millie.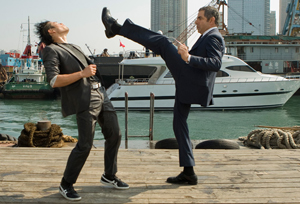 He has an interminable struggle with a hatchet-faced Chinese hoodlum (pictured left), pummelling to death the slender comic idea that the middle-aged English can outwit his younger, faster assailant thanks to his Zen-like philosophical insight. After such diversions as a pratfall-strewn golf match against an unsmiling Russian oligarch and a top-level summit meeting in which English's adjustable chair keeps going up and down to eyeball-rolling effect (pictured below), the denouement plays out in a Swiss mountain-top fortress called Le Bastion. It's On Her Majesty's Secret Service meets Where Eagles Dare, except with forehead-smacking slapstick instead of thrills or pace.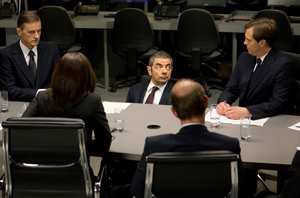 There is the occasional guffaw buried in here somewhere, but mostly it's an opportunity squandered, not least because the film's capable cast are given no space to flex their thespian muscles. Gillian Anderson radiates a force field of froideur as MI7's boss Pamela Thornton (codenamed Pegasus), but is mostly confined to repeated expressions of clenched-teeth exasperation at English's relentless idiocy. The MI7 shrink, Kate Sumner, is played by Rosamund Pike (once a Bond girl in Die Another Day), whose sudden declaration of "feelings" for English in the closing laps feels about as likely as Sir Fred Goodwin donating all his bonuses to charity. Dominic West plays sleek, smooth glamour-agent Simon Ambrose, but behind the brilliant smile there's only a vacuum not trying very hard to get out.
Best value is Atkinson's old Blackadder buddy Tim McInnerny as Patch Quartermain, MI7's equivalent of guns-and-gadgets wizard Q. English asks him how he's been since they last met. With manic jollity, Quartermain explains that he now has two tin legs after problems testing "the B6 exploding brogues", and only one hand thanks to the D10 doorbell. A bit more tasteless humour and black irony could have helped to lift the flick out of its inoffensive child-friendly rut, as would a dose of the low cunning and smarmy malice which Atkinson brought to Edmund Blackadder, but presumably everyone was terrified of losing the PG certificate. As it is, Johnny English is little more than Mr Bean issued with a gun and the power of speech.
Johnny English Reborn is on general release from 7 October
Watch trailer for Johnny English Reborn
A bit more tasteless humour and black irony could have lifted the flick out of its inoffensive child-friendly rut
rating
Share this article