Rick Stein's Food of the Italian Opera, BBC Four |

reviews, news & interviews
Rick Stein's Food of the Italian Opera, BBC Four
Rick Stein's Food of the Italian Opera, BBC Four
O sole mio - the links between Italian cooking and crooning. Or not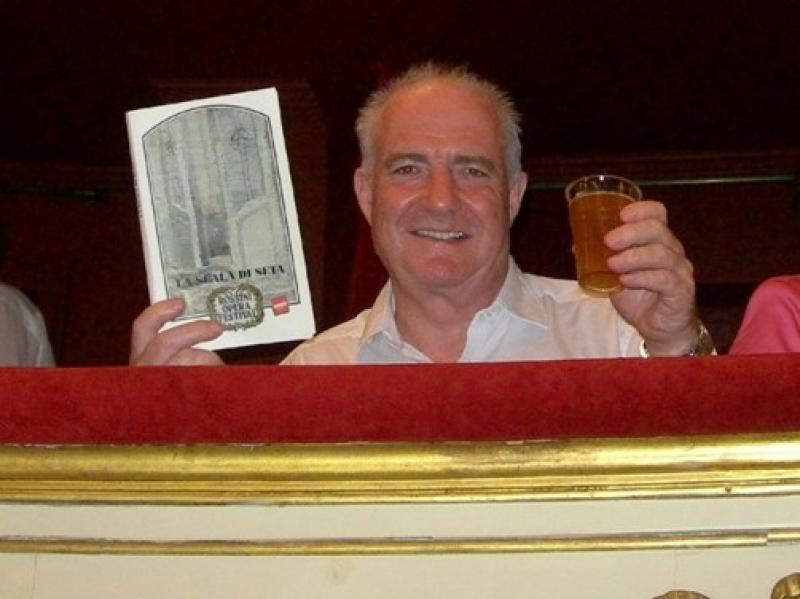 Pasta Verdi? Rick Stein presents 'Food of the Italian Opera'
Golfing for Cats: Alan Coren once invented the perfect book title on the basis that if you combined those who follow the activities of Tiger Woods with those who adore smaller domestic felines, you have a massive demographic primed to buy your last tome. Likewise for TV commissioning editors, there must be something tempting about the high-concept hybrid.
As part of a season designed to interest the Great British audience in the arcane delights of the operatic tradition (
which other shows in the series remind us was born in Italy
), what better way to sugar the pill than to stick a much-revered telly chef in front of the camera to flag up the links – real or presumed – between the triumphs of Italian cuisine and those of Italian opera?
I should immediately declare an interest at this point. Being a long-term fan of both, in the late 1980s I made a pilot inspired by the same crossover: preparing a massive Italian feast, whilst critiquing different arias playing in the background as I chopped and tossed and sautéed. Despite having the most persuasive TV agent in Soho, the answer which came back from the commissioning editors of the day was "too much, too soon". Britain wasn't ready for such a notion.

But 20-odd years later, after a barrage of Italian-inspired cooking series, it most certainly is. Especially when it involves Rick Stein traipsing around various Italian towns, and peering into the flaming frying pans of numerous restaurant kitchens, attempting to flesh out his theory about the seamless link between Italian opera and cuisine.

Cornwall's best-known fish chef enrolled two eminent British specialists in their fields to run his ideas past: UCL Professor of Italian John Dickie, who has written a very well-received work on the history of Italian food, and the conductor and musicologist Charles Hazlewood. Dickie promptly smashed a few romantic tropes, namely how the nexus of Italian cuisine is not the rural idyll so beloved on certain TV chefs' and margarine adverts, but the city, and its noisy, gritty street markets (cut to footage of a cacophonous Neapolitan fish market), and how until the dawn of post-war industrial distribution systems, most Italian peasants lived on very dreary and restricted diets. Sitting in his freezing barn in Somerset, the ever enthusiastic Hazlewood obligingly teased various food references out of the scores of Rossini, an idea promptly seconded by a series of opera singers encountered in Stein's field trip round Italy.

Stein's core thesis – that both Italian cooking and opera both involve "the skilful combination of ingredients, and the common purpose of bringing pleasure to many" - has been described by the BBC as "light-hearted" – which is a kinder way of saying "generic and flimsy", not to mention "superficially researched".

Digging into the table habits of three of Italy's five greatest opera composers, Stein attempted to draw out parallels with their musical output. Rossini was a notorious gourmand, and is now much name-checked in his native Pesaro with dodgy-looking dishes (a standard pizza margherita with a treble clef piped on top in fresh mayonnaise, anybody?) But is this really an homage to his exquisite gastronomic sensibilities, or just a cheap tourist cash in? Stein didn't elaborate.

Likewise, the eating habits of both Verdi and Puccini were dissected, and some of their favourite dishes reconstructed for our benefit. Both were extremely demanding diners, insisting on the best, but was there anything intrinsically "musical" in this? Any similarly wealthy Italian of the period would equally have behaved the same way. Meanwhile, among carefully contrived shots of Chianti-filled balloon glasses on restaurant tables, Stein ran his lightweight notions past heavyweight Italian musicologists, who obliged him with some generic noises in the right direction.

As for Stein's pronunciation of fairly basic Italian words and names, it was sloppy. When you're spending several days surrounded by the locals, filming at his villa in Torre del Lago (at licence fee payers' expense), you don't need to ring the BBC pronunciation unit to learn that Puccini's first name is not JEERcomo but JACKomo. It seems astonishing that a chef making a programme about Italian food doesn't know that the first syllable in tagliolini is not "tag".

There was one glaring omission: no reference to the greatest Italian opera impresario of the early 19th century, the Milanese ex-waiter Domenico Barbaia, who is widely credited with inventing the modern cappuccino and its hot chocolate equivalent. He sold his steaming drinks, along with attendant pasticceria, in the foyers of the opera houses he ran, in much the same way that cinemas sell popcorn today.