Willie Nelson & Family, The Playhouse, Edinburgh |

reviews, news & interviews
Willie Nelson & Family, The Playhouse, Edinburgh
Willie Nelson & Family, The Playhouse, Edinburgh
A night of two halves from the still-powerful country legend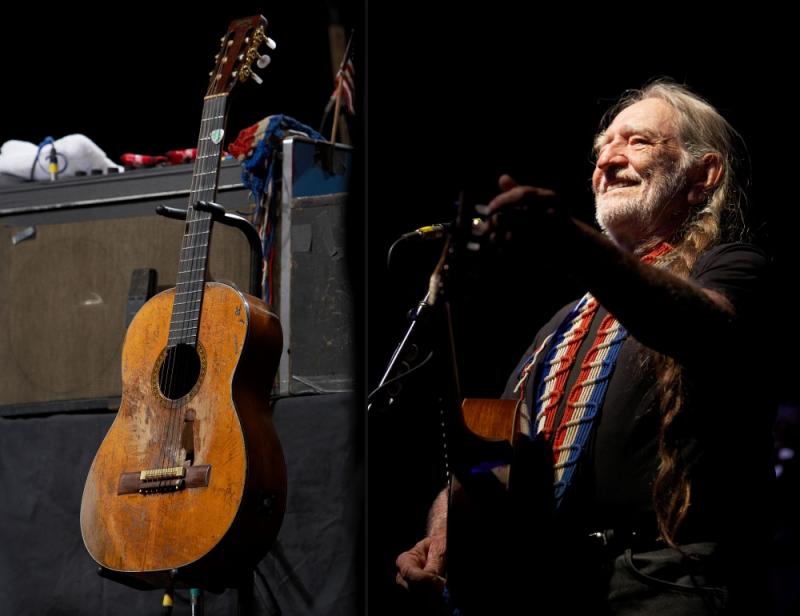 Trigger (left) and Nelson: 'A cowboy deity in a hillbilly version of Michelangelo's Creation of Adam
A few years ago I wrote a book about Willie Nelson. Keith Richards supplied the introduction – a Kafkaesque saga which deserves a book in itself - during which he opined that Willie had a severe case of "white line fever". This (for once) had nothing to do with exotic Peruvian powders and everything to do with the odd compulsion that keeps a man in his late seventies on the road for nine months of each year, rattling around the world in a bus while his wife and kids make hay in Hawaii.
Last night I again realised how perceptive Richards' words were. There are times during a Willie Nelson concert when you become aware, without any equivocation, that for the man on stage the travelling is more important than what happens when he gets there; touring has become a means of facilitating a certain way of life, and often the music comes off a distant second best.

The basic foundations of Nelson's live show are practically Palaeolithic. Trigger, his tattered Martin N-20 nylon string guitar (pictured above), looks like it dates back to the Civil War, and his band and much of the set list are of a similar vintage. In Edinburgh he opened – as ever – with his defining take on Johnny Bush's "Whiskey River", rapping out the opening line as the flag of Texas unfurled behind him. From this bedrock of predictability the set took in the usual three-pronged tribute to Hank Williams, a few upbeat spirituals, "Sister" Bobbie Nelson's swinging-saloon-bar-door instrumental "Over Yonder", and a version of "Blue Eyes Crying in the Rain" played in three different time signatures. All the while Nelson's finger pointed in the air like a cowboy deity in a hillbilly version of Michelangelo's Creation of Adam, tossing bandanas and bonhomie into the crowd.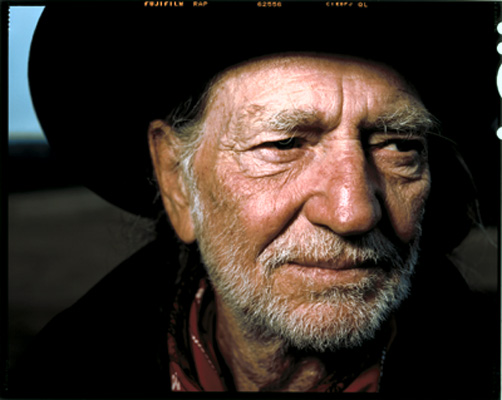 Nelson's desire to wheel his music along such fixed lines is odd, not just because you'd think someone who played so often would want to shake things up on a regular basis, but odd also because, on record, he's so promiscuous with his favours. In the last couple of months alone there has been an album of western swing covers cut with Asleep at the Wheel and the excellent Country Music, an album of rootsy standards produced by T-Bone Burnett and featuring many of the musicians who graced Robert Plant and Alison Krauss's Raising Sand.

In the recent past there have been album-length collaborations with Wynton Marsalis and Ryan Adams, and duets with Snoop Dogg, Diana Krall and Norwegian World Idol winner Kurt Nilsen. Go back a little further and you find Nelson singing with everyone from Julio Iglesias to Kid Rock; look only a couple of weeks into the future and you'll see him at Glastonbury. Willie, clearly, is the kind of man who says "Yes" and worries about the detail later. It might be nice if he adopted the same attitude to playing live by freshening up the scenery a little.

Admittedly, at 77 his songwriting isn't what it used to be, but then nobody's songwriting is what Willie Nelson's used to be. The likes of Johnny Cash and Kris Kristofferson have all bowed down before the man who wrote "Crazy", "Night Life" and "Funny How Time Slips Away" – three epochal country standards, all written with a few weeks of each other back in 1959, and tossed off last night in the same unsatisfactory medley he's been doing since Jimmy Carter was president. By comparison, one of only two selections from Country Music, "Nobody's Fault but Mine", fared much better in a spare and rather haunting rendition, with Mickey Raphael's harmonica weaving a Larry Adler-like spell.

Raphael is the star turn in a band that has been touring with Nelson since the early 1970s, a familiarity which lies at the heart of the lack of more new material or left turns. His drummer of over 40 years, Paul English – memorialised in "Me and Paul", aired last night with some brio – has finally reached the end of the road, and stood at the back of the stage clapping and shaking the odd maraca as his younger brother Billy played the drums; surely unique in any band performing to an audience of nearly 3,000, "the drums" constituted only a single snare. "Sister" Bobbie tinkled the ivories rather timidly and Bee Spears' bass cried out for added oomph – this was a very quiet band.


At the centre was Nelson. His timing has always been offbeat, but it's become more eccentric with age. For the first part of the show he reeled off lyrics like a man whose mouth was running three bars ahead of his hands. He's a uniquely gifted guitar player, but with six-string foil Jody Payne not present, his playing was often too idiosyncratic and disjointed to hold songs together on its own. Sometimes you longed for him to play a few soft open chords rather than embark on numerous twanging runs up and down the fret board.

But this is simply what Willie Nelson does. The pay-off last night was that, in between the painting-by-numbers stuff, there were several sublime moments of near transcendence. If the first half of the show fared badly in the diamonds/ coal ratio, lifted only by a beautiful version of perhaps his most beautiful song, "Angel Flying too Close to the Ground", towards the end something rather wonderful happened. He stopped rushing ahead of the tune and began to actually sing the songs. "Always on my Mind", forever teetering on the brink of outright schmaltz, was crisp, understated and quite magical, and then thrillingly he began raiding some of the dustier corners of his magnificent back catalogue: "Sad Songs and Waltzes", "The Healing Hands of Time", "Pretend I Never Happened", "Yesterday's Wine", "I Gotta Get Drunk".

Each one was a lesson in economy and poise, and on each one his voice rang out clear and sharp. Even a jokey canter through "To all the Girls I Loved Before" failed to spoil the mood, and anyway it was brusquely discarded half way through as Nelson broke into a celebratory "I Saw the Light". As the band vamped behind him and the house lights came up, he went to the edge of the footlights and did that old-school country royalty thing of shaking every hand that the crowd thrust towards him as they surged forward.

And suddenly it all made sense. The man with the most unaffected, conversational voice in popular music, the man who sings like he's murmuring a dirty joke or a lover's confession over a plate of beans and a beer, is still on the bus because he just wants to say hello. And the audience are there to say hello back, to shake his hand and touch a piece of living history. The music may be just an excuse to engage, but more often than it perhaps has any right to be after a career nearly six decades deep, it's still a pretty good one.

Willie Nelson and Snoop Dogg perform "Superman" in Amsterdam in 2008:




In between the painting-by-numbers stuff, there were several sublime moments of near transcendence
Share this article
Subscribe to theartsdesk.com
Thank you for continuing to read our work on theartsdesk.com. For unlimited access to every article in its entirety, including our archive of more than 10,000 pieces, we're asking for £3.95 per month or £30 per year. We feel it's a very good deal, and hope you do too.
To take an annual subscription now simply click here.
And if you're looking for that extra gift for a friend or family member, why not treat them to a theartsdesk.com gift subscription?