Interview: Tintin, The Reluctant Movie Star |

reviews, news & interviews
Interview: Tintin, The Reluctant Movie Star
Interview: Tintin, The Reluctant Movie Star
As Spielberg takes him into the multiplex, theartsdesk tracks down the boy reporter to a Middle Eastern merchandising outlet
Saturday, 22 October 2011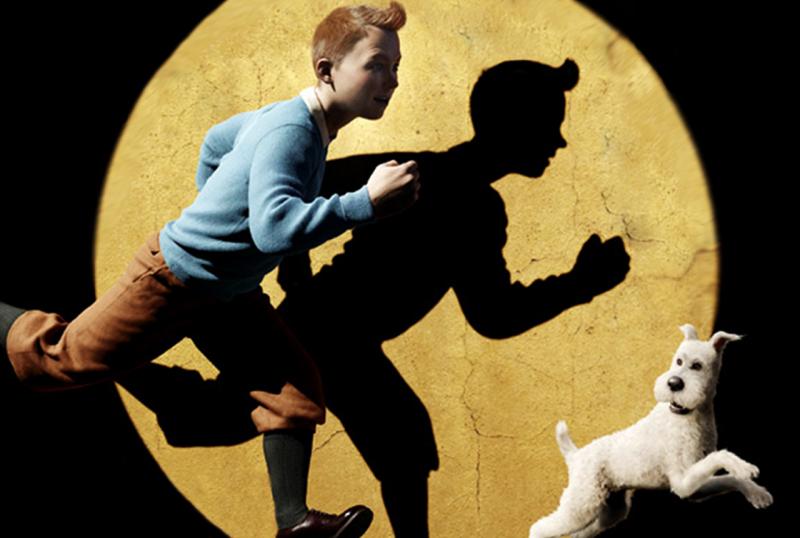 As seen by DreamWorks: Tintin and Snowy dash back into the spotlight
A reporter can be certain of two things: death, and the ephemerality of journalism. Written yesterday, published today, an article will usually be forgotten by tomorrow. The one exception who proves the rule hasn't been heard of in years, but his image adorns T-shirts and watchfaces, dangles from keyrings and greets people on birthday cards. Yes, the only guarantee of wholesale and everlasting fame is in merchandise, and it is a fate not reserved for many of us in the profession.
theartsdesk has traced Tintin to the city of Wadyasah in Khemed, where he runs a shop down a side alley of a busy market on premises bequeathed to him by the Portuguese merchant Señor Oliveira de Figuera. He is comfortable enough, he explains, not to have to work any more but he says he needed something to do to replace the adventuring, so he turned to trade. Racks standing in front of the unassuming little store teem with assorted bric-a-brac, all of it discreetly monogrammed with the face of a small white mongrel. Despite the local climate, the shop is called Snowy Supplies. "My little joke," says the proprietor in a classless international accent with a whiff of the Fifties in the vowels. He is clad in local dress: a keffiyeh and small round sunglasses, under which it is hard to tell whether the face is still fresh and the quiff still blond.
"So," he says. "How did you find me?"
I believe there's an app too, whatever in Christmas that is
I tell him about the two upturned bowler hats I found in a London flea market: yoked together, they formed a double egg cup. "Your canine kitemark was discreetly etched into the lining of one of the hats. One clue led to another, and here we are." There's a pregnant pause, filled by the ambient din of the market.
"How can I help?" he harrumphs, folding his arms defensively. "You've got 10 minutes." I decide I may as well cut to the chase.
"They've made a movie about you."
"They've made plenty of movies about me. And plays. Damn fool cartoons too. And BBC radio dramas. I believe there's an app too, whatever in Christmas that is."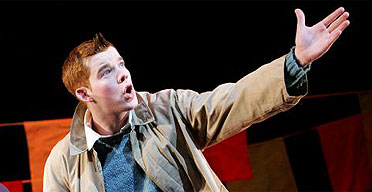 He's almost right. In recent years there has a musical version of The Seven Crystal Balls and Prisoners of the Sun in Dutch, and a more small-scale adaptation of The Castafiore Emerald in Geneva. There's been a video game. A Swedish cellist and composer even premiered his Suite Tintin at the Wigmore Hall. And a few years ago a stage version of Tintin in Tibet featured the carcass of a crashed fusillage and truffled about in the boy reporter's unconscious (pictured right, Russell Tovey as Tintin, photo by Tristram Kenton). I reel off the list. Pretty much the only books they've not tackled are the early racist ones like Tintin in the Congo and the late trippy ones such as Flight 714. But we know that's not why we're here.
"When did you first hear from Steven Spielberg?" I ask. He pulls off his glasses to reveal a pair of unexpectedly piercing blue eyes, which he proceeds to fix on me.
"You'd better come inside."
Watch the trailer to The Adventures of Tintin: The Secret of the Unicorn
Tintin has always had a busy official life away from the bande dessinée. But with the release of DreamWorks' The Secret of the Unicorn, this is the famous Belgian franchise's first visit to the multiplex. He steps trimly inside and I follow out of the bright light into a dark anteroom piled high with packages and boxes, poster racks and bins full of cardboard tubing. And of course bookshelves, lined with the tell-tale coloured spines, classic hardbacks and flimsy paperbacks, freshly published and, in a separate section, vintage first editions. They seem to be in any number of languages. He motions me to sit. As I do a small white mongrel shuffles in through a door at the back, tail wagging in sclerotic slow motion.
"Snowy?"
"I shouldn't expect much reaction from him," Tintin warns. "He's totally blind. Can't smell much either. Safe to say his action days are behind him. But then he's not the only one."
The dog flops onto a mangy Persian rug in the middle of the room. Overhead the lazy blades of a fan do little more than send the heat around the room in slow waves. I wait for him to speak.
"Now then, where were we? Oh yes. We must have heard from Mr Spielberg in - let me see, when was it? – 1982. That was when he first bought the rights. He has been very persistent."
"How come it's taken him so long?"
"I assume he was waiting for the technology to come online. Which has taken a while, clearly. Not that I know much about 3D animation. Nice chap, Steve. Has a nose for a good story. We have that in common. Asked for my autograph. He's a fan."
As Tintin's chest almost imperceptibly expands with pride, I have my cue.
"Mr Tintin, I've always wanted to ask. Every journalist under the sun would be dying to find out how you had so many escapades, were at the heart of all the big stories about atrocity and exploitation in the Far East, the Middle East, Central Europe and South America. And yet you never appeared to do a stroke of actual work."
I think my record on sticking up for the underdog is pretty good
"My dear boy. You are confusing writing with working. The short answer is there's no fun in watching a chap sitting at a typewriter. But yes of course I did less of it than they do nowadays. For a modern reporter deadlines come round like a dose of the squits. I started off in the age of innocence when the top journalists didn't have to work to deadlines, because communications were more primitive. My career wasn't much different in spirit to Evelyn Waugh's. We were almost travel writers, explorers, and we presented our findings as fiction. Names changed to protect the guilty, etc. Back then you brought the story only once you'd got it; you didn't have to deliver something into the world's living rooms every day to order. I wouldn't be a reporter now - there's no mystery. The world has followed me into space, discovered the side-effects of radiation that I was the first to witness. Great snakes, they'll probably turn up the Abominable Snowman sooner or later."
"If you don't mind my asking, why were you - why are you - so enduringly popular?" He's been slumped back in his chair but with sudden alertness he sits forward.
"Well," he enthuses, "my stories appealed to little Belgian children first of all, but their parents started to show an interest and when I realised that they were hooked I started addressing them too. I stopped the little crowd-pleasing gimmicks like talking to my dog, and got down to the problem-solving. I left the japing to the Captain, the Professor and those idiotic twin detectives."
A silence hangs in the air as we both address a memory of his old compadres. It would be interesting to know if Tintin still sees any of the old crowd but something about the set of his jaw advises me against trespassing too far into that unknowable interior. I decide to change tack.
"Women don't seem to follow your adventures quite so keenly, just as they hardly show up in them. You must have taken some flak from the PC lobby in your time."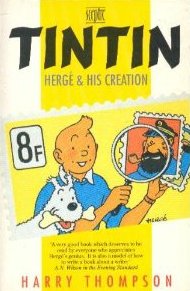 "In those days, you didn't tend to run into them. Women, that is. The criminals were all chaps. Unless you count the shimmering Milanese diva Bianca Castafiore as some sort of undesirable element, which the Captain certainly did." He chuckles wistfully. "She's got a lovely part in the new film by the way. But don't get me started on the PC lobby. They were always having a go at Hergé and by implication me - all that rubbish about collaborating with the Nazis in the war. Did you read that biography by one of your compatriots?" He's referring to Harry Thompson's 1992 exposé Tintin: Hergé & His Creation (pictured above).
"As a matter of fact yes. It's very good."
"Poor old Georges." (Hergé's real name was Georges Rémi.) "I often wondered whether Thompson was somehow related to Thompson. Not Thomson, obviously."
But we are veering off topic. As he prepared to take on the North American market, I remind Tintin that his one trip across the Atlantic in Tintin in America painted a fairly unflattering two-dimensional image of the native American. The Tintin chin is doing that jutting thing again.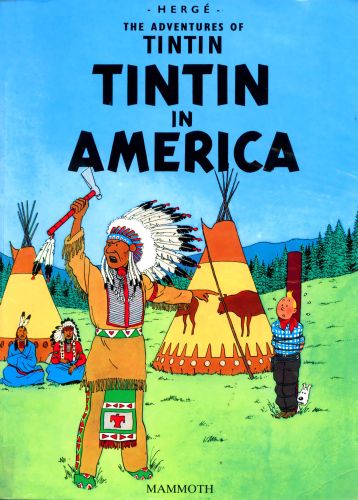 "I think my record on sticking up for the underdog is pretty good."
The subject is not one he wishes to pursue. At this point a young customer helpfully comes in and asks the shopkeeper about the range of replica Inca bracelets on display, before moving over to the range of identical model galleons. The youth apparently hasn't any idea who the shopkeeper is. A chance for a snoop. On a table next to the cash box is a pile of A4 sheets. The top page says Red Rackham's Treasure. An early draft, presumably.
"Do you get involved in the script stage?"
"Good grief no, dreadful racket. I got my fingers burned in the film business back in the Sixties. Shukran." He's giving change to the boy who has invested in a Black Island fridge magnet. "I have an agent in Brussels who acts as a buffer zone between me and whoever comes up with these projects. It's a bit like the arrangement all those reclusive American novelists have with the rest of the world."
Has he even seen the new movie?
"Depends what you mean by seen. I was flown to a screening in Burbank. Top secret, private jet, blah-di-blah."
"And?" He looks up at the rotating blades.
"Erm, this is a bit embarrassing." I wait for him to go on. "Well, actually I got dragged out."
"Of a movie featuring your own adventure?"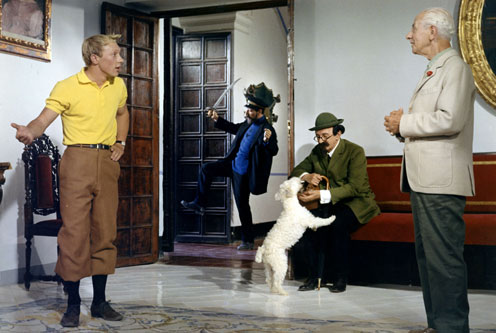 "Chap the size of a yeti caught me trying to film it on my cell phone. They don't take kindly to pirating. I suppose they have a point when you consider it's a story about defeating pirates. I only wanted a little souvenir for the store." He sighs. "At least they got the quiff right. And I must say I like that animation technique. Sort of almost but not quite real. Much better than those fatuous cartoons on telly. They even put me in jeans once, and I may be an international icon but why they think I've got an American accent I'll never understand. Makes me sound like Jimmy bloody Osmond. As for those old French films with real actors (pictured above), I mean, whatever next? I'm afraid that was Georges cashing in. I never meddled with a blue orange in my life."
The American Tintin in Prisoners of the Sun
This is an older, testier Tintin, although it must be said that the quiff is still standing proud, if a little less strawberry blond that it used to be. It's not an easy question to ask anyone, but here goes. "I've got this theory that in some attic somewhere, in your old lodgings at Mrs Finch's, or in the vast basement at Marlinspike, is a dusty portrait of Tintin as a decaying old man. Have you done a Dorian Gray?"
He turns the question over in his mind. "I know the book you're referring to, but you're wrong, you know. You could say that Hergé, who suffered terribly from my work, took my years on himself. He had dreadful eczema. But I do have a portrait, if you want to see one."
He disappears into the back of the shop and after a minute or so returns with a scrolled-up piece of paper. He unravels it, and there he is, cherubic as ever, on the drawbridge of a castle with guards in Syldavian national dress behind him. At the top of the picture are the immortal words, "Le Sceptre d'Ottakar".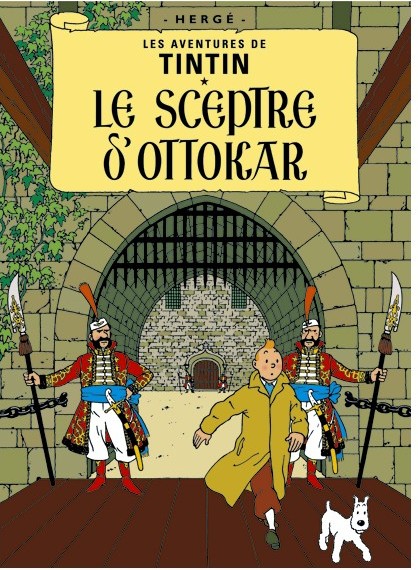 "If you want to be remembered as a reporter, get onto posters. Yours for $35. I'll even sign it. Sorry, I've run out of English ones. Sold a lot in 1989, when the Wall was falling and never had new ones printed up. I'm thinking of printing some new posters of my adventures in The Land of the Black Gold. Topical, what with the Arab Spring etc."
The price seems a bit steep, but you have to hand it to Tintin. He knows a thing or two about brand value. Like every reporter I ask for a receipt but he seems reluctant to put anything down on paper.
"Can't be doing with them," he says. "They might give the game away." And he looks up at me – the pictures don't exaggerate: he is really no more than 5ft 4" – and once more those blue irises drill into mine. "You have to promise, you know, that you'll never reveal where you bought it. Thanks to Mr Spielberg there'll be a lot of people sniffing about. But I'm not the story any more."
The Adventures of Tintin: The Secret of the Unicorn is released on Wednesday

Nice chap, Steve. Has a nose for a good story. We have that in common. Asked for my autograph. He's a fan
Explore topics
Share this article