Anonymous |

reviews, news & interviews
Anonymous
Anonymous
Did he write or didn't he write? That is the (yawn) question...
Thursday, 27 October 2011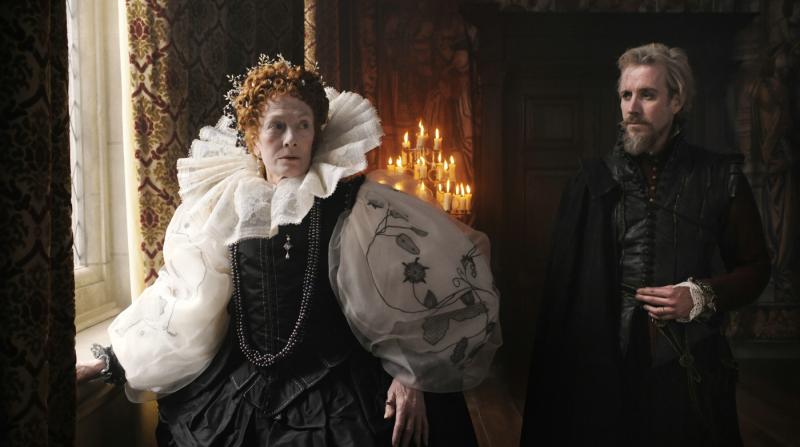 You writing to (for) me? Vanessa Redgrave goes royal in new Roland Emmerich film
Everyone is working against type, or so it would seem, in Roland Emmerich's deeply bizarre Anonymous, which asks us to accept a celluloid slob (Rhys Ifans) as an aristocrat, a vaunted republican (Vanessa Redgrave) as Elizabeth I and a highly successful action film-maker (Emmerich) as a putative man of letters: well, one has to have something to read between set-up shots on Godzilla and Independence Day, so why shouldn't it be a Shakespeare sonnet or two to the Earl
of Southampton?
If you can accept the above catalogue of incongruities, then the film's central premise should come as a comparative snap. Here is the first major Hollywood film to put Shakespeare's authorship on the rack in a move that will thrill Oxfordians, repel the purists, and very likely bore everyone else, who may wonder why it is that so much carnage, mayhem, and bodice-ripping has been applied to so academic a subject (pictured below, Joely Richardson, bodice intact). Let's put it this way: were John Orloff's script by Shakespeare, I suspect the man from Stratford would be the first to shunt responsibility off onto just about anyone else.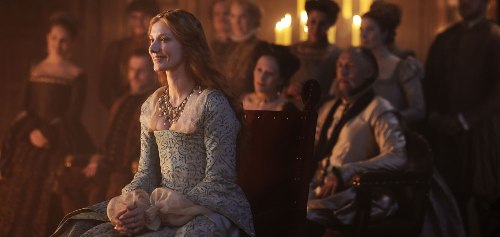 Myself, I have no particular insight into the "man we call Shakespeare" beyond admitting that I remain attracted to the idea of genius and have been further persuaded by Michael Wood and others ably arguing the toss that a glover's son could - and in fact did - pen the most enduring plays in the Western canon. But whatever your stance, it's difficult not to feel after a while that Emmerich doesn't particularly care himself, beyond using the Bard as an opportunity to transpose some Day After Tomorrow-style pyrotechnics to the Elizabethan age and let whatever other controversies ensue (and they have already begun) take care of the rest. I don't recall the merits of Emmerich's Mel Gibson starrer, The Patriot, being debated on the editorial page of The New York Times.
Less open to dispute is the cinematic fire and brimstone that Emmerich brings to a heavy-breathing, overly plotted tale that unfolds as a series of flashbacks whereby Ifans's Edward de Vere, 17th Earl of Oxford, glowers his way through multiple intrigues and betrayals that leave Rafe Spall's hapless Shakespeare popping up now and again in various states of gormlessness. That the action is framed by modern-day footage of Manhattan featuring Derek Jacobi setting the scene from a Broadway stage (not that it matters, but the specific playhouse would seem to be the Broadhurst, recent home both to the Jude Law Hamlet and the Al Pacino-led Merchant of Venice) offers much the same in-joke that comes with the period cameos of Mark Rylance at Shakespeare's Globe vamping his way through snatches from Richard III and Henry V. (Tamara Harvey is credited with staging the theatrical excerpts.) Neither Jacobi nor Rylance subscribes to a belief in Shakespeare the man, rendering them complicit with the film's abiding conceit even if the two men's artistry remains leagues apart.
The film's governing argument plays the ages-old trump card of class, against which a country yokel like this movie's stammering Shakespeare doesn't stand a chance. Instead, we get the Earl of Oxford as a randy, smooth-skinned young man (played by Jamie Campbell Bower) and also as his older, more camp, rather more distressed self. That last assignment falls to Ifans, looking unexpectedly like Peter O'Toole and seen consorting with Vanessa Redgrave as an ageing Queen Bess much as Campbell Bower is seen bedding Joely Richardson (the pair of them pictured above left), Redgrave's own daughter playing a younger version of her mum. Much as she does in the forthcoming Ralph Fiennes screen adaptation of Coriolanus, Redgrave rules Emmerich's film through the sheer authority that comes from a lifetime apprenticeship to the classics, though one has to wonder about a make-up artist who's been so busy with the lipstick that a great actress looks as if she is being groomed for a night out in Vauxhall. As for the promiscuity of the monarch on view here, try explaining that to history students weaned on the notion of a virgin queen.
Orloff's narrative proffers a literary landscape only slightly less treasonous and mendacious than that coursing through many a Shakespeare play, the difference being that the Bard was rather better at exposition than lines like, "You are Benjamin Jonson, playwright"; that role, in turn, falls to Sebastian Armesto (pictured right), who comes across less as the Earl of Oxford's would-be puppet than as an overstuffed script's plaything. A host of fine actors turn up to diminishing returns as Dekker, Kyd and Marlowe, Ifans looking paler and more haunted as the malfeasance of the Cecils, père and fils, intensifies. (For the record, the father/son roles are taken by David Thewlis, looking fuller-fleshed than usual, and Edward Hogg, the latter an erstwhile Globe regular.)
Emmerich juxtaposes fierce-eyed face-offs with generalised scenes of mayhem and combat that communicate a London where bear baiting attracted considerably more attention than such issues as the veracity of authorship. Can it be that Anonymous represents an act of atonement on Emmerich's part? One might think as much, listening to De Vere cite words as his enduring legacy - this from a film-maker celebrated for pretty much everything but language. And yet, for all the wilfully (Will-fully?) contentious baggage that Anonymous brings with it, the truth as ever lies in the details. "This is a work of fiction," we're told, as the final credits roll. They said it, not I.
Anonymous is on general release now
Watch the trailer for Anonymous
Were John Orloff's script by Shakespeare, I suspect the man from Stratford would be the first to shunt responsibility off on just about anyone else
rating
Explore topics
Share this article