Concorde's Last Flight, Channel 4 |

reviews, news & interviews
Concorde's Last Flight, Channel 4
Concorde's Last Flight, Channel 4
How so many of us fell in love with arguably the greatest engineering feat of the 20th century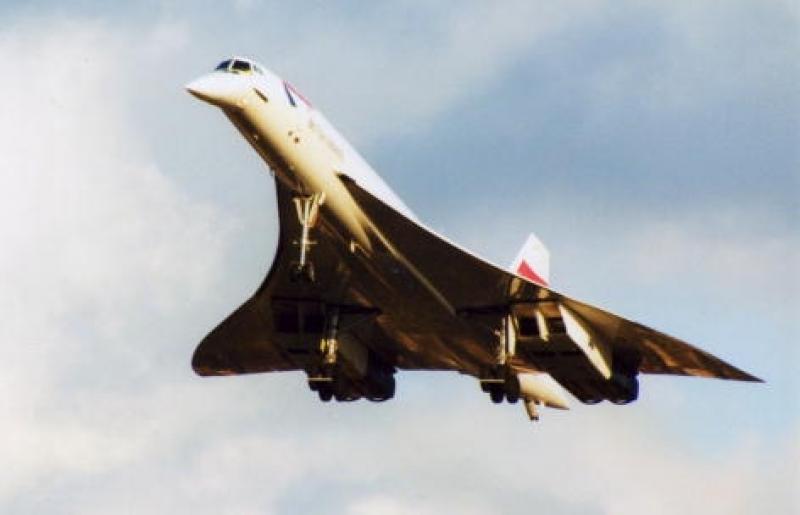 Why isn't this aesthetically breathtaking, technologically unbeatable dream still in the air?
As an 11-year-old boy, I was awestruck from the first moment I saw Concorde on our three-channel black-and-white television, seemingly rearing up from its runway like a cyborg swan. At that age - and during that era - fact and fiction became vertiginously blurred when it concerned the fast-forward march of science and technology. While Factual-man was taking one slow-motion giant leap for mankind, Fictional-man was going where no man had gone before.
And even if the US Enterprise did have warp-drive, our very own Concorde didn't seem that far behind, as it hurtled through the blue at the proverbial speed of a bullet.
And so I became 11 again watching this documentary, with its plentiful footage of this sublime piece of engineering - as sleek and white as the perfect paper airplane - taking off, landing and flying at 60,000 feet above sea level, so that the curvature of the Earth became thrillingly discernable for its 100 Champagne-sipping passengers. But before we could start reliving the dream, Concorde's Last Flight plunged us straight into the tragedy of Air France Flight 4590's fatal crash of 2000, with all the jump-cut enthusiasm of a Hollywood disaster movie. Actual footage of the aircraft issuing a gigantic bloom of flames was deftly inter-cut with fairly convincing reconstructions of the crew and ground crew's desperate efforts to get matters under control.
Having delivered its sucker punch of 112 dead and no survivors, the documentary then settled back into telling the whole story of Concorde, carefully balancing countless Boy's Own statistics regarding its spec, with the human-interest anecdotes of its pilots, designers, air stewardesses and passengers, and keeping our eyes occupied with the occasional switch to cool Seventies-style split-screen. But a French/ English collaboration was never going to be easy, now, was it? In one amusing aside, Tony Benn told of how the two country's politicians couldn't even agree on how to spell Concorde. The English removed the silent - and therefore to their pedestrian minds - redundant "e", but Benn reinstated it, justifying his actions to the gullible powers that be by saying that the "e" stood for England and Excellence. But Brit/ French relations were the least of Concorde's problems.
With admirable incisiveness, we were told of flawed economics, flawed technology, shrewd rethinks and mind-bogglingly expensive refits. Even after what could have been the fatal blow of the crash of Flight 4590, each plane was given a £1.5 million make-over to rectify design flaws and tart-up the interior (Sir Terence Conran's job). And then 9/11 happened, and that was it, really. The plane lost 40 of its most regular flyers that day, not to mention a general loss of appetite amongst the business community for transatlantic flight.
It was all deeply sad and intensely frustrating, in that you can't help but feel – given the confused and sometimes circumstantial evidence that led to its retirement - this super, supersonic airliner should still be in the air. For one thing, those 19 remaining Concordes only had a quarter of the wear and tear of most 747 jumbo jets. But what was most affecting in this film was hearing everyone talk with such affection of their love affair with Concorde. I was reminded of similarly love-struck reminiscences from pilots of the Spitfire, that other British 20th-century beauty, as one pilot proudly proclaimed, "You could just fly it with your thumb and forefinger."
In fact, nearly every stiff upper lip on display here had lost much of its rigidity by the time the credits rolled. Poor old Sir Terence was in tears, saying that on the day of the planes' retirement in 2003, it felt like a family member had died. He concluded with the shaky words, "It symbolised optimism. It was everything that the 20th century could have stood for." So, a beauty both aesthetically and morally then; no mean feat for what was, in reality, just 200,000 lbs of metal.
But forgive my apparent flippancy; it's just my way of keeping my own upper lip stiff. As stated at the beginning of this review, I too loved Concorde, if only from afar. And this well-written, well-constructed documentary was a fitting tribute to what one of its contributors called the greatest engineering achievement of the 20th century. In fact, I'm almost tempted to start a petition to get her back up there in the sky, just so I can hear her sonic-booming "Hello!" again, whenever she passes overhead.
Nearly every stiff upper lip on display had lost much of its rigidity by the time the credits rolled'
Explore topics
Share this article