The British Guide to Showing Off |

reviews, news & interviews
The British Guide to Showing Off
The British Guide to Showing Off
The Alternative Miss World is a drag pageant and an exotic subculture in microcosm
Tuesday, 08 November 2011
'You can transform yourself into anything': Alternative Miss World contestant is a tea cup
A glittering egg cracks open and, waving a magic wand, Andrew Logan emerges riding his sculpture of Pegasus, the winged horse. He flies across London to waiting friends and relatives and, with one touch of his miraculous wand, transforms them into sparkling glamour queens.
The opening credits of The British Guide to Showing Off are a witty, Pythonesque riff on Logan's extraordinary ability to inspire people. "He appeals to the child in everybody," says fashion designer Zandra Rhodes. "He's like your naughty aunty, putting a bit of gin in your tea," observes artist Grayson Perry, best known for appearing at exhibitions dressed like Alice in Wonderland.
Logan (pictured right) loved giving parties in his studio, a former jigsaw factory in the East End, and these jamborees gradually morphed into the Alternative Miss World, a dressing-up pageant that caught the imagination of the art world and, like Topsy, grew and grew. ...Showing Off follows the contest from its inauguration in 1972 to preparations for its 12th manifestation at the Roundhouse in London in 2009.
Logan hosts each event in dual male/female attire designed by Zandra Rhodes while, under pseudonyms such as Miss Demeanour, Miss Anthropic and Miss Conception, men and women compete for the crown jewels which are made by Logan from mirror fragments in his signature style.
Each contestant presents daywear, swimwear and evening dress. For many it's an opportunity to glam up, cross-dress and be outrageous – there's lots of nudity, fetishism and black leather – but others are more original and more quixotic. "It's about transformation," says Logan. "You can transform yourself into anything." So far "anything" has included a cup of tea (main image), mashed potato, chips, an alien, a mermaid, a galleon and a box of After Eights.
In 1981, Miss Aldershot won the jewels for marching in army uniform down Olympia's 250ft catwalk accompanied by the band of the Irish Guards, before reappearing in a giant crinoline. Later the military police arrived to arrest the Guards for going AWOL.
The information comes thick and fast and, in order not to miss any gems, you have to pay close attention
The 1985 contest was won by Rosa Bosom, a robot made by artist Bruce Lacey from aircraft engine parts. Daywear consisted of an Indian wedding headdress; swimwear was an ancient diving helmet and, for evenings, Rosa was decked in winking lights.
The early contests were recorded in snapshots and on snatches of Super8 filmed by Derek Jarman who became the third Alternative Miss World as Miss Issippi, dressed in a watery blue gown. The challenge for director Jes Benstock was to marry these scraps of material with television coverage of the 1981 contest at Olympia and his own footage shot over five years in the run-up to the 2009 event. Adept at animation as well as film (his animated documentary The Man with the Extended Mind was screened on ITV), he opted for a scrapbook approach complete with captions typed out on bits of paper.
It's a brilliant solution to a difficult problem, but the information comes thick and fast and, in order not to miss any gems, you have to pay close attention. Benstock's enthusiasm shines through, though. Seeing the 1981 broadcast in his Edinburgh flat "left a myriad of unforgettable images burnt on my retina", he recalls, "and a sense that here people were having tremendous fun. Dressing up crazily, doing whatever they wanted to".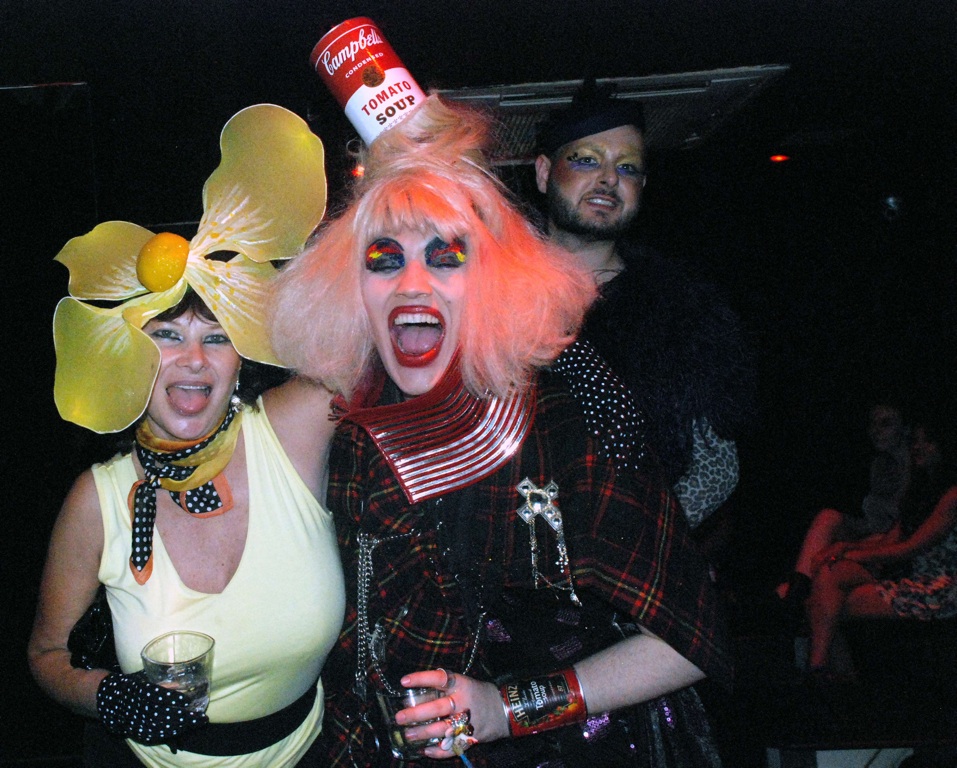 This is a feature length film and after a while, no matter how extravagantly glam, an endless parade of drag queens would have become tiresome; but the backstory delivers in spades. Logan comes across as an endearing eccentric with a genuine desire to inspire other people and enable them to fulfil their dreams, while his partner Michael Davis, who helps realise the increasingly ambitious projects, remains tirelessly supportive.
He converted a squash court in the Welsh village of Berriew into a museum dedicated to Logan's mirrored sculptures and jewellery. During the Berriew show Logan decided to entertain the villagers with a "Jewellery Extravaganza" and one of the most enchanting sequences is of the artist prancing with his entourage through the refreshment tent in a curly black wig and regal cloak decked in quantities of mirrored jewellery to the dismay of the bemused onlookers.
Finally we see the couple walking through the Welsh countryside planning the next Alternative Miss World, despite having lost thousands – yet again – on the last one. "I promised to carry on until the day I die," recalls Logan wistfully – such is his dedication to the madcap event and the glorious sense of freedom it offers contestants, if only for an evening.
The British Guide to Showing Off is released on Friday
Watch the trailer for The British Guide to Showing Off
Under pseudonyms such as Miss Demeanour, Miss Anthropic and Miss Conception, men and women compete for the Alternative Miss World crown jewels
rating
Explore topics
Share this article