Ane Brun, Scala |

reviews, news & interviews
Ane Brun, Scala
Ane Brun, Scala
Reinvigorated, the Norwegian-via-Sweden singer-songwriter shines
Saturday, 12 November 2011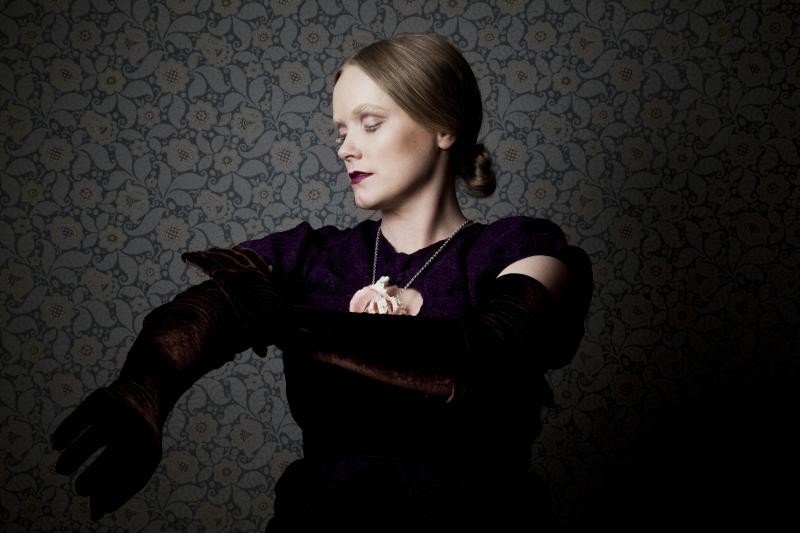 Ane Brun: out of the folk box
She grew up in Norway, lives in Sweden and has been recording since 2003. Her new album, It All Starts with One, is her most assured, her most vital. But Ane Brun's recent work with Peter Gabriel has attracted attention outside Scandinavia. Her vocal contribution to his remake of "Don't Give Up" claimed it as her own. Last night erased Gabriel from her CV. This fabulous show was a new beginning.
Starting with a quartet of songs drawn from It All Starts with One ("These Days", "One", "Worship" and "Words") instantly stated that this concert was about moving forwards. And opening with the tremulous and sombre "These Days" also said that the show wasn't about instantly pleasing. Ten of It All Starts with One's songs were aired (although "Dirty Windshield" is from the album's bonus disc, rather than the album itself). "Lifeline" was missing.
Brun has never been this lively on stage. She roamed, whirled and swayed
Live, the new material wasn't markedly different to the studio versions, probably not surprising as Brun was accompanied by the album's musicians: Ola Hultgren and Per Eklund on drums and percussion, Martin Hederos on piano, Linnea Olsson on electric bass and cello, Jennie Abrahamson on keyboards and flute. Obviously, José Gonzales was absent from "Worship". But there was an added spontaneity. Brun has never been this lively on stage and, apart from a few songs with her acoustic guitar, she roamed, whirled and swayed.
Her emergence in a school-masterish black gown suggested a nod back to Lykke Li's chosen stage outfit earlier this year. And the presence of Per Eklund, who also plays with Li, brought passing thoughts of the relationship between Li and Brun, especially as It All Starts with One's percussive pulse is shared by Li's Wounded Rhymes. The pattering, rolling drumming of "These Days" also brought passing thoughts of Pink Floyd's "Set the Controls to the Heart of the Sun" and Joy Division's "Atmosphere". The first encore's "The Light from One" shares space with Joy Division's "The Eternal". Wherever it is Brun is going, it's far from the folk box she was put into.
Watch Ane Brun play a solo version of "Do You Remember"
Where she had been was also here, with reconfigured versions of "Humming One of Your Songs" (from 2003's Spending Time with Morgan), "Balloon Ranger", "To Let Myself Go" and "This Voice" (from 2005's A Temporary Dive), "The Puzzle" and "Changing of the Seasons" (2008's Changing of the Seasons, her last album). Hearing the new and the old side by side revealed that, despite her current boldness, all Brun's songs have a dynamic that ebbs and flows. They rise, they fall.
Elements of the audience were constantly yakking. Did they buy tickets solely so they could experience talking at a show?
But some gripes need airing. The Scala's acoustics aren't great, and sound is attracted upwards, like iron filings lured to a magnet in the ceiling. It works for full-bodied, in-your-face shows with sardine-packed audiences, but it wasn't the right venue. The Union Chapel, which she's played before, would have worked. Constant buffeting meant it was close to impossible to immerse yourself in her music. Elements of the audience weren't bothered anyway as – this has come up on theartsdesk before – they were constantly yakking. This was a sold-out show – did these people buy tickets solely so they could experience talking at an Ane Brun show? As she sang the final encore's "Undertow" someone shouted for a loud man to shut up. Instead of doing so, he yelled back that he wouldn't. Even so, she cut through, the non-talkers in the audience singing to "Oh Love".
My week had begun with Agnes Obel at The Union Chapel: a Nordic singer-songwriter who deals in the reflective accompanied by a cellist. It ended with Ane Brun: a Nordic singer-songwriter who deals in the reflective with a band featuring a cellist. They are different, but the few days between their shows meant drawing lines was inevitable. Obel was unassuming, the more diffident of the pair. Brun was hardly brash, but she was boisterous, plainly showing her happiness. There were hurdles to jump last night, but it was still easy to share her happiness.
Brun was hardly brash, but she was boisterous, plainly showing her happiness
rating
Share this article