Resistance |

reviews, news & interviews
Resistance
Resistance
Owen Sheers's what-if novel set in the Black Mountains does not make for cinematic poetry
Andrea Riseborough in 'Resistance': 'We never really share the agony of her difficult choices'
What if D-Day had failed? Even at a remove of nearly 80 years, it is strangely arresting to hear a BBC radio announcer giving details of how the Nazis have taken over Oxford and Swindon but are being met with resistance in Coventry and Leicester. Amit Gupta's directorial debut, an adaptation of co-screenwriter Owen Sheers's own first novel, begins promisingly enough. The brooding landscapes of the remote Olchon Valley in Wales's Black Mountains are put to much the same use as they were in the book: claustrophobic and accompanied by threatening storm clouds, they serve as a pretty obvious metaphor for the tightening grip of the Nazis on an obscure outpost of occupied Britain.
The story follows Sarah Lewis, a farmer's wife, who wakes one morning to find that not only her husband Tom but most of the men in the small community of hillside farmhouses have simply disappeared. The men have taken up arms as part of an imagined guerilla resistance force. But the real story starts when a small band of German soldiers arrive in the valley. They are depicted very differently to most of cinema's Nazis. Alternating between German and very lightly accented English, they do not wear red armbands decorated by swastikas that might prejudice us against them. Their commander Wolfram (Tom Wlaschiha), who enters Sarah's house – and life – with a steely calm, does not want the Gestapo in the area. He wants the war to pass quietly.
The film is preoccupied, to its own detriment, with subtlety and silence. Apart from very occasional outbreaks of mournful violin and the frequent whistling of the wind, when people are not talking there is silence. Long, painful silence. We get it: the house is empty without Tom; the village is empty without the men. But even long after we have got it, the quiet continues. It's hard to do silence well in any medium, but an over-protracted silence will always lose its power. In one scene, Wolfram puts a record on. "You have no music here," he tells Sarah. "I thought you might like some." But the music paces as slowly as the story.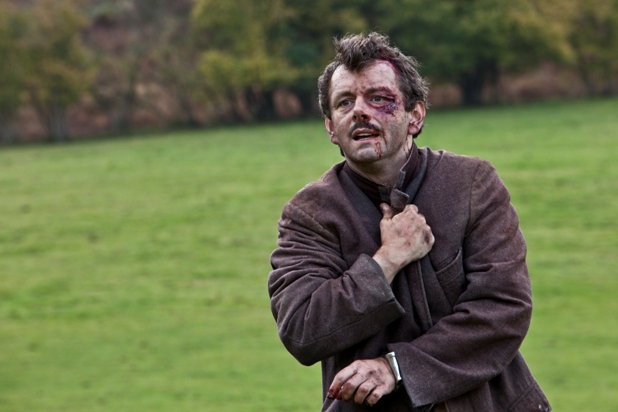 Andrea Riseborough gives a rather cold performance as Sarah. A lack of characterisation through interaction with others ensuring that we never really share the agony of her difficult choices. We spend a lot of the film watching her stand still. The storms raging inside her barely threaten to surface; that would be too unsubtle. Michael Sheen, fresh from his collaboration with Sheers on The Passion of Port Talbot, the theatre highlight of the past year, is severely underused in his casting as Tommy Atkins, a role which consists mainly of appearing in flashbacks giving advice to a young man before, during and after he does things, so as to explain to the audience why he has done them.
Ultimately a story that relies on our watching a woman write letters or men looking at the woman through binoculars is going to fail to hold the attention, let alone arouse compassion for the difficult choices its characters face. The film suffers from a lack of variation in pace, tone, colour and drama. Moments of high emotion are delivered with the quietude of poetry; even the screams are silent. In Sheen's set-piece speech, Atkins tells us that "the nature of our resistance can't be decided in words; our choices will be the mark of who we are". Which is a very interesting thought that doesn't work on film. The brooding beauty of the landscape aside, there is no compelling reason for this novel's translation into the visual medium.
Resistance is released on Friday
Watch the trailer to Resistance
The film is preoccupied, to its own detriment, with subtlety and silence
rating
Explore topics
Share this article