Beauty and the Beast, Royal Lyceum, Edinburgh |

reviews, news & interviews
Beauty and the Beast, Royal Lyceum, Edinburgh
Beauty and the Beast, Royal Lyceum, Edinburgh
Revamped classic has a sprinkling of gold dust but precious little magic
Tuesday, 13 December 2011
Ruth Milne as Beauty, Andrew Rothney as Martin, Malcolm Shields as Billy the Dog and Mark McDonnell as Dunt the Goblin in 'Beauty and the Beast'
This year's seasonal production from the Lyceum is one of those shows that feels more like an uninspired stocking filler than a big, beautiful, beribboned gift. Neither magically Christmassy (it begins on Halloween, and the only substance falling from the heavens is gold dust), nor a gung-ho pantomime (though some slightly stilted call-and-response mischief creeps through the cracks in the fourth wall), in the end it seems content simply to entertain rather than enthral.
Stuart Paterson's revamped version of the original La belle et la bête was written over two decades ago and retains the basic shape of the classic story while introducing new elements. It begins with Crackjaw the Witch, banished to the netherworld and not best pleased about it, swearing her revenge on mankind and on children in particular. (Cue a few spirited boos from the Stalls.)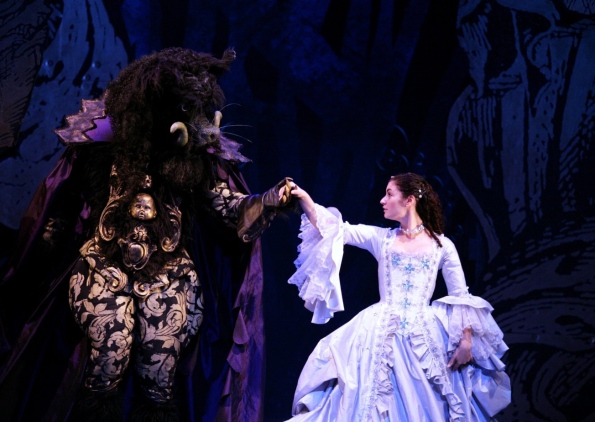 When she escapes on Halloween, Crackjaw casts a spell on young Martin, a poor, orphaned nature-boy living in the forest. He has captured the heart of Beauty, exiled to the country with her father and her two appalling sisters (who seem to have been beamed in from Cinderella) after the family fell on hard times.
Returning from a visit to the city to collect the money he is owed, Beauty's father stumbles on the dark, forlorn castle where Martin, transformed into the Beast by the witch's spell, is doomed to end his days. From here the story follows its familiar course: Beauty takes the place of her father in the castle and falls for the Beast (pictured above right), finally returning him to human form with a loving kiss. Meanwhile, not only Crackjaw but the pair of prattling sisters receive their just desserts.
Crackjaw the Witch is a sulphurous blend of Siouxsie Sioux, Cleo Rocos and Margaret Thatcher
Directed and designed by Neil Murray with solid efficiency rather than with any real sense of flair or abandon, this Beauty and the Beast hasn't quite decided what it wants to be. Its overarching message of love and loyalty conquering avarice and greed is both timely and welcome: in the home town of Fred the Shred, the father's lament that he has been "robbed by bankers" goes down especially well. But it's a shade too well mannered to really convince in its moments of pantomime excess, and not quite daring enough to grip as a dark parable. It's fun without ever being exciting; a little spooky without being scary; sweet without ever feeling truly magical.
The set hints at an appealingly paganistic darkness in its paper-theatre depiction of gargoyles and sprites, but settles instead for merely switching between the autumnal browns and greens of the forest and the dark purple and blues of the Beast's lair; when gold dust falls over Beauty, asleep in her bed, it's the one and only truly transporting moment in the entire show.
What keeps things at least buoyant are the performances. The two principals have the right mix of innocence, determination and moral certitude to give the play a strong central focus. Beauty (Ruth Milne) is sweet, if a little shrieky, while Andrew Rothney makes both a beguilingly ragged boy-hero and a convincingly agonised Beast, at once full of rage and love, and tortured by both.
Angela Clerkin has a lot of fun playing Crackjaw as some sulphurous blend of Siouxsie Sioux, Cleo Rocos and Margaret Thatcher. The comedy, meanwhile, comes courtesy of Dunt, a wise-cracking goblin played with winking verve by Mark McDonnell (see main picture), and Beauty's sisters, Holly and Hazel (Nicola Ray and Karen Traynor, pictured above left), portrayed as a pair of venal, over-the-hill WAGs whose nails-on-blackboard accents are far scarier than any witch's curse.
Padding around in the middle of all this is Billy the Dog (Malcolm Shields, see main picture), a lumbering, over-sized approximation of the canine from the Dulux ads, who – however cute – never gets the younger elements of the audience clucking and cooing in quite the way he should. Indeed, as time wears on, nice-but-dull Billy seems to become the walking, barking, fur-lined symbol of a production lacking that vital spark.