Downton Abbey aims to rule Yuletide schedules |

reviews, news & interviews
Downton Abbey aims to rule Yuletide schedules
Downton Abbey aims to rule Yuletide schedules
Aristocratic smash takes aim at EastEnders and AbFab
Saturday, 03 December 2011
Sir Richard Carlisle (Iain Glen, left), Lady Mary (Michelle Dockery) and Matthew Crawley (Dan Stevens) at Downton's Christmas shooting party
ITV has been cunningly trailing its Christmas bumper edition of Downton Abbey, which will feature guest stars Nigel Havers and Samantha Bond and the spectacle of Mr Bates being dragged before the beak for murdering his first wife. Now that details of the Yuletide schedules have emerged, it's clear that Downton is the one to beat on Christmas Day.
Gazing down imperiously from its 9-11pm slot, Downton will be hoping to keep BBC One's EastEnders (9-10pm) in second place, along with Absolutely Fabulous - in its first new episode for six years - that follows it. Earlier in the evening, BBC One screens a new episode of Doctor Who at 7pm (it's set during World War Two, and star Matt Smith says it has "a Narnia-esque shape and feel"), which should make short work of ITV1's All Star Family Favourites. (Tough times for Brendan Coyle as Mr Bates, pictured below.)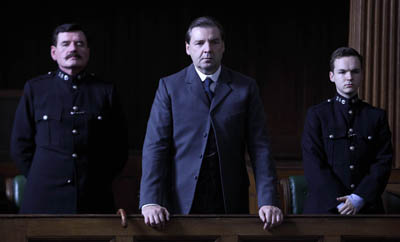 Other seasonal goodies include BBC One's The Borrowers on Boxing Day, a zinging new 90-minute version of the Mary Norton books made in collaboration with Working Title's Television division. It stars Stephen Fry, Victoria Wood and Christopher Eccleston, alongside some excellent work by Robert Sheehan (ex-Misfits) and Aisling Loftus. It's followed by a new comedy series, The Royal Bodyguard, starring David Jason as an ageing guardsman who is placed in charge of royal security, despite being utterly unsuitable for the task. It'll be battling against a new episode of Poirot on ITV1, entitled The Clocks, starring Geoffrey Palmer, Lesley Sharp and the late Anna Massey alongside David Suchet as the fussy detective.
Suchet bounces back at 9pm on 27 December, this time on BBC One, where he plays Jaggers in the channel's new three-part dramatisation of Dickens's Great Expectations. Expectations have been duly heightened by a cast including Ray Winstone as Magwitch, Gillian Anderson as Miss Havisham and Douglas Booth as Pip. Episodes two and three follow on consecutive nights.
The Christmas edition features guest stars Nigel Havers and Samantha Bond and the spectacle of Mr Bates being dragged before the beak for murder
Share this article