DVDs for Christmas: Comedy |

reviews, news & interviews
DVDs for Christmas: Comedy
DVDs for Christmas: Comedy
Our stand-up supremo sorts through a glut of seasonal releases for the funniest DVDs
Tommy Tiernan: a master storyteller on cracking form
Tommy Tiernan Crooked Man (Pias Comedy)
Tommy Tiernan is a well-kept Irish secret. He won the Perrier Award at the Edinburgh Fringe in 1998 and until recently confined his touring mostly to his native Ireland and America, but now thankfully the UK has lately been added to his regular schedule. This DVD was filmed in Cork and has much Ireland-related material, such as the comic's time as an altar boy, the joys of discovering sex in a religious country and living in a post-Celtic Tiger world. He's a man frightened by facts, and too much rationalism, he explains, is bad for the soul; in a typically wonderful turn of phrase, when talking about how Ireland's rich folk history – much of it bloodthirsty - has been sanitised for the modern world, he says, "We have housing-estated the magic out of our own heads." He's an instantly warm stage presence and a master storyteller on cracking form. The DVD has some interesting extras, too.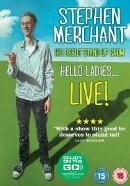 Stephen Merchant Hello Ladies... (Universal)
The writer and performer went back to his stand-up roots with this – his first full-length show - and it affirmed what a natural performer in front of an audience he is. He assumes a churlish, pedantic, rather sexist and tight-fisted persona for much of his material, about his supposed search for a wife, but it's all to indulge in some very funny self-abasement that flirts dangerously with some unPC views of what women really want. And in a couple of gags relating to how a man of his height copes in a world designed for much shorter people, reveals himself to be an accomplished physical comic, too.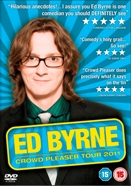 Ed Byrne Crowd Pleaser (Spirit Entertainment)
A straightforward recording of his successful tour show recorded at Newcastle City Hall, full of intelligent and gimlet-eyed observational comedy. The material covers being a new dad (but steering clear of being boring about it), the wildlife of Essex, the joys of being a sci-fi nerd and the dangers of being a pedant in the modern world. His riff about the relationship between eating cake and being overweight – with so many twists and turns and an unexpected pay-off – is a masterly piece of comedy.
Reginald D Hunter Live 2011 (Universal)
The debut DVD from the Georgian (America, not the former Soviet Union state) with the silky voice has a show title that for once doesn't contain the word "Nigga". The American now lives in the UK, and much of his act concerns being a black man in a white society, and he references his family a lot, particularly his dad, who sounds like a real character and a man of much wisdom. Hunter likes to tell tales with a little sting at the end, and here he is no different, as some of the very good gags end up in unexpected places. The show is greatly entertaining, but the extras are minimal.
Dylan Moran Yeah, Yeah (Universal)
A return to sparkling form in a show recorded at the Hammersmith Apollo in London. The Irishman has some brilliantly acerbic, Weltschmerz comedy, as befits his shambling, grumpy-old-man persona, giving his audience a lesson in British attitudes to other residents of the British Isles, his take on why Ireland couldn't survive the Celtic Tiger and why post-colonial Britain is the way it is. He also amusingly conflates some news events of 2011 – Osama bin Laden's capture had something to do with the royal wedding, apparently – and reveals why all men secretly want to be Jason Statham, and the real purpose of dinner parties in married couples' lives.
Mark Watson Live (2 Entertain)
The Bristolian returns to the land of his birth to do an hour-long show in front of an appreciative home crowd. Watson's comedy, delivered in a rather stuttery and mumbling style, is simple storytelling taken to an occasionally surreal endpoint, and his subject matter is families, being a dad, and the delights of sausage rolls. It's certainly not political or in-yer-face material - but there's room for inoffensive and unchallenging comedy, which is cleverly written and engagingly performed. There are some nice extras, too, where a more ironic and daft version of the comic can be seen.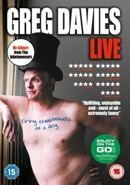 Greg Davies Firing Cheeseballs at a Dog (Universal)
The comic, once part of sketch group We Are Klang, made his debut as a stand-up with one of the best shows at the 2010 Edinburgh Fringe (for which he was deservedly nominated for a prestigious Edinburgh Comedy Award). He has tried to rest it, but such is the demand he has kept on touring with it and now comes the DVD version, which is a treat of autobiographical anecdotes. It's mostly a memoir of his days as a schoolteacher, which he hated, and he mines great fun from cruel nicknames and the odd behaviour of teenagers. The finale, which could be a soppy story about his prudish mum and his eccentric dad buts ends up somewhere else completely, has a superb pay-off.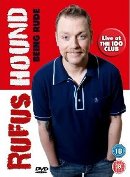 Rufus Hound Being Rude (Comedy Central)
The panellist on a gazillion television shows – including Celebrity Juice, Argumental and Hounded – goes back to stand-up for the first time in a long time for his debut DVD, recorded at the 100 Club in London. It's the perfect boozy, clubby environment for his very accomplished show, much of it about sex and religion, and all of it near the knuckle without being crude or tasteless. He has some very original takes on the differences between men and women, and explains once and for all what really drives men – and it's not, you won't be amazed to learn, related to snips and snails and puppy dog tails.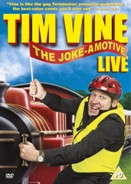 Tim Vine The Joke-amotive Live (Spirit Entertainment)
The comic probably writes some of the those awful jokes you pull from your Christmas crackers and the gags – one-liners, puns, visual and musical pay-offs – come thick and fast, many of them painful to behold. There's little here to upset even the most prudish viewer, but Vine slips in the occasional joke for when aunty is out of the room. Utterly daft but incredibly satisfying. Stuffed full of extras.
Chris Addison Live (Universal)
A well-educated comic who's not afraid to show his erudition, Addison can riff on politics or pork pies with equal ease, and his observational comedy segues with ease between the hateful attitudes of the Daily Mail, daft road signs and the perils of joining a gym. He's a highly energetic and motormouth performer, all the better to get worked up over so many things in life, an occupational hazard for a self-proclaimed smartypants with a taste for pedantry.
John Bishop The Sunshine Tour (2 Entertain)
The Liverpudlian comic went home for the last night of his mammoth tour to the Liverpool Echo Arena, and he certainly signs off with a spectacular finale, in which he channels his inner John Travolta. Along the way there's a lot of very funny material about living in a house filled with teenage boys, their strange smells and preoccupations, and why passing the age of 40 turns men into pervs whether they like it or not. Bishop can't resist some very dodgy references to gypsies, women of a certain age and mothers-in-law, but when he's not being offensive, his material is very likeable. Lots of amusing extras.
He explains in a typically wonderful turn of phrase how Ireland's rich folk history has been sanitised for the modern world
Explore topics
Share this article