Christmas with the Rat Pack Live From Las Vegas, Wyndham's Theatre |

reviews, news & interviews
Christmas with the Rat Pack Live From Las Vegas, Wyndham's Theatre
Christmas with the Rat Pack Live From Las Vegas, Wyndham's Theatre
A Ring-a-Ding Christmas on the Charing Cross Road
Thursday, 22 December 2011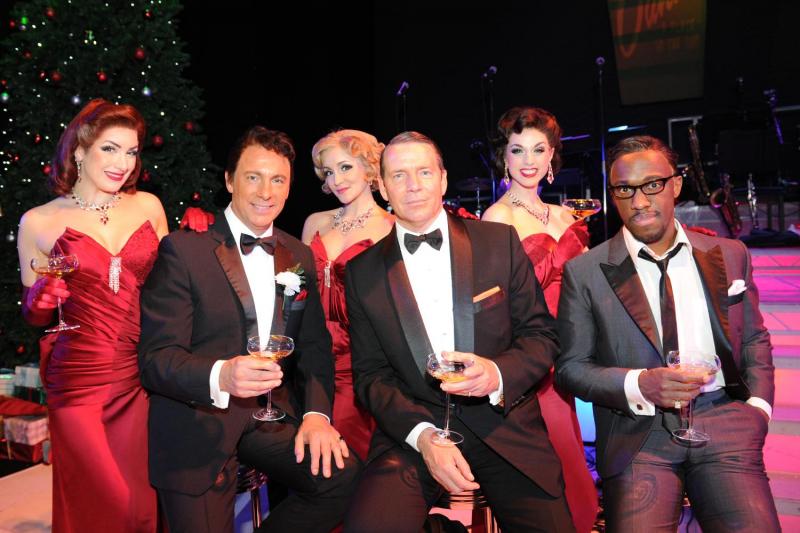 The Rat Pack and friends toast Christmas. Left to right: Dean Martin (Mark Adams), Frank Sinatra (Stephen Triffitt), Sammy Davis Jr (Giles Terera)
Frank Sinatra might have come to dislike being branded as part of the Rat Pack, but the phrase stuck and still sticks. Judging by last night's Christmas-slanted show, just as he, Dean Martin and Sammy Davis Jr live forever, so will that phrase. Eleven years on from the first Rat Pack Live From Las Vegas show the shine hasn't gone and the trio – even though they aren't really there – light up the Wyndham's Theatre.
Strolling on to open the show with "Come Fly With Me", Stephen Triffitt is Frank Sinatra. He's been at it for over 10 years and ought to be good, but if you're a first-timer little prepares you for quite how uncanny this is. He doesn't look exactly like Sinatra, doesn't sound exactly like Sinatra, but he inhabits the Sinatra persona so comfortably it's impossible to avoid quickly slipping into thoughts that this is the real thing.
The trio improvised when a mini-me Sammy was spotted in the audience
Duly softened up, the show glides seamlessly onwards, song after song pricking memories, reminding us just how extraordinary this trio was. Mark Adams's Dean Martin might look a little bit like Sex and the City's Big and Giles Terera's Sammy Davis Jr isn't quite as svelte and hoofy as the real deal, but it doesn't matter. The Sinatra jolt is followed by another – the realisation that this show has class. Old-fashioned, showbiz class.
The trio interact with an easy familiarity, even improvising when a mini-me Sammy is spotted in the audience. Sammy joshes Frank, Frank ribs Dean, and Dean makes wig jokes at Frank's expense. Sure, some of their dialogue is lame-o to the nth degree of corn, but most of it is pretty funny. Sammy is "one of Santa's little elves" and Dean has to be repeatedly roasted for his drinking.
Watch the other Dean Martin in part of a 1965 Rat Pack live show
Their personalities are writ big, but it's the songs that kill. The standard Rat Pack Live From Las Vegas show has been refitted with a bunch of seasonal tunes that are hardly surprises: "Jingle Bells", "Baby it's Cold Outside", "White Christmas", all delivered with genuine warmth. There's a couple of red noses, along with some holly. Mistletoe is magiced up, so the men can try it on with singing and dancing trio The Burelli Sisters.
What are the musical highlights? Tons, but the pinnacle is Frank/Stephen's "Fly Me to the Moon". Dean/Mark's "Everybody Loves Somebody Sometime" and Sammy/Giles's "Once in a Lifetime" are hot, too, in a cool way.
What was taking place on stage hypnotically induced a suspension of disbelief
Cool is key. Everyone on stage is relaxed, at ease with what they have to do. Musical director Matthew Freeman leads a band that's tight but also loosely swinging – especially drummer Matt Skelton. Even so, Freeman's mullet isn't quite right for the show, causing Frank to comment "still no haircut, I see".
Hanging over the stage is a banner emblazoned Sands: A Place in the Sun, memorialising the Las Vegas hotel whose stage became the Rat Pack's home from home. In wintery London a showery evening follows a gloomy day, but what takes place on stage hypnotically induces a suspension of disbelief, and it becomes just about possible to glimpse the sun.
Watch the promo for The Rat Pack Live From Las Vegas
If you're a first-timer, little prepares you for quite how uncanny this is. Stephen Triffitt is Frank Sinatra
rating
Share this article