Football and Film: United or Damned? |

reviews, news & interviews
Football and Film: United or Damned?
Football and Film: United or Damned?
Actors and footballers are merely players
Wednesday, 23 September 2009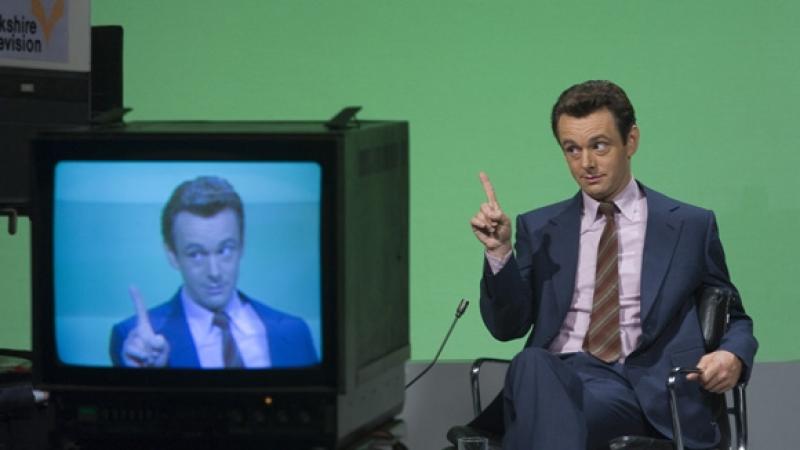 Playing for kicks: Michael Sheen as Brian Clough in The Damned United
There's a new British film coming soon called Dead Man Running. It features the rapper 50 Cent (aka Curtis "No Relation of the King of Pop" Jackson) as an American loan shark who, suffering in the financial downturn, visits these shores to lean somewhat heavily on a couple of defaulters. The film includes the obligatory flavourings for this sort of cheerful low-life caper: a dog track, and Danny Dyer.
But in case you think you know exactly where you are with
Dead Man Running
, wait up. At the bottom of the press release it says this: "Produced by premiere league UK stars Ashley Cole and Rio Ferdinand, this looks set to be the slickest film of the year." Has there ever, on so many levels, been a less promising sentence?
Number one, what the hell is the premiere league? Some kind of championship for Leicester Square royal gala openings? ("Oi, ref, you blind or what? Our red-carpet through-put pisses on Harry Potter's!") Let's gloss over that. What of the fact that football in this country does not have UK stars? It has English ones and Sco… actually no it doesn't have any Scottish stars. Gloss over that too. Let's get to the meat: footballers, it seems, are producing films. And not just any footballers. Half of the English back four are behind Dead Man Running. Do they have no better way of squandering their monstrous take-home pay?
In principle it's not a wholly absurd development. Eric Cantona took a producing credit on Looking for Eric, Ken Loach's eponymous tribute to Cantona's mystical allure (of which more further down) – although who knows what he did to earn the billing? "Producing" is a notoriously broad church: depending on circumstances a producer might do absolutely everything, or absolutely nothing.
It's worth noting that the Premiership producers do not have great form as break-out entertainers. If it's ever exhumed on Freeview, you are urgently advised to give the widest possible berth to Ferdinand's prankster programme, Rio's World Cup Wind-Ups. Meanwhile Cole, better known in the tabs as philandering husband to the beatified Cheryl, has questionable knowledge of the marketplace. He had the commercial nous to release a memoir about his glory years at Wenger's Arsenal just as he took the oligarchical shilling from Abramovich's Chelsea. Result: pretty much zero sales to either set of fans.
Anyway, anyway. There is a much bigger question arising from all this. Football and film: what is that?
The main problem is that at its best football delivers better drama than drama itself ever can
Let's agree that it has not always been the happiest relationship. If you've observed Brian Clough's brief encounter with the Leeds squad in The Damned United, you'll get the picture. Harmony-wise, it's on that sort of level. It has never been entirely clear why this should be so. Football and film really ought to be best mates. They are both forms of mass entertainment. They have the same values, dreams and indeed time frame: 90 minutes or thereabouts (depends who's reffing/directing). And at their most venal they both pray at the altar of profit. Somehow, though, they just don't click.
Why? Time for a bit of punditry, Ron. The main problem is that at its best football delivers better drama than drama itself ever can. No scriptwriter can make up stories to match football's improbable narratives, its career-crushing lows and redemptive triumphs. It may all be heavily fictionalised in David Peace's novel, but The Damned United is a very very rare example of a tolerable film about real footballing events simply because Brian Clough was all but a figment of his own imagination. Football people are generally less complex.
Another reason to ponder: it's axiomatic that actors are as bad at football as footballers are at acting. Ian McShane had a crack at impersonating someone somewhat like George Best in Yesterday's Hero (screenplay from that impeccable source of footballing knowledge, Jackie Collins). In When Saturday Comes, noted Sheffield United fan Sean Bean played a factory worker who gets the chance to pull on the United shirt at an implausibly advanced age (see clip below). The trouble with both these films – one of the troubles – is that the actors simply couldn't cut it on the pitch. Although Michael Sheen as Clough barely kicks a ball in The Damned United, he was at least able to call on the relevant skillset. Once, in a holiday game at Pontins aged 12, he nutmegged the young Tony Adams and was duly invited up to Arsenal for a trial. But thespianism beckoned.
And as for traffic in the other direction, it's the same sort of thing. Players are not good at pretending. To be fair, Graeme Souness did once make a decent fist of playing himself in Alan Bleasdale's Boys from the Blackstuff. But mostly when footballers feign injury on the pitch, spectators can see right through the performance from row Z. This talentlessness has been showcased, infamously, in Escape to Victory, starring Pele, Bobby Moore and, er, Ipswich Town's John Wark. Commercials have often reinforced the point. Gary Lineker couldn't act his way out of a packet of crisps. The product-endorsing trio of Messrs Shearer, Beckham and Owen are also no hams.
What you can say about football is that it does produce characters. Ten years ago directors latched onto that when two of the most iconic footballers of the 1990s were offered proper roles in proper films. In Lock, Stock and Two Smoking Barrels, the midfield hard man and former hod-carrier Vinny Jones was cast as a small-time debt collector in a long black leather coat. It was a clever stroke by director Guy Ritchie. The film had the narrative values of a cartoon strip, and Jones fitted seamlessly into that world of simplistic psychology. In essence he played exactly the same character in the film as he embodied on the pitch, an enforcer who operates on the wrong side of the law. Mirabile dictu, as they used to say in the Wimbledon dressing room, it was perhaps the finest thing he has ever done. Hollywood certainly thought so. He has been repeating the same performance off and on ever since.
In the case of Cantona, casting was almost as studiously to type, but not quite. In Elizabeth he played a sumptuously bearded French ambassador to the English court, a foppish popinjay in gilded doublet. He was just about up to it, though hampered by his shortcomings as an English-speaker. But then in Looking for Eric, Loach had the brilliant idea of riffing on Cantona's enigmatic allure by casting him as himself, a sort of fantasy life-coach who uses gnomic and often plain inaudible gallicisms to guide a postman with the same (first) name through a sea of troubles. Cantona had the wit to allow himself to be sent up. "I am not a man," he says in the film's most memorable line, puffing out his cockerel torso. "I am Cantona."
So who's next? It would indeed be glorious to see Zinedine Zidane have a stab at acting. His presence is as unreadable as Cantona's. That career-terminating headbutt of his in the 2006 World Cup final was delivered with rampant dramatic flair. But the great Zizou might reasonably argue that he's already had his own movie moment. In Zidane: A 21st Century Portrait, the Scottish conceptual artist Douglas Gordon paid hommage by capturing his every feint and flick through 90 minutes in a Real Madrid shirt. Perhaps the most intensely compelling of all football films, it is a documentary that aspires to the condition of drama through sheer force of personality. And it argues that when they take to the pitch, the greatest footballers are not only playing, but playing themselves. So who needs actors to come in and do a job?
Yesterday's Hero (1979). Ian McShane plays a washed-up alcoholic on the comeback trail, and proves conclusively that actors should never be allowed to play football.
Escape to Victory (1981). In football and film, the Germans are always the baddies, doubly so in this ur-flop about POW footballers plotting an escape while playing a National (Socialist) team. Sylvester Stallone and Michael Caine line up, hilariously, alongside Bobby Moore and Pele. An own goal from director John Huston.
When Saturday Comes (1996). Cliché-ridden vanity project about the crowded midfield of experience starring diehard Sheffield United fan Sean Bean as a pub-team amateur who finds himself on trial for, you've guessed it, Sheffield United. Failed to cash in on Euro 96 fever.
Fever Pitch (1997). The tall hirsute Colin Firth is a dead ringer for the short bald Nick Hornby in likeable proof that, in the movies, fans are way more watchable than footballers.
Bend it like Beckham (2002). Gurinder Chadha's film about a West London girls team is no masterpiece, but it's a perfectly enjoyable knockabout which challenges some footballing clichés (while buying into others).
Offside (2006). Iranian drama directed by Jafar Panahi about young women trying to get into the stadium in Tehran to watch a World Cup qualifier. Uses football as a means of saying a great deal about gender oppression in Iran.
Once in a Lifetime (2006). Hilarious morality tale about the rise and fall of Seventies superclub, the New York Cosmos, for whom old-stagers Pele and Beckenbauer took big Soccer League bucks to kick around with part-timers. Studio 54 meets the beautiful game in a scintillating score draw.
In The Hands of the Gods (2007). Moving documentary about five working-class English boys who busk their way down the Americas doing ball-skill tricks in order to shake the hand of Diego Maradona.
The Firm (2009). Further proof that fans make for much the better prism through which to observe the world of football, although this remake of Alan Clarke's 1988 television drama feels mildly redundant.
A Squad of Football Films
Share this article