Classical CDs Weekly: Bach, Elizabeth Maconchy, Vaughan Williams |

reviews, news & interviews
Classical CDs Weekly: Bach, Elizabeth Maconchy, Vaughan Williams
Classical CDs Weekly: Bach, Elizabeth Maconchy, Vaughan Williams
Polished Bach concertos and two discs of British music
Saturday, 07 January 2012
Odaline de la Martinez rediscovers Elizabeth Maconchy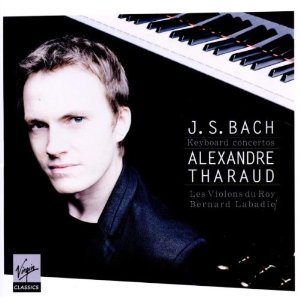 Bach: Keyboard Concertos Alexandre Tharaud/Les Violons du Roy/Labadie (Virgin)
Another disc of Bach keyboard concertos on a major label, following Ramin Bahrami's brilliant, zingy set with Chailly on Decca. Alexandre Tharaud is teamed here with Les Violons du Roy, a Québécois chamber orchestra who use modern stringed instruments played with copies of period bows. Theirs is a distinctive sound, more astringent and incisive than that made by Chailly's Gewandhaus players. So much so that Tharaud's use of a piano instead of harpsichord could feel anachronistic. But he and director Bernard Labadie are wise enough to realize that these marvellous little concertos do sound better on a modern concert grand, in this case a rich-toned 1980s Yamaha. I love Tharaud's solo recordings of Baroque repertoire – he's produced magical recitals of Rameau, Bach and Scarlatti, but here he feels a little less involved. You're left staggered by the dexterity and energy, but left a little emotionally cold. The prestidigitation dazzles but rarely moves, an impression not helped by slightly clinical, up-front recording.
But, even enjoyed at arms length, there are remarkable things here. Tharaud's restraint in the tiny, eloquent slow movement of the F minor concerto is heartbreaking, and the ferocious accuracy of his playing in the finale of the G minor work dazzles. And he plays all four solo parts in the A minor concerto for four keyboards, each take recorded on the same piano positioned differently across the sound stage. The coordination is flawless, and you can't help but smile.
Watch Alexandre Tharaud's Bach Concertos on Youtube:
Elizabeth Maconchy: Orchestral Music BBC Scottish Symphony Orchestra/De la Martinez (Lorelt)
Elizabeth Maconchy (1907-1994) was a pupil of Vaughan Williams (see below) in the 1920s; and her composing career continued until the late 1980s. It's a real surprise to discover how uncompromising and un-English the music on this disc sounds. This bracing, confrontational style does, however, co-exist with a certain dourness, and there are places when you wish that Maconchy's music would loosen up and brighten up a little, the relentless gritty counterpoint a little like eating large bowls of dry muesli. Still, taken in smallish doses, there's plenty to fascinate on this well-produced and annotated disc. Maconchy's early four-movement suite, The Land, inspired by a Vita Sackville-West poem, starts brilliantly, unfolding bleakly with utter confidence. Maconchy's palette is stark, utilitarian, with superb use made of brass and wind. You'd expect the two movements celebrating Spring and Summer to be lighter, fluffier affairs but they're both edgy and full of foreboding. The Concertino for Piano and Chamber Orchestra, composed in 1928 is easier to assimilate; faster moving and more cleanly orchestrated. Brazilian pianist Clélia Iruzun is a confident soloist.
Maconchy's Symphony for Double String Orchestra is tougher and more imposing. The antiphonal effects are well managed in this performance, and the slow fade in the final movement closes proceedings with understated eloquence. Only the monochrome Music for Woodwind and Brass oppresses rather than impresses. The ever-enterprising Odaline de la Martinez conducts, and she's a brilliant advocate for a genuine, underrated talent.
Vaughan Williams: A London Symphony, Oboe Concerto Hallé Orchestra/Elder (Hallé)
First performed in its original version in 1914, Vaughan Williams's London Symphony is worlds away from the European mainstream; this is no Mahler 9. But, seen as a slightly creaky and episodic sequence of brilliantly etched images, it's a minor masterpiece. So much of Vaughan Williams's music shouldn't really work – it's full of clunky cadences and sequences, often thickly orchestrated. But, somehow, this symphony succeeds, and if it's performed as well as this you'll forgive anything. The opening, a blatant steal from Debussy, is as hushed and spooky as it's ever been. Big Ben sounds on harp and clarinet, and it's hard not hear the subsequent fast music as a stodgy, foggy precursor to Gershwin's An American in Paris. The composer's suggestion that the slow movement evoked 'Bloomsbury Square on a November afternoon' doesn't mean a great deal, but there are exquisite things here, especially the eruption of the Big Tune. The Scherzo steals from Petrushka and the last movement's structure never quite holds together, the best thing about it being the elegiac, drawn-out coda. But, somehow, it all works, and good performances can leave me moist-eyed. As did this one. Sir Mark Elder's live reading is polished to perfection, affectionate but never indulgent, and with a satisfying warmth to the Hallé's string sound.
The unusual coupling is a studio performance of Vaughan Williams's 1942 Oboe Concerto. Wistful, less assertive than the symphony, it's far more than a short piece of cowpat pastoralism. It's finely played by the orchestra's principal oboe, Stéphane Rancourt, relishing the music's gentle melancholy.
Explore topics
Share this article