J Edgar |

reviews, news & interviews
J. Edgar
J. Edgar
It's not all their fault Clint Eastwood and Leonardo di Caprio deliver a turgid biopic of Hoover
Leonardo di Caprio spends more time at his desk as Hoover in 'J. Edgar'
People tend to know three things about J.Edgar Hoover: that he was in charge of America's internal security for four decades; that he kept secret files on the political elite; and that the most powerful unelected man in the nation's history liked to throw on ladies' attire.
Although sadly only two of the above turn out to be true, the facts have not stopped Clint Eastwood and
Leonardo DiCaprio
from at least flirting with the elephant in the room. But we'll cross that dress when we get to it.
If this is a charmless and heavy-legged biopic, the genre itself has to take some of the rap. Fifty years of public service and private vice is a lot to squeeze into two and a quarter hours. Dustin Lance Black's script goes with a turgid framing device in which Hoover dictates his life story to a young stenographer at the Bureau. That he is an unreliable narrator is to be taken as read: Hoover stored information like an overwintering rodent stores nuts, but his use of it grew ever more partial. At the climax of the film those thousands of files are swiftly shredded, including the marquee secret of Eleanor Roosevelt's affair with another woman. But Hoover's own secrets went to the grave with him too. At his death we hear Nixon (Christopher Shyer) refer to "that old cocksucker". There is no evidence that Hoover did anything to earn the epithet.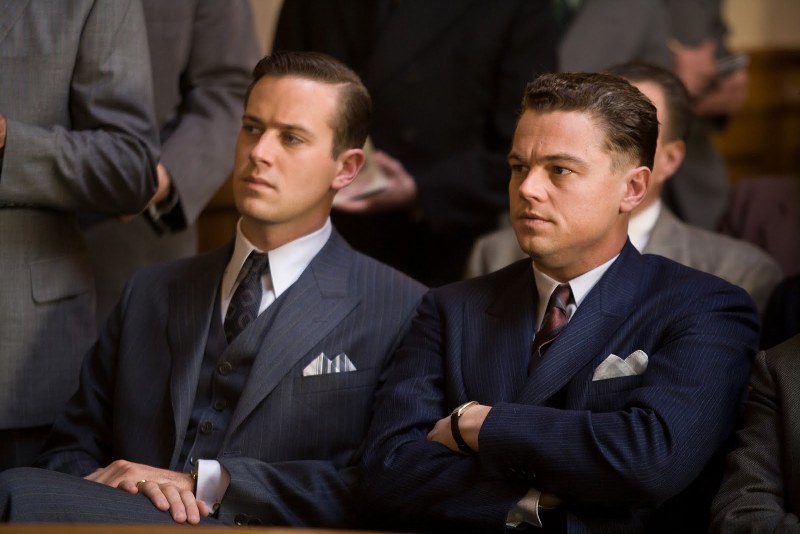 So little is known about the inner man that actor, director and scriptwriter have between them been obliged to riff, like the comic-strip writers who once turned Hoover into a cartoon hero. The romantic spine of the film is his lifelong association with Clyde Tolson (Armie Hammer, who played the twins in The Social Network), whom Hoover made his deputy at the Bureau. The homosexuality of the younger man is telegraphed in nods and winks when he introduces Hoover to his tailor and advises him on ties. They proceed to spend a lifetime together hunting down commies and sharing every meal. They don't apparently share much else. It's only when on holiday Hoover introduces the idea of marrying that Tolson throws an almighty hissy fit. A friend to the stars, Hoover has his eye on Dorothy Lamour (not that we actually meet her, although we do see him hobnobbing with Ginger Rogers and Shirley Temple). Having punched him on the mouth, at the climax of a tussle in dressing-gowns, Tolson kisses Hoover on the lips, apparently for the only time.
It's a welcome burst of emotionalism in a film which for the most part refuses to bestir itself. Sure, Di Caprio's Hoover likes to shout a lot, mostly when overstating his and the Bureau's central importance to the fabric of American life, but he also spends a lot of the film behind his desk, which he has raised on bricks to enhance his authority. It's part of this Hoover's pathology that he resents it when government agents who do the legwork take the credit, so when he is asked at a congressional hearing if he has ever arrested anyone, he makes sure to wield a gun and wear out some shoe leather, above all in the shaggy-dog case of the kidnapped child of the dashing millionaire Charles Lindbergh (Josh Lucas).
But if ever a life was bereft of hinterland, it was Hoover's. His relationship with his mother (Judi Dench, lacking commitment to her American accent) is classically drawn: a proud domineering widow in whose eyes the only son who can do no wrong. Who knows, maybe it was pent-up sexual frustration and an almighty oedipal complex that channelled Hoover's rage against all those agitating commies we see being rounded up between the wars? As to what made him start to abuse his position by collating files whose information we never see him use, the script doesn't venture a guess.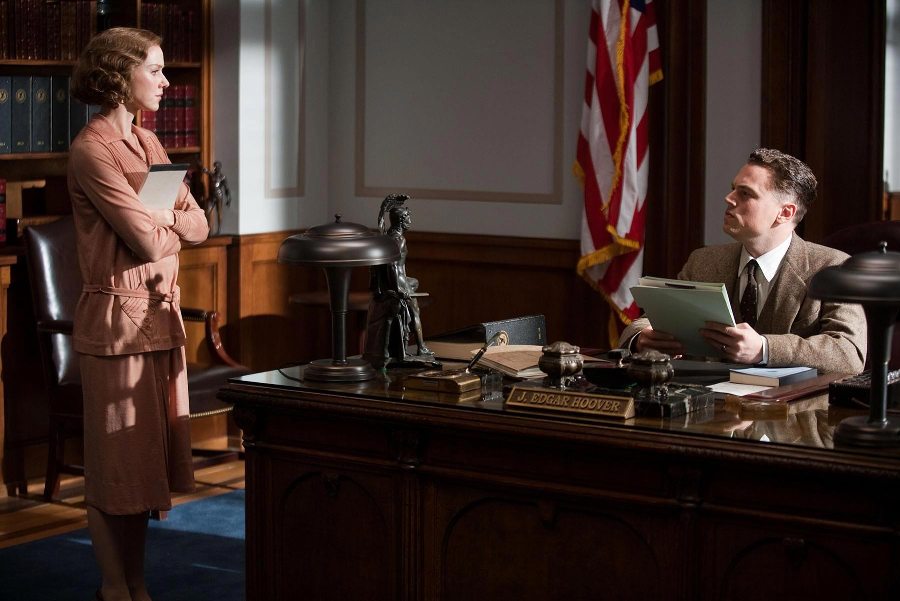 We do see Hoover propose to a pretty young colleague, one Miss Gandy, but only because he feels he ought to. She politely turns him down and, with eyes shining, accepts the alternative lifelong commitment as his secretary. It's impossible to imagine why Naomi Watts accepted this blank wall of a role, unless it was to find out what she looks like under latex. Not as ridiculous as a doddering Hammer, who resembles his granpappy's waxwork dummy. Di Caprio, it must be said, ages more impressively.
Before he proposes to Miss Gandy, Hoover shows her around the Library of Congress and boasts of how he sorted the card-filing system. For all the excitement Eastwood manages to generate about his obsessive indexing of the sexual peccadilloes of the great, the good and the Kennedys, this is basically the story of the 20th-century's most paranoid, power-mad and morally corrupt librarian. Oddly, and counterintuitively for a film about a man who traded in dangerous secrets, J. Edgar is a film which refuses to play the saucy game of revelation. So did he dress up? Only on the night his mother died, according to this fanciful nod to the burning question. Like the whole film, it's a cop-out.
Watch the trailer to J. Edgar