The Stoning of Soraya M |

reviews, news & interviews
The Stoning of Soraya M
The Stoning of Soraya M
If only it were fiction: Sharia in action in an Iranian village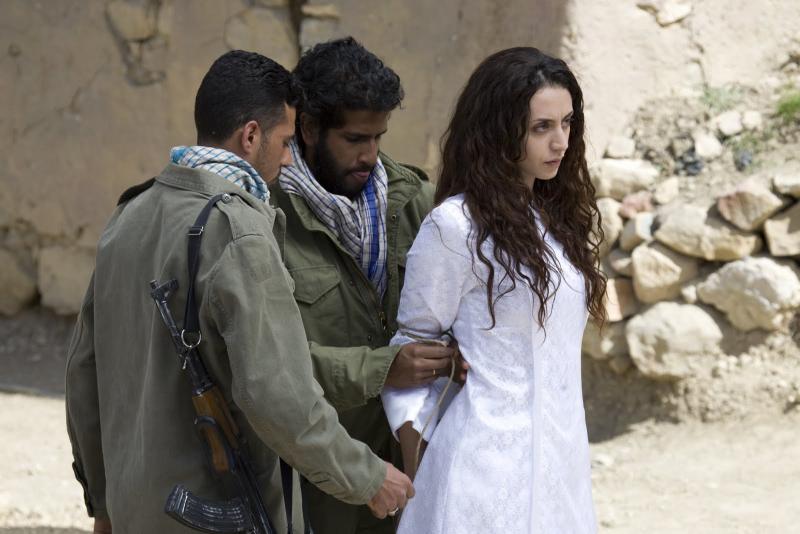 'There are things in this village you do not know about': Soraya (Mozhan Marno) faces the stoning squad
A journalist's car breaks down on a mountain road in the middle of nowhere. He's towed to a tiny hamlet, where small stone houses are overshadowed by huge painted images of the bearded Ayatollah. A woman wearing a black chador insists on speaking to him. "There are things in this village you do not know about," she hisses. Melodramatic, yes, but this powerful, disturbing film is based on a real event in mid-Eighties Iran, which makes it easier - or perhaps harder - to bear.
These first words, which she wants no villager to understand, are the only English ones; the rest of the dialogue is in Farsi. Jim Caviezel, who plays the writer, is the only non-Iranian in the cast. Director Cyrus Nowrasteh, who wanted to show Sharia in action because, as he says in an interview, most Westerners "just don't get it", is an American-Iranian whose family escaped Iran after the Islamic revolution. The film is shot in a nameless Arab nation (though in the interview Nowrasteh mentions Jordan) - undisclosed to avoid local reprisals. Hollywood wouldn't touch it, he says.
The mullah and the mayor chase the woman off, dismissing her as mad. But eventually he follows Zahra to her house - he is a journalist, after all - where she explains that as women can't be heard under this regime, he must be her voice and tell the world the terrible story of Soraya, her niece, who was schemed against by her adulterous husband and the village mullah and stoned to death only the day before. So he gets out his tape recorder.
The film is based on the book by Freidoune Sahebjam, a French-Iranian journalist who met the real Zahra, investigated Soraya's life and death and wrote a bestseller about it in 1990. Unsurprisingly, the book was banned in Iran. There are no holds barred here: the stoning itself is gory in the quasi-erotic, long drawn-out style of The Passion of the Christ (in which Caviezel starred; it also had the same executive producer). There's little ambiguity: Soraya (Mozhan Marno), mother of two sons and two daughters, is good, dignified and beautiful, with cascades of pre-Raphaelite hair and lovely patterned hijabs, while her husband Ali (Navid Negahban, pictured right) is a primitive brute with no redeeming features - even his clothes are nasty.
Ali is infatuated with a 14-year-old girl and as he can't afford two wives, getting rid of Soraya by falsely accusing her of adultery seems the perfect solution. With the aid of the mullah (who fancies Soraya, but she turns him down) he hatches a plan, powered by blackmail and coercion and underpinned by Islamic law. Soraya has been earning extra money by cooking for a simple-minded widower and caring for his son, so Ali forces the man to accuse Soraya of taking naps on his bed - and therefore being unfaithful. The mayor is ambivalent but weak and is easily brought on board. So is the whole village apart from Zahra - even Soraya's sons.
There's a lovely elegance to the sparse interiors of these pale-stone houses, painted in glorious shades of turquoise and mustard yellow, which somehow makes the subject matter even more ghastly. Sunflowers grow in the meadows; flocks of birds rise above the nightmare below. This is Iran 1986, seen through an Elle Deco lens. Zarha (Shohreh Aghdashloo, who was nominated for an Academy Award for House of Sand and Fog and played Saddam's wife in House of Saddam) uses her husky voice and beautiful scarves to great dramatic effect as she hurls abuse at the men - weak, faithless liars the lot of them.
The verdict is decided upon quickly by the village elders: Soraya is convicted and killed on the same day. She has only a short time to comfort her small daughters. Wearing a stylish white dress (really makes those bloodstains pop) she is buried up to her waist in a pit, her hands tied. Her father casts the first stones, soon followed by her sons and the rest of the baying crowd, with a surreal, brightly clothed travelling circus as impromptu accompaniment. Stoning makes hanging look gentle. It is still permitted in many countries, including Iran, which makes it reason enough to see this film. At least we know that Sahebjam got his tape out.
Watch the trailer for The Stoning of Soraya M