Involuntary |

reviews, news & interviews
Involuntary
Involuntary
Swedish debut delivers style and substance but risks alienating its audience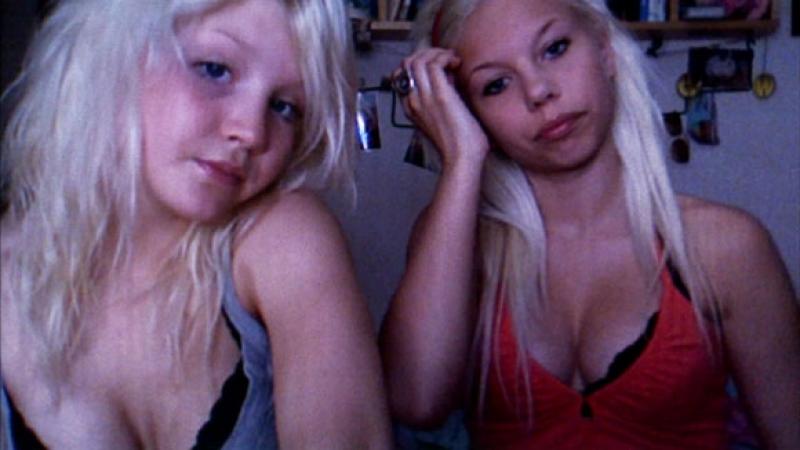 Linnea Cart-Lamy and Sara Eriksson pose for Östlund's voyeuristic camera
This first feature from Swedish writer-director Ruben Östlund arrives heavy with awards, the seasoned and decorated product of film festivals across Europe. Brutal, quirky and elegantly self-conscious, it does little to challenge the trends that have recently made Swedish cinema (Let The Right One In, The Millennium Trilogy) such hot property.
The title serves as
agent provocateur
for the action that follows: a fractured and wilful deconstruction of group dynamics, of the pressures and "victims" of the social collective.
Two barely teenage girls (Linnea Cart-Lamy, Sara Eriksson) pose and pout in front of a camera, writhing and preening for an imaginary audience; a group of thirtysomething men holiday at a remote chalet, their horseplay and joking suddenly taking a turn for the serious; an elderly man (Villmar Bjorkman) is badly injured at his birthday party, but determines not to let it show. The film takes five separate encounters, juxtaposing and interweaving them in familiar-enough fashion.
Yet, confounding the Hollywood expectation that disparate narratives will come together in some great reveal that renders their trivialities weighty and suddenly meaningful, Östlund keeps his episodes isolated, insignificant and wilfully unconnected. The effect is of a series of short films, cross-cut and edited roughly together.
Inspired by a computer game, it is Östlund's unconventional camera shots that give the film its distinctive colour. Rather than a sentient, framing device, his camera instead becomes a blunt instrument, recording but never reacting to the action. In a style that owes much to Michael Haneke, we catch sight of events only at a remove – in the reflection of a car door, through a window, from a distance – occasionally not even catching their accompanying dialogue. The cast of unknowns and amateurs remain faceless or headless for much of their screen time, with critical encounters witnessed only from below the knees, or over someone's shoulder.
This alienation is countered by Östlund's fondness for long takes, with each scene rehearsed minutely then recorded as a single, organic sequence of action. The effect is unnerving, with all the bald directness of documentary, unsoftened by editorialising. A scene in which a young teacher witnesses a colleague strike a student is neither drawn out nor actively climactic, and it is precisely this absence of emotion or reactive energy that makes it so arresting. It's a technique that does risk becoming wilfully obstructive however, so resolute is Östlund's commitment to anti-drama.
The one exception among Östlund's cast of new faces (all of whom tellingly share their names with their on-screen characters) is celebrated Swedish actress Maria Lundqvist. She delivers an impressively un-starry performance as a famous actress on a coach trip in an episode that delivers perhaps the most emphatic working-out of the director's theme, culminating in a false confession being drawn from a young child.
Östlund's film does exactly what it sets out to do. Whether it is worth doing is less certain. A systematic study of the relationships between individuals and their community, issues of personal will and moral pressure are minutely exposed but hardly developed by the wilfully hands-off approach. Involuntary delivers all the infuriatingly micro-controlled manipulations and alienation of Haneke but with little of his aesthetic payoff. Involuntary is unquestionably an accomplished film, but its enjoyments are at times unnecessarily hard won.
We catch sight of events in the reflection of a car door, through a window, from a distance. The cast of unknowns and amateurs remain faceless or headless...
Explore topics
Share this article