The Woman in the Fifth |

reviews, news & interviews
The Woman in the Fifth
The Woman in the Fifth
Kristin Scott Thomas and Ethan Hawke enjoy close encounters of a Parisian kind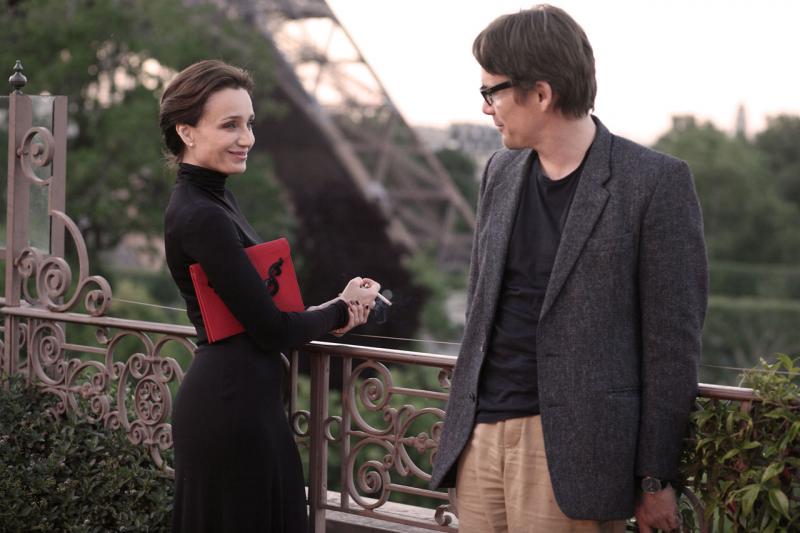 Confused mongrel meets American in Paris: Kristin Scott Thomas and Ethan Hawke in 'The Woman in the Fifth'
Challenging the boundaries of reality and the way in which characters exist in and redefine their worlds has become something of a hallmark of director Pawel Pawlikowski. Considering his previous film My Summer of Love, one critic wrote of it as a study of worlds that "exist somewhere on the periphery of normality".
His new film
The Woman in the Fifth
pushes this further, revealing in a second-half twist that the boundaries of what we had assumed to be reality actually exist in the imagination, somewhere close to madness, to a darkness inside. Rich in mood, and evocative in its images of a downbeat Paris, the film explores the cross-over lives of characters from a whole range of backgrounds.
Ethan Hawke (almost a dead-ringer for novelist Douglas Kennedy, from whose novel of the same name Pawlikowski loosely adapted his script) plays Tom Ricks, an American writer arriving in France to rejoin his French wife and their daughter Chloe. At least that's how he puts it to the border guard – the reality is that the couple are estranged, and he's been forbidden from approaching either, with the police ready to intervene. A chance encounter with the girl finds her explaining that she's been told he was in prison, while Tom tells her he's been in hospital.
If Margit is a mystery, she is also a siren
The sense of something spooky in this undefined past is strong, with hints at mental illness, achieved by intercutting the everyday with apparently unconnected scenes in a magic forest that's both beautiful and threatening. Later we learn that Tom's first, and only, novel was titled Forest Life and that it's within this uneasy imaginary world that he has been connecting with his daughter, first in his thoughts, later in the long letters he writes her through the film (shades here of Angela Carter, even Dante's dark forest).
If these opening developments leave him dislocated, that's only heightened when he's robbed of his suitcase and wallet and finds himself lost somewhere on the edges of Paris, where the first refuge he finds is a sleazy Arabic café-cum-hotel. It's peopled by characters all in their own way somehow "lost" – the Arabic owner, a Polish waitress, and an African tenant who speaks to himself loudly in his room – who feature in the story's development. Tom takes a chance job from the hotelier as night guard in what looks like, but is never defined as, something to do with drug-dealing. (Those for whom Pawlikowski's treatment of reality seems too oblique may wonder why he doesn't just call home – if there's a home to call - for money, let alone how he gets through the whole film looking so dapper without an apparent change of clothes).
Another chance encounter brings Tom to a literary soiree (the only hint at the troupe of the American writer in Paris which Pawlikowsli seems to be implicity debunking), and an encounter with the beautiful, mysterious Margit (Kristin Scott Thomas), who announces herself as the wife of a Hungarian writer; with her roots drawn from all different corners of Europe, she describes herself, rather less poetically, as a "confused mongrel" (the definition par excellence of a typical Pawlikowski character?)
If Margit is a mystery, she is also a siren, again alluding to something that works on a more prototypical level than just as part of the story's development. Tom is drawn into her immediately sexual web, in between seeking chance brief meetings with, or at least glances of, his daughter; conflicts of various kinds appear back at the hotel, as does another more down-to-earth but nevertheless poetic intimacy with the younger Ania (Joanna Kulig). The Polish girl (pictured above right) works behind the bar there, her life as normal as it gets in a Pawlikowski movie.
Events in the "real" world duly encroach on this more internal story, with thriller elements, but to call The Woman in the Fifth a thriller, and then berate it (as some critics have) for its failings in that genre, would be as mixed-up as calling Pawlikowski's 2000 film Last Resort a study of UK immigration policy.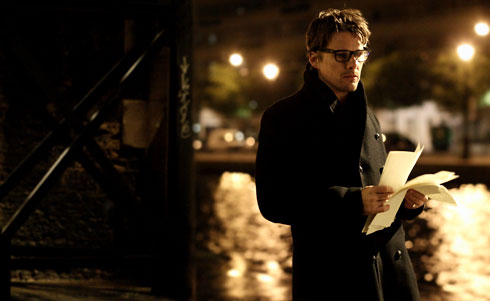 The film's vision of Paris is – with the exception of Tom's first balcony encounter with Margit, the Eiffel tower in the background – resolutely low-beat. But Polish cinematographer Ryszard Lenczewski (in his third collaboration with Pawlikowski) seeks out scenes of remarkable, everyday, somehow paradoxical beauty in the city, corners of streets and angles that a passer-by would catch only by accident. He plays beautifully with half-lights, both in interiors, and dusk and dawn scenes: it may not delight the Paris Tourist Board, but then Pawlikowski has never shot films for tourist boards (witness his Margate in Last Resort).
Lenczewski colours scenes very distinctively, with Margit's apartment (in the city's fifth arondissement, hence the film's title) emphasised in dark reds, against the dawn-blue hues associated with Ania's world. Max de Wardener's score is integral to the mood too, circling melancholy, with series of ascending chords moving almost unnoticed into more unsettling minor keys.
For various reasons neither of Pawlikowski's last two projects, one about the life of the young Stalin, reached reality. Not long ago he relocated to Paris, a move which seems to have been amenable in every sense. The Woman in the Fifth reconfirms his status as a European filmmaker (no forgetting, of course, his Polish origins), working in a style different from many of his British contemporaries. I'm not sure his new film will win him many new converts – but for those already sympathetic to his sensibility, it confirms him as a director of considerable originality, quirkier here, always independent.
Watch the trailer for The Woman in the Fifth