Interview: Andy Gill, Gang of Four |

reviews, news & interviews
Interview: Andy Gill, Gang of Four
Interview: Andy Gill, Gang of Four
Post-punker explains why the new album is no tub thumper
Thursday, 20 January 2011
Gang of Four: Not banging the socialist drum
If you've never heard a Gang of Four track, you probably still know their music. Their influence is all over the Red Hot Chili Peppers, Bloc Party, Franz Ferdinand, and R.E.M to name but a few of their fans. And that's just the musical legacy. Because Gang of Four, primarily active from 1978 to 1983, if they changed anything, changed the way bands considered the role of rock music.
Paul McCartney may have wanted to fill the world with silly love songs, but Andy Gill and Jon King wanted to jam the airwaves with social injustice, war and disconnected lives.
On the phone from his home studio in central London, co-writer, guitarist and producer Andy Gill tells me about Content, their first original album in almost 16 years. It was recorded by him and he is partly promoting it too. In the Seventies Gang of Four surprised everyone by signing to corporate behemoths EMI. Now, ironically, they are on tiny indie label Grönland and Gill is taking calls between his other job as part manager. "We know there's an audience out there," he says. "It's just a huge communications exercise making sure they know the record's around."
A huge exercise that apparently includes packaging a limited-edition version of the album that includes sachets of Gill and King's blood. It begs the question of what sort of audience Gang of Four are trying for with this album. They insist that they don't like to think in terms of demographics, and just try to make the best record they can. But although the music is still identifiably the same dance-friendly "post-punk" with bouncing bass and Wilko Johnson guitars, surely many of the original audience are now revealing themselves as yet more Radio 2 listeners? Maybe, but Gill tells me that they are picking up new fans all the time through the endless "quoting" and "referencing" by younger bands like The Futureheads and The Rapture. "In terms of the audience we have these days", he explains, "we have a huge mixture from school kids to people in their late middle age. If we turn up at a gig these days, two-thirds of the audience seem to be under 25, and it seems to keep the whole thing dynamic."
These, then, would be the under-25s whose generation has been rioting over tuition fees. The under-25s living under not dissimilar conditions to those that he and Jon grew up under; with the Tories in power, unrest in the unions, and the country's finances in tatters. I ask Gill if this is a coincidence. He surprises me by actually trying to take responsibility for the state of the country. "We joke sometimes that we are the harbingers of doom," he says. "We write a song called "I Love a Man in Uniform", and suddenly the Falklands crisis develops, and in the song "Ether" we chant that there might be oil under Rockall and sure enough, there's oil under Rockall."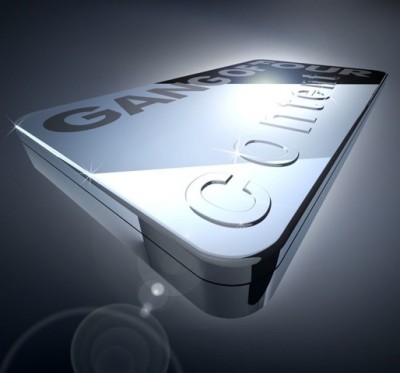 He may be joking, but there's a serious point – he's uncomfortable with the way people seem to assume they are Labour sloganeers. The band may be card-carrying socialists, but if you listen closely to the lyrics of Content (pictured left) they are not overtly political. "I would say we have never been interested in any way in kind of waving the red flag or banging the socialist drum," he tells me. "We are observational and we do a kind of documentary of what we see around us. We're not really interested in current affairs, but the background of what's going on does creep in." For the sake of clarity I ask Gill whether his politics have changed. The answer is a defiant no. He has not lost faith in the Labour party, and thinks the Tories are fortunate to have the convenient "smokescreen" of the financial crisis to minimise the public sector.
The bass lines still throb and the guitar still scratches and stutters. It takes you back to the band's heyday
Content certainly is no tub thumper. The name is a playful take on the way, in a world of iPads and smartphones, that "photography, art, writing of any kind, music, is filling for the advertising sandwich". It's an ironic title. It has to be. Gang of Four have, after all, licensed their music to be used in a Microsoft ad, and say they would have no problem doing it again. So, it seems that they feel that if content is used for advertising filling it doesn't mean it can't be good. So what is the content of Content? Aside from one political "banker" song, "You'll Never Pay For the Farm", it is full of little stories about people trying to make sense of their lives and find authentic ways to live. "You Don't Have To Be Mad", Gill says, "is describing life in the non-straight world, instead of working nine to five, getting pissed and having romantic liaisons". "Who Am I?", he tells me, "encapsulates the point in time where self-obsession has gone off the scale in the Western world". And "Fruitfly in the Beehive", "uses the beehive as the metaphor of the superstructure of society where everybody knows their place and everything works together like clockwork, and looks at what happens when you're an alien in that structure".
Running sentences about getting pissed alongside talk of the superstructure of society is a very Gang of Four way to speak. As he says, they operate "in that area between the very trivial and very important". You've apparently got Gang of Four all wrong if you think they are all about art and angst. "We're not interested in being in a kind of self-referential, artistically pure, leftfield ghetto," Gill insists, adding, "We throw a huge spin on it but essentially we love pop music and we want to be in front of a big audience."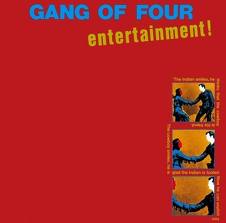 That's why they were happy for their music to be licensed for an X Box commercial. And, of course, it was the music, not the message, the advertisers were interested in. All that excitement and energy that got people dancing in the early Eighties. And that was particularly true of the first album, Entertainment! (pictured right), which remains their most loved. It's this album that Content sounds most like an updated version of. Gill explains, "I think there have been albums where I have been distracted by the production techniques, especially on Mall which is the record that we did at the beginning of the Nineties, where I fell in love with programming and samples. That's not really Gang of Four. Good production is essentially to find out what the essence of a band is and in Gang of Four's case it's about guitar simplicity and rhythm. That's what we grasped onto the whole way through."
Musically the album has all the familiar angularity of the early albums with technology mainly evident in better recording techniques and updated effects pedals. The bass lines still throb and the guitar still scratches and stutters. It takes you back to the band's heyday. Whether or not this is an album that is right for 2011 remains to be seen but it's certainly a good record. In places very good. The industrial instrumentals and melancholy vocals on "I Can't Forget Your Lonely Face" and the pretty rap-metal balladry of "Fruitfly in the Beehive" are as affecting as anything they've ever done. Simple. Nothing fancy. Listening to the record you feel as if you could be standing listening to them jam in a small club.
"We tried to be as live as possible. Every one of those songs we can play live," says Gill. And they will. Gang of Four play Heaven on 2 February and after that they tour North America, with the "brilliant new rhythm section" of Mark Heaney and Thomas McNeice.Gill concedes that it's more little Gang of Two plus Two than Gang of Four, but says it's always been that way. "It's always been me and Jon writing the songs, doing the artwork and doing all the ideas behind the thing," he explains.However the big question remains: "Is this record a one-off or is this the return of Gang of Four?"
"It's the return of Gang of Four, absolutely," he says.
Watch the video for "You'll Never Pay For the Farm"
He surprises me by actually trying to take responsibility for the state of the country
Share this article