Snookered, Bush Theatre |

reviews, news & interviews
Snookered, Bush Theatre
Snookered, Bush Theatre
A humorous and perceptive look at masculine identity by new talent Ishy Din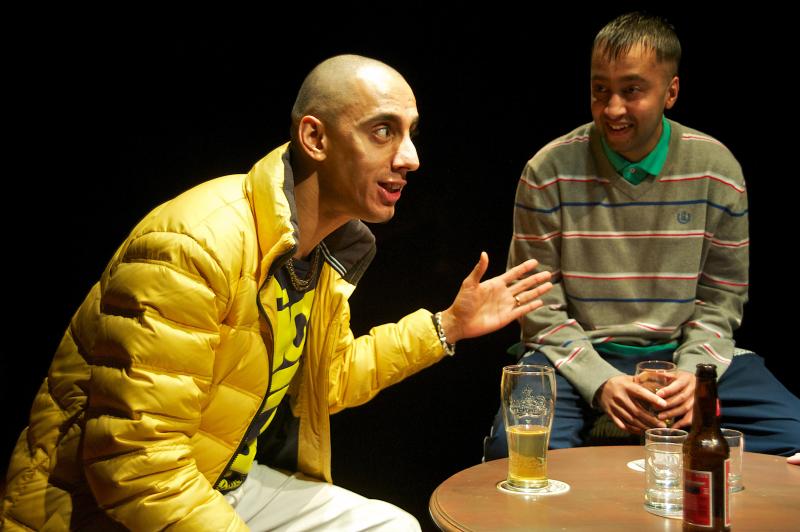 Drink talking: Muzz Khan and Asif Khan in 'Snookered'
What's it like to be young, British and Muslim in the age of austerity? In an era of global financial crisis, high unemployment and shrinking pay packets, what can this country offer British Asian youth?
New talent Ishy Din poses these questions in his storming debut play which takes a trip to the local snooker hall in the company of four blokes, plays a few rounds of pool, downs a few pints and then chats its way up and down the walls and across the ceiling of the place, before quietly staggering home.
The play's title refers both to players who can't make a direct shot in a game of pool and, more metaphorically, to being in a difficult situation; being thwarted, defeated or trapped. It's easy to see why. In a northern town, four mates - Shaf, Billy, Kamy and Mo - meet on the anniversary of their friend T's untimely death. They get the drinks in, before settling down to an evening of pool and heart-searching. From the start, it is clear that they have known each other since school.
At times, the four men
seem to metamorphosise into a menagerie
The first to arrive is Shaf, a wideboy cabbie who has a wicked mouth and a huge appetite for drink. Next to him, Billy - who's left home and moved to London - seems timid and restrained. You can understand why his mates mock him, calling him a coconut: brown outside, white inside. Then Kamy arrives: he works in his father's halal butcher's shop: he is slower than his mates, and the butt of Shaf's jokes. Finally, Mo arrives. He's the most solid and sensible of the four, an assistant manager of a Comet store – a respectable guy.
At times, in Din's vivid characterisation, the four men seem to metamorphosise into a menagerie, with Shaf the leopard, cunning, charming and dangerous circling around Kamy the rabbit, gullible and scared. Meanwhile, Billy stands his ground like a zebra, an attractive mixture of black and white, while Mo starts off as a lion, proud and noble, but is finally revealed to be a snake. As the evening passes, alliances between the four shift as each makes different demands on the others, and each reveals – or learns of – a secret about the past. Each of them is changed by the experience.
Striding around the pool table with them is the theme of masculinity. Din explores the emotions of his different characters with a mix of acute perception and a real depth of understanding. The needs, jealousies and conflicts are clearly outlined. And although they were all brought up in a Muslim community, the specific cultural context of their situation - Muslim attitudes to contraception, drinking alcohol or eating pork - are pushed aside by their Britishness. Of course, the blokes' Muslim identity is often mentioned, and there's a taboo about not believing in God, but their central preoccupations are not so very different from those of any other group of young men.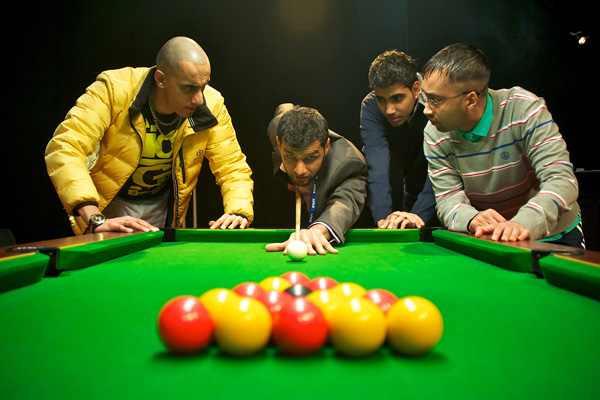 So although they occasionally wrestle with their heritage, their main preoccupations are mainstream: their love lives, their families, their struggle to survive. This is a play about Muslim men, but its emotional centre is all about doing what you desire, the longing for freedom and the frustrations of family. In this context, the truth doesn't set you free – it's more likely to blow apart your world. And, just like the four men, Din's writing seems to have downed a couple of shots, as well as one pint after another, and it races through this 95-minute piece like a fever in the blood. Some jokes are spot on, potting the black with an economy of wit; others set up the next moves in the game.
Not everything is a winner: there is little notice paid to the wider political picture; the theme of a crisis in masculinity feels a bit dated; and the dialogue sometimes generates more heat than light. Still, the rhythm of the evening in Iqbal Khan's storming production is a controlled rush which looks and sounds as exciting as the text. On designer Ciaran Bagnall's shiny pool hall set, a crack cast (pictured above right) manoeuvre around each other with a blend of intimacy and intent.
Muzz Khan's wonderfully charismatic Shaf dominates the play with his powerful personality, while Asif Khan's frightened Kamy is a perfect foil. Of the more serious duo, Jaz Deol's vulnerable Billy is well matched by Peter Singh's stolid Mo. Together, the actors help to flesh out the complexities of both masculine and Muslim identity in toady's Britain. So although Snookered never shakes off the constraints of a typical "me and my mates play", it does deliver a memorable evening that pulses with truth and life.
Although they occasionally wrestle with their heritage, their main preoccupations are mainstream
rating
Explore topics
Share this article