The Fighter |

reviews, news & interviews
The Fighter
The Fighter
Four award-worthy performances in a knock-out boxing movie
Saturday, 05 February 2011
Brothers-in-arms: Mark Wahlberg (left) and Christian Bale in 'The Fighter'
A paean to working-class bellicosity set (and shot) in the rundown industrial town of Lowell, Massachusetts, David O'Russell's boxing film The Fighter relishes its brawls. In one inspired scene, a character is unceremoniously slammed to the ground and punched repeatedly in the face. Not Queensberry Rules?
That's because the assailant is the eponymous pugilist's girlfriend and her victim one of his seven sisters, who have arrived on her porch with their mother one morning to wrest him away from the siren's clutches.
It's the fate of Micky Ward (Mark Wahlberg, who nurtured the project and has a producer credit) to be beset by obstreperous women - you feel for his long-suffering dad, the Irish clan's voice of reason, who at one point has the kitchenware thrown at him by his wife. "Boxing film" is something of a misnomer. Jam-packed with conflict, The Fighter is essentially an old-fashioned family saga in which Alice (Melissa Leo), Micky's ma, who's been misguiding his career, and Charlene (Amy Adams), his girl, who's trying to straighten it out, fight for his soul.
In Alice's corner is Micky's older half-brother and trainer, Dicky Eklund (Christian Bale), a cocaine-crack addict living off his former glory as a fighter who once knocked down Sugar Ray Leonard. As the pugs whom Micky takes on in the ring batter his body, Alice and Dicky, a formidable double act, mess with his mind.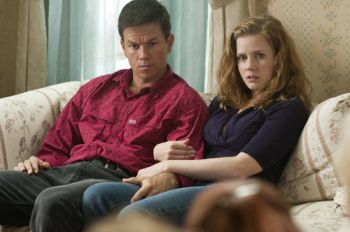 Some of this is true. Eklund (born 1957) and Ward (born 1965) were Golden Gloves champions of New England, and in 2000 Micky won the WBU Light Welterweight world championship, though he is best known for three classic, traumatising fights (2002-3) with the late Arturo Gatti. Dicky went the distance in a losing fight with Sugar Ray in 1978, was featured in a shaming 1995 HBO documentary about his addiction, and did prison time, though he's clean now. Local heroes, the half-brothers are still part of the Lowell fight scene and work together as motivational speakers in colleges. Happily, they can be seen larking around in The Fighter's closing credits.
Russell's style is heightened realism. He previously deployed it most effectively on his debut, Spanking the Monkey, a low-key indie drama about mother-son incest, and his sardonic first Iraq war gold heist flick Three Kings. The Fighter's re-creation of the HBO documentary sets the tone for the entire movie, but Russell gets impatient with the observational tone and violates it. In one sequence, the HBO cameraman follows Micky and the jive-talking Dicky - he thinks the film they're making is about his pie-in-the-sky "comeback" - along a Lowell street as they interact with admiring locals, but then Russell sends his camera pulling back from them at breakneck speed, as if to acknowledge that it's all a charade.
The boxing matches in The Fighter depict controlled, unemotional violence; the intimate skirmishes and battles are precisely the opposite. The Cold War between Alice and Charlene, who thinks Micky would be better off salaried and training year-round in Vegas under professional management, is interrupted by the film's most outrageous set piece. It's as if the film jumps the tracks for a mad few minutes.
Dicky tries to raise money to pay Micky to train with him by pimping out his crack-addict girlfriend and stinging her john by impersonating a policeman, but he gets stung himself by a real squad car. His flight from the scene culminates in a mêlée. He intuitively fells several cops and Micky, coming to the rescue, gets a hand smashed by a nightstick. As a result, Dicky goes to prison and Micky and Charlene, who's unable to cope with such insanity, temporarily break up. When they reunite, she takes control of his career with the help of Mickey O'Keefe (the Lowell cop who trained Ward, here playing himself superbly) and he starts to win bouts.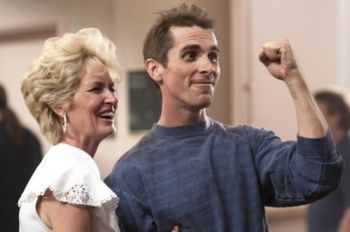 It's not these bruising encounters you recall afterwards, however, but Dicky's showboating as he presents the HBO doc to his fellow cons and yet the way it humiliates him and puts him on the road to redemption. It's a measure of the film's dramatic subtlety, however, that it keeps you guessing whether it will end in triumph or tears, and that deceptiveness is thrilling. When it comes to Dicky the wind bloweth where it listeth, at least when he's high. In moments of sobriety, or semi-sobriety, he is charming and seductive: having appalled his mother by jumping out of an upper window of his crack house into a dumpster (a personal habit), he badly sings the Bee Gees' "I Started a Joke" to her in her car, and she melts despite knowing his pathos is calculated.
The Fighter is deservedly up for the Best Picture Oscar and Russell for director. (It would be surprising if they won, but the Academy errs when it comes to boxing pictures: Rocky won Best Picture, Raging Bull didn't.) Bale should win the Best Actor award, but how to choose between Supporting Actress nominees Leo and Adams?
Leo's chainsmoking, bleached-blonde, mini-skirted matriarch (Melissa Leo, pictured left, with Christian Bale) is like a Mike Leigh creation. She's a manipulative brass whose investment in Micky's success is scarcely selfless; growing in self-awareness, he confronts her with the fact of her greater love for returned prodigal Dicky. And yet, with her Greek chorus of daughters, she's somehow endearing. Adams's Charlene (pictured above right, with Mark Wahlberg), a one-time college high-jumper, is tough, confrontational, streetwise, and so sexy that the seven sisters dub her an "MTV girl". She seems invulnerable until Dicky, seeking rapprochement late in the picture, pierces her shell. "I like my life," she protests to him, then realises that she's squandered much of it drinking in the bars where she works.
Though Micky gets to erupt in his fights, Wahlberg has the quietest and most reflective of the four main roles. He soaks up punishment inside and outside the ring, but you can see him steadily working through his dilemmas. He wasn't nominated, but, in a way, he wins on points.
It's a measure of the film's dramatic subtlety that it keeps you guessing whether it will end in triumph or tears
Explore topics
Share this article