The Other Guys |

reviews, news & interviews
The Other Guys
The Other Guys
Bad cop, worse cop: crime-busting just got funnier
Saturday, 18 September 2010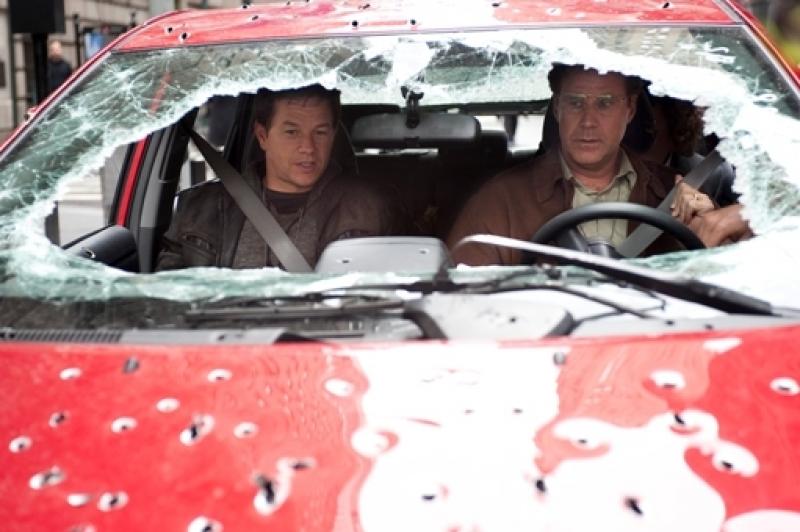 Good for the environment, not good for the male ego: The Other Guys fight crime in a Prius
No modern comedy worth its salt misses the chance to keep you chortling as the end credits roll. Bloopers, bleeps and assorted outtakes off the cutting-room floor generally provide the fare. In The Other Guys we take a different tack. Whizzy graphics illustrate the extent to which corporate greed has raped the American economy. It's powerful stuff. The only wonder is what it's doing bolted onto a film without a serious bone in its body.
Take the following gag about speeding to a crime scene in a Prius. If you find it offensive, you should certainly avoid the movie and maybe the rest of this review also.
"I literally," says Mark Wahlberg to his partner Will Ferrell as they tear politely through New York City's pulsating streets in a small red carbon-neutral dwarf of a car, "feel as if I'm driving in a vagina." You'd love to have been in on product-placement negotiations with Toyota. Yes, this is another cop movie pairing ill-matched detectives who learn to buddy up and bust bad guys together. Of course the odd-couple dynamic throws up laughs galore. But the real treat of The Other Guys is in its subtle variations, in its pursuit of the unexpected.
The titular guys are Detectives Gamble and Hoitz, black sheep of the precinct who somehow never get to go out on a case. Not like Detectives Danson and Highsmith (Dwayne Johnson and Samuel L Jackson, pictured right), whom we meet in medias res on a high-speed multi-vehicular chase sequence which pleasingly sends up all the daftest tropes of the cinematic cop in action. These guys are heroes, but they are also very dumb heroes. However dumberer, it's still a shock when they test their indestructibility once too often by throwing themselves off a high-rise roof in pursuit of thieves who have taken the smarter route down via a zipwire.
Into the freshly made vacancy Gamble (Ferrell) is perfectly happy not to step: a desk-bound scourge of white-collar felons, he'll take the paper chase over the car chase every time. "Go get 'em, guys!" he hollers from his swivel chair as cops with bigger balls head out into the mean streets. "Lot of energy, lot of focus!" Hoitz has been paired with Gamble as a punishment for mistakenly using his firearm on a sporting hero. Result: he's packing a lot of pent-up aggression inside the compact form of Mark Wahlberg. It doesn't help that he's romantically luckless, while Hoitz in his prissy white shirt and prim specs, not to mention his penchant for flaccid MoR, unwittingly exerts a wild pheromonal pull on beautiful women, above all his preposterously gorgeous and servile wife (Eve Mendes, being a very good sport in a lowcut top - watch the clip below).



The only way Hoitz can drag his partner, who has had his weapon confiscated, out on a job is to pull a gun on him. The job turns out to float Gamble's boat when they accidentally bump into a British financier (Steve Coogan, pictured below) wanted for a series of unpermitted scaffolding violations. Forcibly required to hand him over to a private security detail, and told to drop the whole thing by their superior officer (Michael Keaton), they smell a rat.
And we can pretty much leave the plot right there. It's much the least interesting thing about The Other Guys, the joys of which lurk in unlooked-for corners. The scuffle that breaks out at the funeral of Danson and Highsmith, conducted in respectful whispers, is a peach. You chuckle at the group counselling for officers who've had to discharge their weapon in the line of duty. This web-based reviewer couldn't resist a news conference joke, in which a reporter from the New York Observer ruefully adds the shaming suffix, "online". But there are heftier targets too. Gamble, for example, turns out to be a dab hand at editing film footage. "I recently edited three minutes out of GoodFellas," he advises, deadpan. Cheeky but hilarious.
Gamble probably could have snipped a good 15 minutes out of his own movie, but that would have been to throw out the baby. This is the fourth movie Ferrell has made with director Adam McKay, and while Anchorman and Talladega Nights have their supporters, The Other Guys feels like their most inventive and satisfying collaboration yet. Ferrell in particular, playing against brash type, refreshes his personal brand with lashings of largely unexpected charm. Wahlberg, shouting very loudly, strays with unquiet competence into unfamiliar territory. And as you'd expect of such a lithe physical performer, Keaton does a lovely distracted turn as Captain Mauch, who moonlights in bedroom and bathroom retail. Hard to believe now that he was Hollywood's first choice for the Caped Crusader.
If there is a weakness I'm sorry to say it may be Coogan as a kind of Anglo-Saxon Bernie Madoff. His character Sir David Ershon (they had much fun with the names in script meetings) plays on the typecasting of Brits in Tinseltown. But, while we all know Coogan's a brilliant performer of his own carefully generated material, he's not quite dastardly or smooth enough to carry off a role that in the non-spoof version would have gone to, say, Alan Rickman or Jeremy Irons. Hey, at least they didn't get Ricky Gervais.
Watch Ferrell and Wahlberg sparring in The Other Guys


Ferrell, playing against brash type, refreshes his personal brand with lashings of largely unexpected charm
Explore topics
Share this article