Cloud Gate, Wind Shadow, Barbican Theatre |

reviews, news & interviews
Cloud Gate, Wind Shadow, Barbican Theatre
Cloud Gate, Wind Shadow, Barbican Theatre
Olympic effects master creates intimate visual feast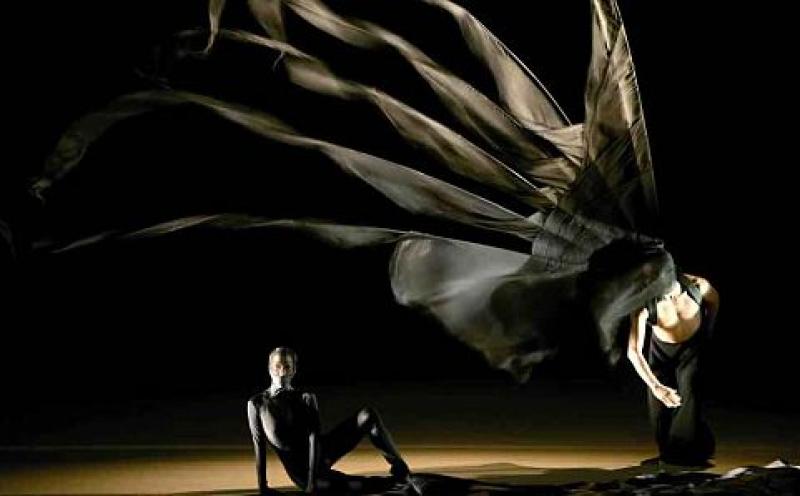 A white kite flies high in black space, trembling, eagerly poised on a wind that shushes almost inaudibly. A man wearing black enters below, and in a low scoop of light prepares slowly in t'ai chi fashion with the calm of a ritual, making great black shadows with his arms and precisely angled legs. Then a small figure sheathed in black bodysuit, faceless, depersonalised, scuttles on and glues its feet to the man's like a second black shadow.
From then on every move the man makes is quadruplicated not only by his shadow but by his
doppelgänger
and its own shadow.
This was the memorably graphic and simple opening to Cloud Gate Dance Theatre of Taiwan's scenic installation Wind Shadow last night, an evening of exquisite stage images masterminded by the Chinese visual artist Cai Guo-Qiang, the pyrotechnic superstar of the Beijing Olympics ceremonies with their fantabulous fireworks and phenomenal special effects. Originally he was going to do the Olympics with Cloud Gate's choreographer Lin Hwai-Min but due to Lin being too busy Cai landed up doing it all in the Bird's Nest Stadium on his own, and Lin asked him instead to collaborate on a rather more intimate theatre work for 20 performers, rather than 10,000.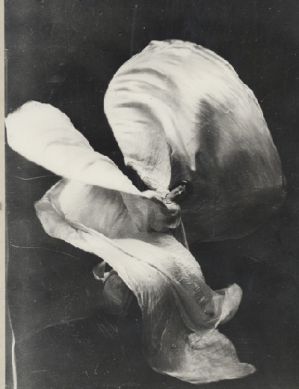 More than a century ago Loie Fuller (pictured right) discovered the magical effect of fluttering material amid cunning light, and she would surely admire Cai's style today, deploying those old props, huge flags, wings and streams of translucent cloth against a fabulous modern lighting armoury, from low sideways spots to neon walls to a wholly extraordinary climax with bomb blasts, a laser tunnel and sulphurous cloud that feels like it's sucking us all up into some diabolical outer space.
During the 80 minutes the person+shadow motif recurs, like men dragging their memories about, perhaps, or conversely the mortal body shackled like a ball and chain to the fretful soul. Death, you might think, is never far away. This doesn't make for dynamic or varied choreography, but there's an interest in watching the sheer mechanics of the "shadow" person on the ground, writhing to mirror the standing person's slow balances, especially when light is playing around turning their shadows into intricate pictographs.
Sometimes people run about fluttering vast white silk banners, or become marvellous seraphic figures with multiple slender wings of white or black, like schooner sails, growing from their shoulders. The nuance and paleness of the flags against the blackly silhouetted figures has a beckoning calm, white silk sheets rippling in air, enjoyably soporific. A few scenes that have tried too hard to work - a huge oval mirror descends awkwardly at the back at one point, reflecting writhing black creatures in half-light below, as if so many tadpoles in a pond were trying to be born from slime. On the other hand, there is the sweet simplicity of just watching silhouetted figures flying kites across the stage, for a long time as light alters around them, until you realise the kites have imperceptibly flown away.
Along with this visual pageant is an eloquent sound design by Liang Chun-Mei and Jim Shum, evoking tranquil silences at the start, but bit by bit planting emotive sound references here and there, a whirr of helicopter blades, the ping of a submarine, a baby crying, until the culmination in one of the most impressive aural apocalypses I've ever heard, where the theatre seems assaulted by earsplitting explosions and shocks to accompany an incredible final display of truly Olympic standard. So while it may begin as an elegantly abstract dance installation, Wind Shadow does aspire finally to send us all off shaking our heads (as we so often do in dance theatre) at the awfulness of man to man.
Still there is rich enough visual fare in Wind Shadow simply to enjoy as a feast to the eyes - most touching where the beauty of the image seems to be quite independent of trying to make it mean something.
Wind Shadow is at the Barbican until Saturday. Book online here.