Ballet Flamenco Eva Yerbabuena, Sadler's Wells |

reviews, news & interviews
Ballet Flamenco Eva Yerbabuena, Sadler's Wells
Ballet Flamenco Eva Yerbabuena, Sadler's Wells
A forbidding, magnificent woman strips herself for Spain and destiny
Saturday, 19 February 2011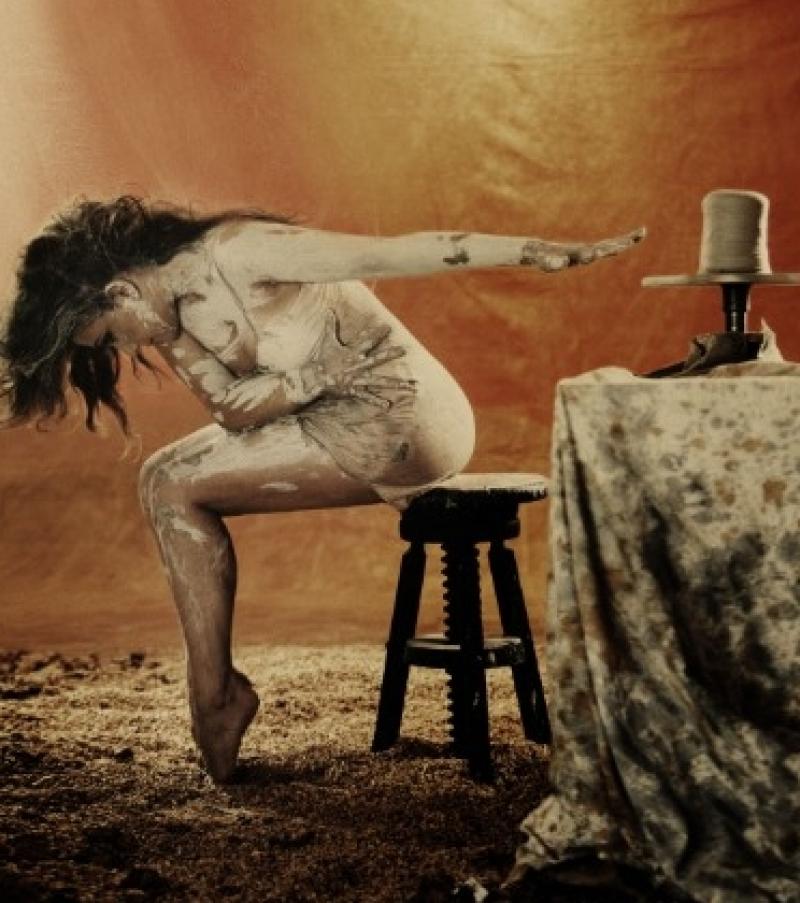 Eva Yerbabuena: The disconcerting sight of a woman slapping clay over herself
There are gifted dancers and there are creatures of the stage. You know the difference immediately. The latter have something shamanic about them, ageless at any age, almost eccentric in their power. Eva Yerbabuena is one of those very rare creatures, to whom I succumb as helplessly as a rabbit in front of a cobra.
At Sadler's Wells in an intensely emotional new production this weekend inspired by the Spanish Civil War, Cuando yo era (When I Was…) she exhibits her trademark adamantine sombreness, dressed inevitably like a granny (she did so when she was 20, she does so now she's 40), frowning at feminine wiles or sexy sweetness, but when she moves - oh, when she moves, the walls seem to fall in on you, the ground seems to heave. Like one of the legendary Norns, the spinners of destiny, she measures out seconds in complex embroidery of spiralling arms, flickering fingers, thundering heels and a body that for all its compactness, moves as weightily and deliberately as a bull surveying its territory.
Yerbabuena doesn't do soubrette or charm. She seems to be determined to strip flamenco of its girly frills, she rarely smiles, offers no sugar in her bitter black musings, swathes herself in more and more layers of high-necked great-aunt dresses in dusty apricot, immense shawls, great dangling earrings, almost as if to leave no flesh uncovered. Proud as hell, she juts her chin, casts a forbidding glance at the audience, and sets off like a volcano in her earth-moving dance.
Which makes it terribly disconcerting, rather worrying for the nerves, when she unzips her granny dress, steps out of it and stands in a short plain slip. It's almost as if she's stripped naked. She is clearly a middle-aged woman with a formidable bosom and Rubensesque hips, but the limbs taper swiftly to delicate ankles and flower-like hands. She moulds a wet clay pot on stage briefly, then breaks it and starts slapping clay slip on herself. This is not a happy sight, and while I guess we are invited to see this slithery, dripping clay as a lost baby, born, perhaps aborted, perhaps simply wished dead, Yerbabuena's tableaux here are slushily sentimental, the exact opposite of what she achieves when she dances.
That aside, there is something refreshing about seeing a woman in only a slip dancing flamenco, even more disorientating than watching ballet dancers in their undies - each of these dance forms comes so formally identified with their trappings. And Yerbabuena does trail a magnetic doominess that while it purports to be representing Spain's deprived mothers and a country's angst, instead lures one into the more personal mental stew of a mother, swinging between tenderness and murderousness.
In a fragmented, bitty narrative, there are several surprises: an extraordinary cockfight episode for the two male dancers, with bells on their ankles and wrists, and a hauntingly simple duet between a male singer a cappella and a male dancer, the dance full of flying, avian images, the tenor warbling mournfully and urgently in words we can't understand. In a silent-movie-style bar scene the cute Mercedes de Córdoba in a short frou-frou pink dress and bright green heels stomps out a deliciously flirtatious Cuban-style solo that's the polar opposite of Yerbabuena, who stalks on, instantly chilling the scene to a fearsome frost. Yet when she starts dancing, everything else suddenly becomes inconsequential.
Some good things indeed, but for me, nothing that gelled them into the formidable overall experience she obviously desires, and there are several perplexing miscalculations of theatrical timing, particularly the finale.
The most consistently powerful element of Cuando yo era for me comes from Yerbabuena's outstanding musicality and her band, led by her husband, the inventive guitarist Paco Jarana, whose music is a constant conversation between flamenco form and a fresh, intriguing modern dissonance. His playing has a lightheartedness that his wife's dancing entirely and deliberately avoids, and they make a hugely involving counterpoint. There are surprises too in the singers, whose stars are tenors, rather than the usual deeper, more barking tonal range of male flamenco singers. Again - how many times does one have to ask? - we get only half, less than half, of flamenco when we are not given any translation of the lyrics.
Eva Yerbabuena dances in Mike Figgis's 1997 documentary film Flamenco Women