The Deep Blue Sea, West Yorkshire Playhouse |

reviews, news & interviews
The Deep Blue Sea, West Yorkshire Playhouse
The Deep Blue Sea, West Yorkshire Playhouse
Maxine Peake shines in a centenary revival in Leeds of Rattigan's 1950s masterpiece
Tuesday, 22 February 2011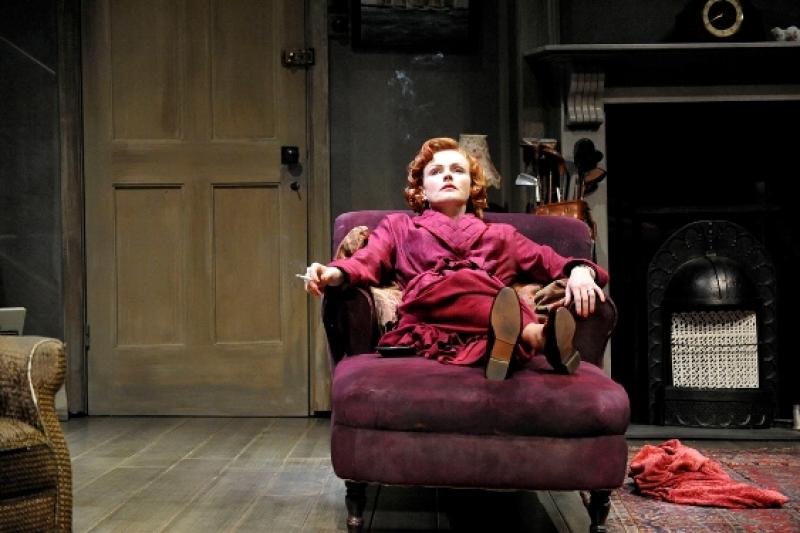 It's Maxine Peake's night: Hester Collyer in Terence Rattigan's The Deep Blue Sea
The clipped Fifties accents raise a smile for the first few minutes, but what's startling about this new production of Terence Rattigan's 1952 play is how universal, how timeless the story is. Director Sarah Esdaile wisely decides to play things respectfully straight, and within seconds the time and place, both beautifully evoked in Ruari Murchison's detailed set, melted into irrelevance.
Maxine Peake plays Hester Collyer, attempting suicide after her boyfriend Freddie has forgotten her birthday. After her life is saved by the enigmatic fellow tenant Mr Miller, her back story is slowly unveiled: marriage to a respectable but dull judge, suppressed artistic talent, and her reason for throwing in her lot with former Spitfire ace Freddie. Emotionally stunted, Freddie's struggle to forge a peacetime career as a test pilot is ruined by alcohol. As ever Rattigan's narrative is artfully designed not to creak. We know that Hester's suicide note hidden in her dressing gown will be discovered by Freddie, just as we expect Mr Miller's back story to be slowly illuminated. And the closing scene, Hester's fate decided after her conversation with Miller, packs all the more punch for its restraint.
Maxine Peake triumphs in the role of Hester – last night it was striking how the tension dropped when she was offstage, and how the audience began momentarily to fidget. She alone embodies vibrancy, life and ambition, surrounded as she is by an ensemble of inadequate and disappointed men. In one lovely moment she embraces her husband for the last time as her hand gestures furtively revealed the true drift of her thoughts. Lex Shrapnel's Freddie is oily but charismatic and charming, a study in superficiality who is only able to communicate in RAF slang. He convincingly suggests that we can never believe in his plan to sober up and take a job in Rio, any more than Hester will be reconciled with her cold fish of a husband (sympathetically drawn by John Ramm).

The smaller roles are never played as caricatures – Ann Penfold's landlady, who is willing to betray any of her tenants' secrets, and Ross Armstrong and Eleanor Wyld as a young couple who are secretly thrilled to be discover Hester's unconscious body at the play's opening. Best of all is Sam Cox as the disgraced former doctor Mr Miller whose otherness slowly comes to mirror that of Hester. Cox carefully conveyed the character's melancholy and decency. While excellent sound and lighting add to the evening's pleasures, the evening really belongs to Peake, whose magnificent performance continues Rattigan's centenary year in some style.