Bill Cunningham New York |

reviews, news & interviews
Bill Cunningham New York
Bill Cunningham New York
A captivating profile of one of New York's liveliest chroniclers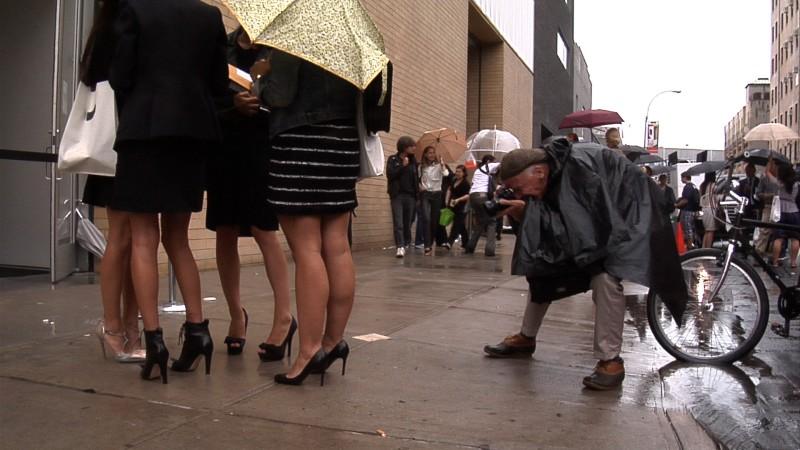 Bill Cunningham captures the highs and lows of New York street fashion
If you're the kind of person who appreciates auto-recommendations based on previous purchases, then perhaps I could do worse than begin this review by saying:" If you liked The September Issue, you'll simply love Bill Cunningham New York." There are obvious similarities: both are Cinema Verité-style documentary profiles centred around New York and fashion, both present a series of talking heads, and both feature the formidable Anna Wintour, managing editor of American Vo
gue. Maybe it was
The September Issue
that gave Richard Press,
Bill Cunningham'
s director, the inspirational spark to make his low-budget film. Certainly its huge commercial success must have made it an easier proposition.
Bill Cunningham New York isn't just a film for die-hard fashionistas. Indeed, fashion really isn't its point (if it was, I'd have hated it). It's a joyous and poignant profile of a character whose life has been completely driven by his twin obsessions: clothes and style – clothes, so it goes, being the armour that helps one face the world, style being that elusive thing that helps one carry it off. And though his tastes are certainly idiosyncratic – Anna Piaggi over Catherine Deneuve (who he refuses to photograph in a paparazzi scrum, uninterested in "cookie-cutter sameness") – as a photographer now in his eighties, he still finds plenty to love not only amongst the well-heeled of New York's charity ball circuit, but amongst - especially amongst - ordinary Manhattanites on the street. "On the Street" happens to be the title of his celebrated style column in the New York Times.
Cunningham's images illustrate the apparent effortlessness in capturing each decisive moment
Cunningham himself, though extremely engaging, cuts an undistinguished figure. Though one contributor insists that "Bill is actually very stylish", it's an assessment you'd be hard-pressed to agree with. His "uniform" – he's never seen in anything else – consists of crumpled slacks and those blue multi-pocket jackets worn by Parisian street-sweepers and purchased for around $20 in clear plastic off-the-peg packaging.
No doubt it's the kind of look that helps him blend into the background as he goes about his business snapping stylish passers-by. He loves, he says, to work in the rain, since people are too busy battling the weather to notice you. And in a jaunty series of montages, Cunningham's images illustrate the apparent effortlessness in capturing each decisive moment – though he insists his own decision-making processes are in abeyance. "I don't decide anything," he says. "I let the street speak to me, and in order for the street to speak to you you've got to stay out there and see what it is." And though he acknowledges he is not among the true greats of either street or fashion photography (neither label seems a great fit, in any case) he's certainly one of their liveliest chroniclers.
For Press, working closely with producer Philip Gefter and New York Times staff photographer Tony Cenicola, all of whom took turns in operating one of the hand-held cameras, gaining trust was a slow matter – filming would be put on hold if Cunningham wasn't feeling particularly up to it. And clearly, the waiting game has been time well spent, since the film unearths more biographical information than Cunningham, a deeply private man with extremely monastic habits, has revealed to anyone in decades.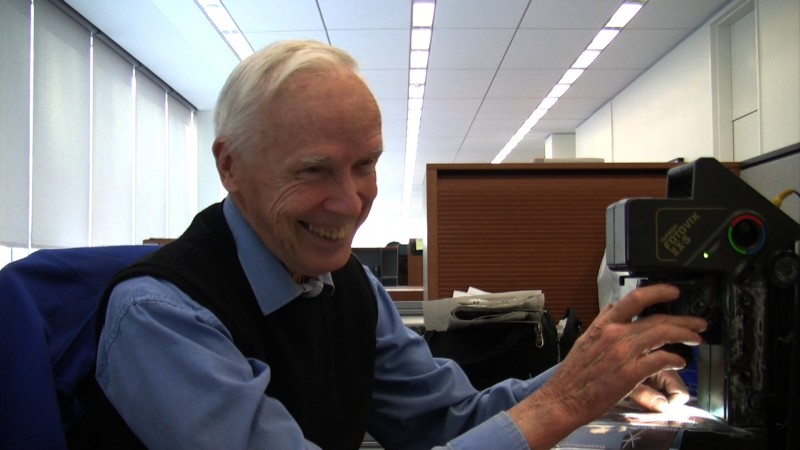 It's difficult to say why such a mystery has evolved around this genial, incredibly generous figure. One of his closest colleagues imagines how he must come from wealth, since only those cushioned by such a background could turn their back on material aspiration – a sentiment which expresses how incomprehensibly exotic they must find him, in a world in which the exotic feels so studied and contrived. Perhaps their ignorance says more about the self-obsessed fashion milieu than Cunningham's admittedly rather stubborn and impressive reticence.
Lovingly respectful of its subject, here the film treads carefully. Only towards the end do we get two personal questions: the first about Cunningham's sexuality, the second about his religious faith. Cunningham's responses are spare and punctuated by shyly evasive comments and long silences. This is difficult territory and the interviewer interjects twice with a gently reassuring "You don't have to answer that." In these quietly revealing moments, the film gets the tone just right.
Watch the trailer to Bill Cunningham New York
A joyous and poignant profile of a character whose life has been completely driven by his twin obsessions
rating
Explore topics
Share this article