theartsdesk in New York: Battling for the Heart of Ground Zero |

reviews, news & interviews
theartsdesk in New York: Battling for the Heart of Ground Zero
theartsdesk in New York: Battling for the Heart of Ground Zero
The site of the 9/11 attack in Manhattan is open the public, but not without some unseemly fighting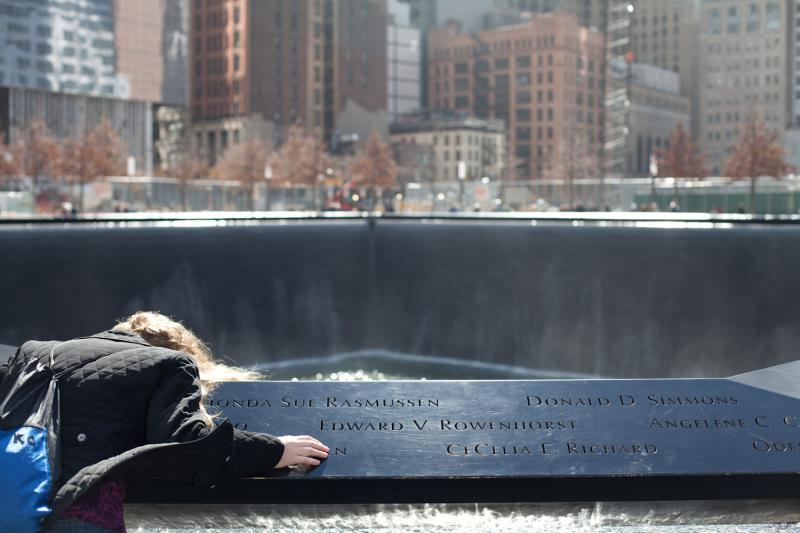 Reflecting absence: 'where the Twin Towers once rose into the clouds, now the ground swallows up their footprints'
Ever since we moved into an apartment building round the corner from Ground Zero a couple of years ago, I've been keeping an eye on One World Trade Center, formerly known as the Freedom Tower, soon to be America's tallest building. Now it's reached 92 of its eventual 105 floors at the rate of one floor a week, its octagonal steel panels covered in blast-resistant glass soaring skywards, and Condé Nast and J Crew have signed up as some of its future occupants. But although I pass 1 WTC almost every day on the way to Wholefoods or the Gee Whiz diner, the area is cut off by forbidding fencing and turnstiles, and feels like a remote realm of the hard-hatted construction workers who fill the local Dakota Roadhouse bar at happy hour. With the rest of downtown regenerating like crazy, Ground Zero still feels like a last outpost.
So I decide to take the 9/11 Memorial tour. No New Yorker I know has felt the need to do this, partly, perhaps, because Ground Zero politics have been so changeable and rancorous over the past 11 years that many people have given up trying to keep abreast of what's happening in there. "There's a messy, greedy quality to it all," says a friend. "The ownership spats, cost overruns, and the amazing grabbiness of the victims' families, obscenely possessive of what was a horror to us all - it's sickening."
The placement of the names involved years of planning, argument and algorithm
The tour is free but you're advised to book a timed reservation online as there are only a few on-the-day passes – there's been grumbling about that, and about the fact that there are no restrooms. Security isn't as painful as I expected; OK, you have to scan your bag and jacket as in an airport but on a chilly Thursday in February there are no queues. Then you pass various guards who check your ticket and wave you along until you find yourself in the huge, grim area, much of it still a construction site - 2 WTC, designed by Norman Foster, and 3 WTC, designed by Richard Rogers' Rogers Stirk Harbour partnership, aren't above ground yet. There's an oddly shaped, slanted entry to the underground museum, designed by Snøhetta, a Norwegian firm, due to open later this year, which will house, among other objects and exhibits, a fire truck, a staircase and the last column to be removed from the site.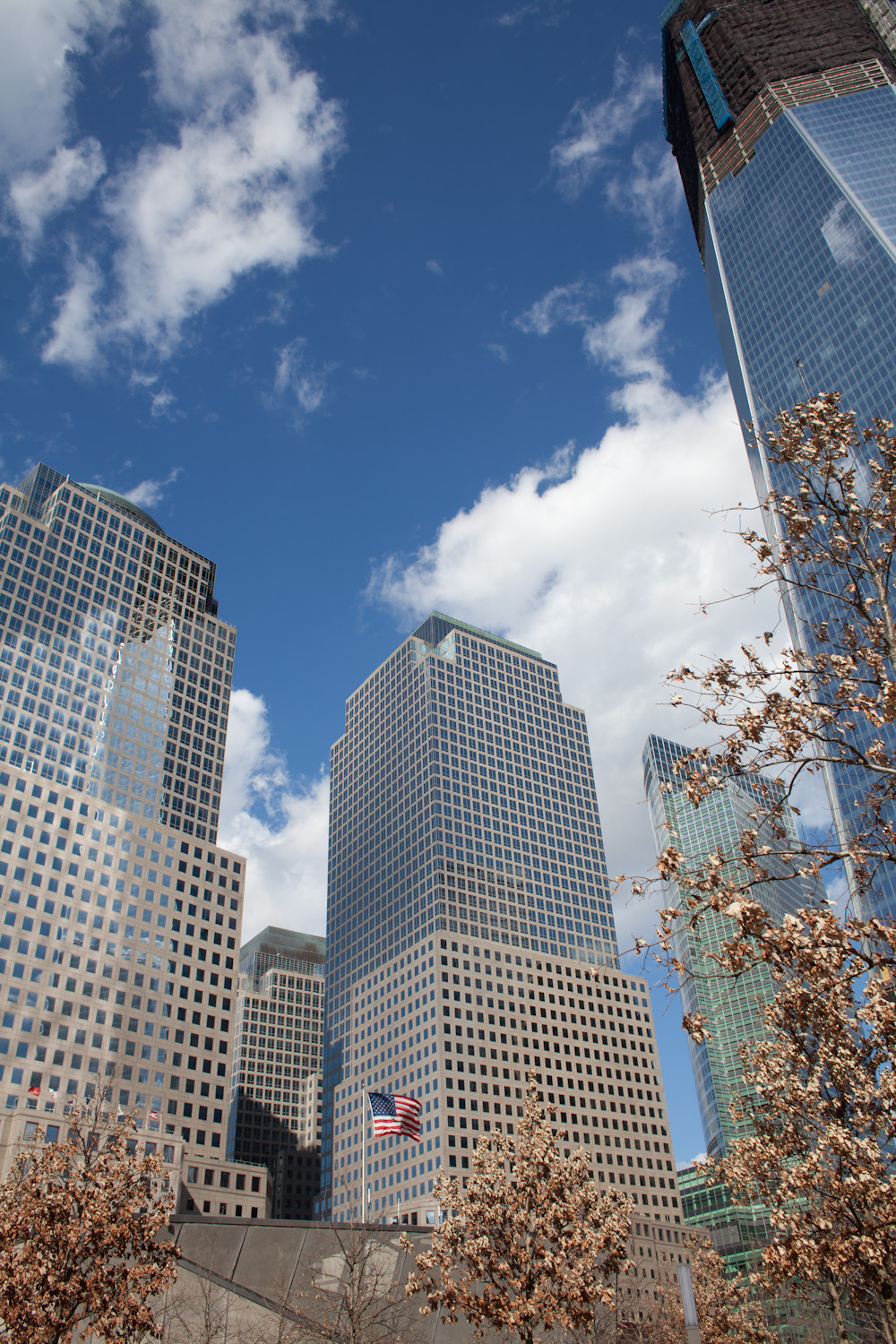 But what is finished are the square pools in the footprint of the Twin Towers designed by Michael Arad, the inexperienced, demanding Israeli-American architect who won the 2004 design competition when he was 34. They are extraordinarily vast – almost an acre each - and very powerful.
Arad calls the project Reflecting Absence and the pools do just that. The South Pool is nearest the entrance. It's dizzying to watch and hear the waterfalls as they flow down the huge dark 30ft walls into a square basin, then into another smaller one, then disappear into a void. Where the Twin Towers once rose into the clouds, now the ground swallows up their footprints.
Around the pools are the 2,983 names of the dead, engraved into bronze panels. On the South Pool are the first responders, those who died in the South Tower and on Flights 77, 93 and 175 and in the Pentagon; on the North Pool, the victims from the North Tower, Flight 11 and the 1993 bombing. It sounds simple enough but the placement of the names involved years of planning, argument and algorithm. In the end Arad's concept of "meaningful adjacency" won the day – the names of people who'd known or died near each other are placed together. Arad's original plan, to have the names displayed in a gallery underneath the waterfalls, was scrapped due to cost and security worries in 2006. He nearly walked away from the project then, just one of his many bust-ups and fights for control over the past eight years with the Port Authority, Governor Pataki and architect Daniel Libeskind, among others.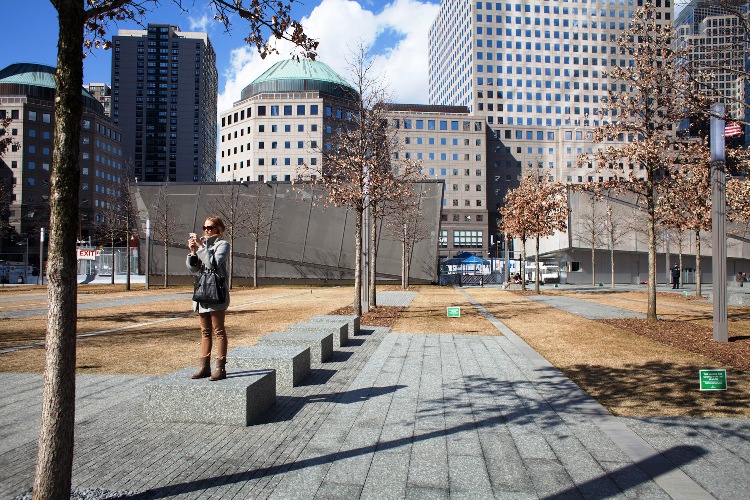 "Please do not throw or place anything in the memorial pools," say blue signs. I walk round the rim, reading the names. Robert Curatolo, from Ladder 16. Dana R Hannon from Engine 26. Lauren Catuzzi Grandcolas and her unborn child on Flight 93. Schoolkids too young to remember the attacks wave their phones around and take pictures, their voices carried away by the sound of the water. I sit on a cold stone bench and look at the lines of small bare trees, swamp white oaks, planted on strips of brown grass marked with more signs saying: "The lawns are closed for the season". Eventually 400 trees will be planted but that looks a long way off. Somewhere there's a pear tree that survived the attacks, but I can't find it.
I notice what look like ATM machines in a wall between the two pools. These are kiosks where, surreally, you can key in the details of a victim and a photo of them comes up, followed by a neat little card with a map showing where their name is on the panels. I type in Pelham, a New York suburb where I lived in the 1990s. Four names - I didn't know them - appear, two of them brothers, three of them Cantor Fitzgerald employees (North Pool), one of them a lieutenant with Ladder 15 (South Pool), and I find them easily from the map.
One day the 9/11 Memorial (cost of building: around $700 million) will merge into Downtown and people will sit under those oak trees, eating sandwiches in their lunch hour. For now, it's still a world away from life on the other side of the fence, where the discount department-store Century 21 is pulling in the crowds. In the gift shop - of course there's a gift shop, with everything from oak-leaf ornaments, flags, firefighter bookmarks and key chains to a 9/11 memorial chopper motorbike with its exhaust modelled after 2 WTC - the schoolkids cluster round the 9/11 DVDs. "I've seen that movie!" shouts one.
There's a messy, greedy quality to it all. The ownership spats, cost over-runs, and the amazing grabbiness of the victims' families, obscenely possessive of what was a horror to us all
Explore topics
Share this article
Subscribe to theartsdesk.com
Thank you for continuing to read our work on theartsdesk.com. For unlimited access to every article in its entirety, including our archive of more than 10,000 pieces, we're asking for £3.95 per month or £30 per year. We feel it's a very good deal, and hope you do too.
To take an annual subscription now simply click here.
And if you're looking for that extra gift for a friend or family member, why not treat them to a theartsdesk.com gift subscription?