Turner Inspired: In the Light of Claude, National Gallery |

reviews, news & interviews
Turner Inspired: In the Light of Claude, National Gallery
Turner Inspired: In the Light of Claude, National Gallery
Fascinating visual essay illuminates Claude Lorrain's influence on JMW
Turner's 'Regulus' 1828, reworked 1837
The British grand tourists not only fell in love with Italy. They fell in love with the landscapes of 17th-century ex-pat artist Claude Lorrain (1604/5-1682), depicting the Roman campagna in which the gods disported themselves. JMW Turner (1775-1851) also fell for the Frenchman, whose work he had seen in significant stately homes while visiting his patrons.
Turner studied and copied, and it is the anatomy of this artistic love affair over two centuries that is exposed, to enchanting effect, in the National Gallery's spring exhibition.
Turner was marvellously ambitious. Rather like Picasso (who notoriously declared "I don't borrow, I steal"), whenever he saw a quality in other artists which appealed he took it and used it to his great advantage. He was also willing to record his respect and admiration, however, and he admired none of his predecessors more than Claude. He was already in love with light, the pencil of nature. He took from Claude the vastness of landscape, its beauty and importance, but perhaps above all, as the exhibition title suggests, the overwhelming inspiration was a Claudian illumination, the irradiating light from the sun beaming down on an idealised landscape from the centre of a limitless sky. On his deathbed Turner's (possibly apocryphal) last words were "the Sun is God".
Compared to Claude, Turner seems almost rowdy, even rambunctious
In part, this is a visual essay on changing styles and attitudes. Compared to Claude, Turner seems almost rowdy, even rambunctious. Although he was a dazzling success with cardinals, princes, several popes and kings - even his affluent patrons suggested his prices were high - Claude's landscapes look curiously static, calm and ordered. Even so, his cult has continued, and even now is echoed in many a public park, as well as gardens such as Blenheim and Stowe.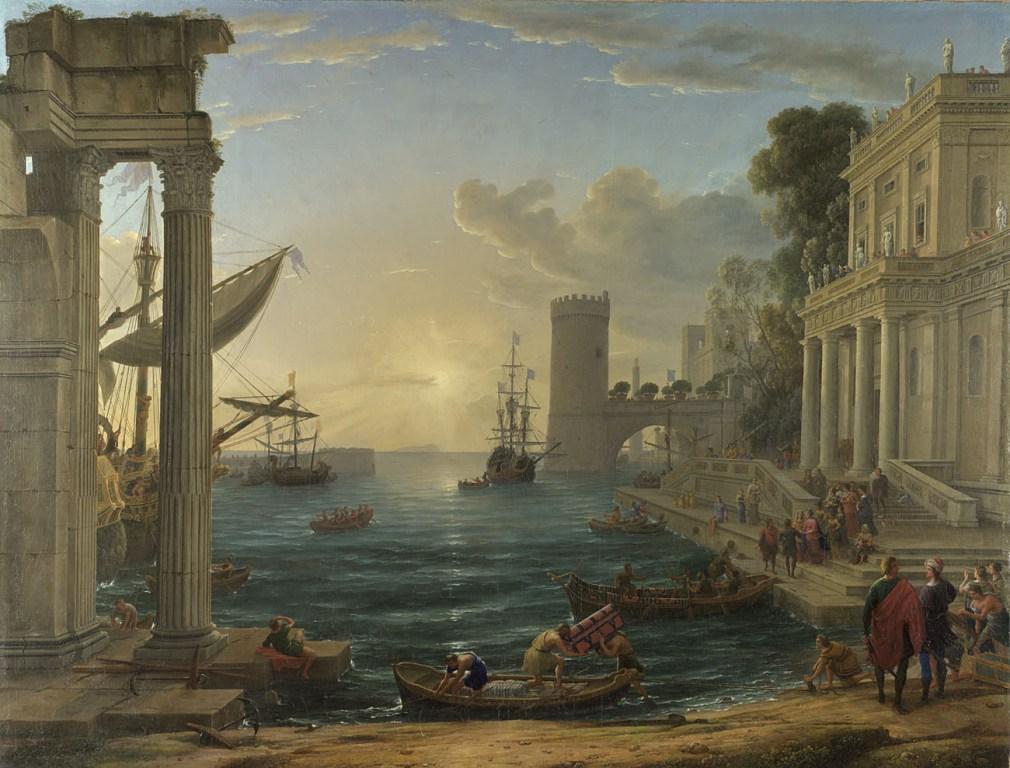 His paintings are almost like collages from various motifs of ruins and trees, vistas and valleys. The Enchanted Castle is a fantasy wrapped around the story of Cupid and Psyche, while in Seaport with the Embarkation of the Queen of Sheba (pictured above) the sheer bravura of the low-lying sun makes the water glitter and gleam seemingly in a straight path of light towards the shore. In his will, Turner stipulated that this was one of the two Claudes his own paintings should hang beside in the National Gallery; here it is close to Turner's own Sun Rising through Vapour, a more mundane subject showing fishermen cleaning their catch on the seashore.
It is, however, Turner's sheer passion for light that dominates this show by virtue of a trio of masterpieces: Regulus - a fantasy of a Roman seaport, indebted to Claude - flanks Keelmen Heaving in Coals by Night (pictured below), a genuine and terrific engagement with contemporary life. The shadowy shapes of the labourers are illuminated by fiery torches. As they unload the high-masted ships berthed to the side, the full moon pours light upon the sea. It is an extraordinary evocation of the arduous nature of the Industrial Revolution, transmogrified into a scene of irresistible beauty.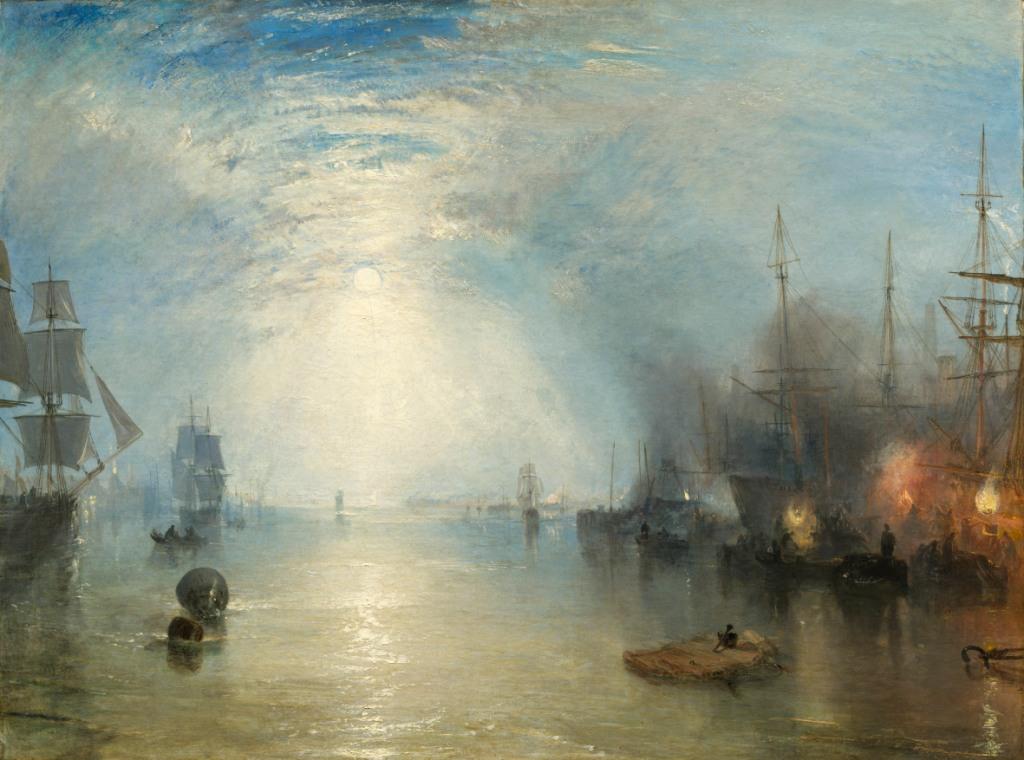 Exquisitely sombre, softly insinuating light also illuminates East Cowes Castle, the Seat of J Nash, Esq; the Regattas starting for their Moorings. Turner's still-astonishing ability – so vastly different from Claude's – to transform the observable world is perhaps summed up in two watercolour sketches. An Industrial Town, probably Birmingham, Colour Study is just that, the smoking factory chimneys punctuating a scene which varies from golden red to bluish-white swathes of light. In Sunrise 1825-1830 the central white disc is suspended in the softest variations of yellow-white possible, with just a whisper of a suggestion for horizon and shore. Claude has vanished; and Turner remains.
We see Turner's still-astonishing ability to transform the observable world
Explore topics
Share this article