The Outsiders: The Return of Brit-Punk's First Do-It-Yourself Album |

reviews, news & interviews
The Outsiders: The Return of Brit-Punk's First Do-It-Yourself Album
The Outsiders: The Return of Brit-Punk's First Do-It-Yourself Album
Post-punk maverick Adrian Borland's pre-Sound band is finally heard on CD
The Outsiders: Adrian Borland fronting the band at Covent Garden's Roxy Club in 1977
Manchester's Buzzcocks were first to hit the seven-inch racks with their Spiral Scratch EP, but south London's Outsiders were the first punk-era band to make a do-it-yourself album. The Wimbledon trio's Calling on Youth, released in May 1977, was self financed, recorded at home and manufactured independently. Thirty-five years on, it's reissued on CD for the first time today.
The Outsiders weren't by-numbers punks, even though they regularly played Covent Garden hot-spot The Roxy. Frontman Adrian Borland was influenced by America's Doors and Stooges, whose Iggy Pop was so moved by one of their early-1977 Roxy shows he joined them on stage. Following The Outsiders, Borland formed the moody and acclaimed post-punk outfit The Sound, who signed to the same label as Echo & the Bunnymen. After they split, he performed and recorded as Adrian Borland & The Citizens. He committed suicide on 26 April 1999.
Borland formed the band at school. By 1975, he had the trio Syndrome: Adrian Janes (drums), Bob Lawrence (bass) and Adrian Borland (guitar and vocals). They adopted their new name, after Albert Camus's The Outsider, in 1976.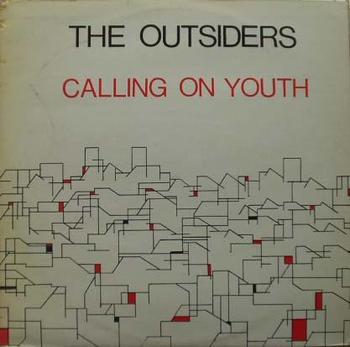 Unusually, Borland's parents supported their son's musical ambition. The band rehearsed at the family's home. Bob Borland, Adrian's father, says "as far as we were concerned, that's what Adrian wanted to do. It was a case of helping. He loved Patti Smith and The Velvet Underground. Adrian regarded himself as a punk at the time, he frequented the 100 Club and was very keen on Johnny Rotten. In one of the clips you see of The Sex Pistols on TV, you see him pogoing up and down. Adrian would often come in late at night and play The Stooges's Raw Power. He had headphones, but played it so loud he'd wake us up."
Once it was clear Adrian was serious about the band, Bob realised it was cheaper recording the band at home than paying for studio time to make demos. Then working as a physicist for the government's National Physical Laboratory – setting standards for weights, measures and temperature calibration – meant learning the nuts and bolts of recording wasn't much of a leap.
"It was 1976, I was an ordinary square," recalls Bob. "I went to an audio shop in Tottenham Court Road and got some good advice from a knowledgeable salesman called Dave on how to set up a relatively inexpensive recording facility". He bought a TEAC four-track tape recorder, a mixing desk and set them up at home. The band played in the living room. Cables snaked up the stairs to Bob's study, where he operated the mixer and tape recorder.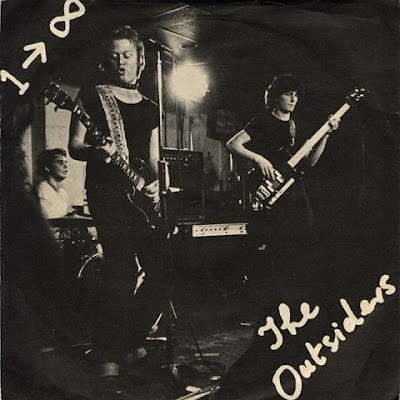 As tracks accumulated, Bob decided an album was needed, especially as Virgin Records had passed on the band (the two tracks Virgin rejected were added to Calling on Youth). Calling on Youth has lasted better than by-rote records of the period as it paid no heed to what punk was defined as. There is light and shade, even acoustic guitars. The Stooges influence is clear and, musically, The Outsiders are closer to Australia's The Saints than British bands of the period. The album's abstract graphics, designed by Borland, were meant to represent the mass of youth. The recording quality of Calling on Youth is surprisingly good, but the band really captured their sound on November 1977's terrific follow-up EP One to Infinity (pictured above left). A second album, the professionally recorded Close Up, followed in March 1979. Borland then began looking ahead and away from punk. He formed The Sound in September 1979.
Both Calling on Youth (with the One to Infinity EP included as bonus tracks - the EP's title track can be heard below) and Close Up are reissued. These vital albums are more than footnotes in the story of British punk. Releasing Calling on Youth was a brave move that inspired Rough Trade's Geoff Travis, whose shop stocked it, to realise that independent albums were as viable as singles. The return of these elemental, rough-and-ready records is also a long-overdue tribute to Adrian Borland's earliest musical steps, allowing the evolution of his singular voice to be appreciated.
Listen to the title track of The Outsiders's Calling on Youth
Listen to the title track of The Outsiders's One to Infinity EP
Iggy Pop was so moved by one of The Outsiders's early-1977 shows he joined them on stage
Share this article