The Duchess of Malfi, Old Vic |

reviews, news & interviews
The Duchess of Malfi, Old Vic
The Duchess of Malfi, Old Vic
Eve Best gives a memorable and moving performance as John Webster's doomed Duchess
Eve Best (Duchess of Malfi) and Tom Bateman (Antonio) as the secret lovers
This is the Jacobean tragedy that probably gave Quentin Tarantino his best ideas - by the end of the night the body count is almost in double figures through stabbings and strangulations. But even as the fake blood flows and the gurglings mount, Jamie Lloyd's sturdy but sometimes sluggish production of John Webster's masterpiece (c 1614) isn't exactly gripping.
Lloyd, who recently directed a romping version of She Stoops to Conquer down the road at the National to great acclaim, has fewer directorial flourishes up his sleeve here. Oh, he tries to sex it up – we first see the duplicitous mistress Julia (Iris Roberts) as she is vigorously pleasuring the Cardinal (a wonderfully venomous Finbar Lynch), and Eve Best (pictured below) as the titular heroine makes one entrance backlit in a diaphanous shift – but mostly his touches are rather tentative. My heart sank when the cast first appeared wearing masks and performing a sort of Renaissance pavane as they moved about the stage; the programme notes suggest that this serves to remind us of the strict rules and social hierarchy of the ducal court, but which I'm afraid just made the cast look rather uncomfortable.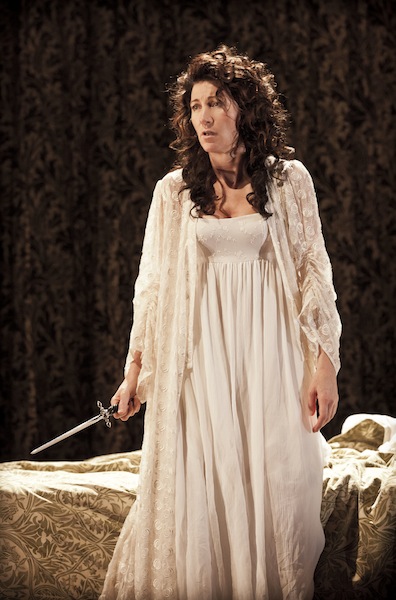 As the play opens, we see Lynch and Harry Lloyd's Ferdinand discussing their recently widowed sister, the Duchess. They wish to protect their inheritance by marrying her off to someone of their choice, but she has other ideas and is in love with her steward, Antonio (Tom Bateman). With the help of the Duchess's loyal maid, Cariola (Madeline Appiah), they secretly marry and she has three children by him. When her brothers eventually find out through the efforts of their informer and assassin Bosola (Mark Bonnar), they exact a terrible revenge and the killings begin.
Bateman is an amiable suitor for Best (even if there seems little chemistry between them) and Harry Lloyd underwhelms as the incestuously inclined Ferdinand. Bonnar's hatchet man, the moral heart of the play as he moves from keen-eyed killer to realising the enormity of his actions, is rather declamatory and one-note, although his gleeful wickedness is chillingly conveyed. Lighting by James Farncombe is moodily atmospheric, but when Best enters the stage she is brightly lit, neatly suggesting a luminous presence among the moral murkiness.
And while Soutra Gilmour's three-tier, cathedral-like design, with walkways and bridges over the stage, is a bit of a wow, it's strangely under-utilised by Jamie Lloyd. The power of Webster's language - more poetic and witty than the violence might suggest - is well conveyed by the principals. Some of the minor roles, however, are lacking.
But the stand-out performance comes from Best, and when she is on stage this production makes sense, but its weaknesses become apparent when she is not. She is terrific as the Duchess - magisterial and minx-like with her husband, playfully naïve with her brothers and finally heartbreakingly stoic as she meets her death while forgiving her killers. Her death scene - unusually and upsettingly protracted, the longest I've seen it played – is memorable.
The Duchess of Malfi is at the Old Vic, London SE1 until 9 June
Eve Best is terrific and heartbreakingly stoic as she meets her death while forgiving her killers
rating
Share this article