The Cardinal, Southwark Playhouse review - 'rarely produced play has renewed punch' |

reviews, news & interviews
The Cardinal, Southwark Playhouse review - 'rarely produced play has renewed punch'
The Cardinal, Southwark Playhouse review - 'rarely produced play has renewed punch'
Caroline-era play makes a compelling return to the stage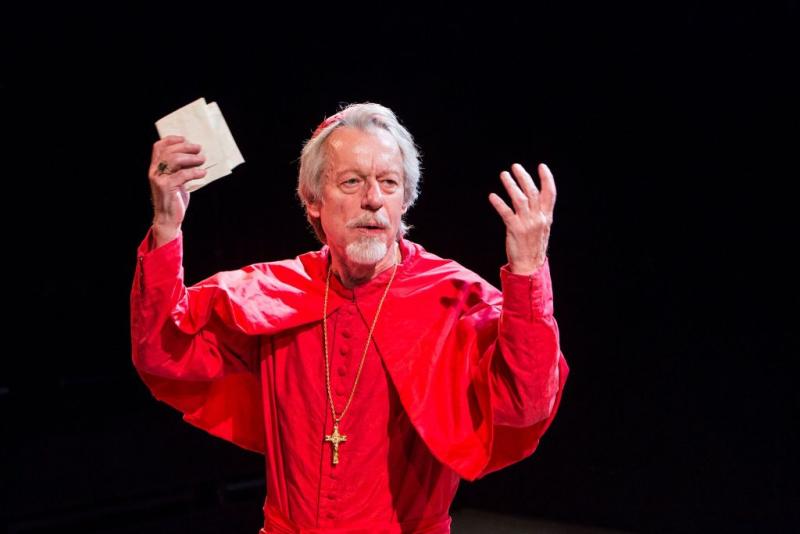 Silken tones: Stephen Boxer as The Cardinal
James Shirley is a rarely performed 17th-century playwright whose oeuvre has generally been consigned to theatrical study and research. Written for King Charles I at a time of great political upheaval and with the English Civil War looming, not to mention the shutdown of London theatres, his 1641 play The Cardinal represents Shirley's self-confessed masterpiece.
It's an all-but-forgotten work that emerges with renewed clarity and pace thanks to the director Justin Audibert, whose gift for period classics dates back to the
RSC
's recent
The Jew of Malta
and well beyond.
The revenge drama on view at Southwark Playhouse tells of a scheming Cardinal (Stephen Boxer) who is pulling the strings behind the back of the King of Navarre and wants his nephew, Columbo, to marry the recently widowed and influential Duchess Rosaura (played breathlessly by Natalie Simpson, pictured below). Rosaura, it seems, is just as calculating as the titular Cardinal and has her own designs on the dashing Count D'Alvarez. The gathering intrigue allows Shirley to keep everyone guessing as to who has most outwitted whom: momentum shifts back and forth between the Cardinal and Rosaura as the bodies mount. All that's missing is a ramped-up gravity that might give the whole a greater edge.
Audibert, as director, nonetheless ensures that the scenes are short and relatively snappy, whilst the dialogue sits comfortably with the actors, the diction slipping only very occasionally. Every character feels fully-fledged, starting with Jay Saighal's menacing Columbo, who is no mere thug. Shirley gives the character depth by suggesting the hypocrisy of celebrating his aggression in battle even as he admonishes the same behaviour at home. Boxer makes a silky, mellifluous Cardinal, if somewhat lacking in menace (one striking physical assault near the end notwithstanding). Special mention is due to a scene-stealing Timothy Speyer as the manservant Antonio, who gets the style and the humour of the piece in one.
Last week, our own Pope Francis gave an unannounced TED talk preaching that "everyone's existence is deeply tied to that of others". Here, we witness a religious figurehead with a very different sphere of influence and yet gifted with a shared emphasis on the importance of interaction. The idea that behind every ruler is a whispering voice serving its own purpose won't be lost on a modern audience, who will likely respond to the strong depiction of women on view as well. Rosaura, for one, proves every bit the Cardinal's equal, her manipulations the more impressive given the restrictions imposed upon her by both gender and caste. Lines like "the whole world has interest in every good man's loss" connects Shirley's time to a schadenfreude that is with us to this day,
Anna Reid's slate-grey cruciform design sets an appropriately sombre scene, while Max Pappenheim's echo-chamber of a soundscape couples musical underscoring with gorgeous period flourishes. Visually as well as textually, the production proves that in the right hands, neglected texts can find renewed life. Surely other theatres ought to be taking note. Or should I say, Shirley?
The idea that behind every ruler is a whispering voice won't be lost on a modern audience
rating
Explore topics
Share this article