Cyrano de Bergerac, Southwark Playhouse |

reviews, news & interviews
Cyrano de Bergerac, Southwark Playhouse
Cyrano de Bergerac, Southwark Playhouse
Kathryn Hunter's brilliance is squandered on this feeble, all-female take on a classic
Wednesday, 24 February 2016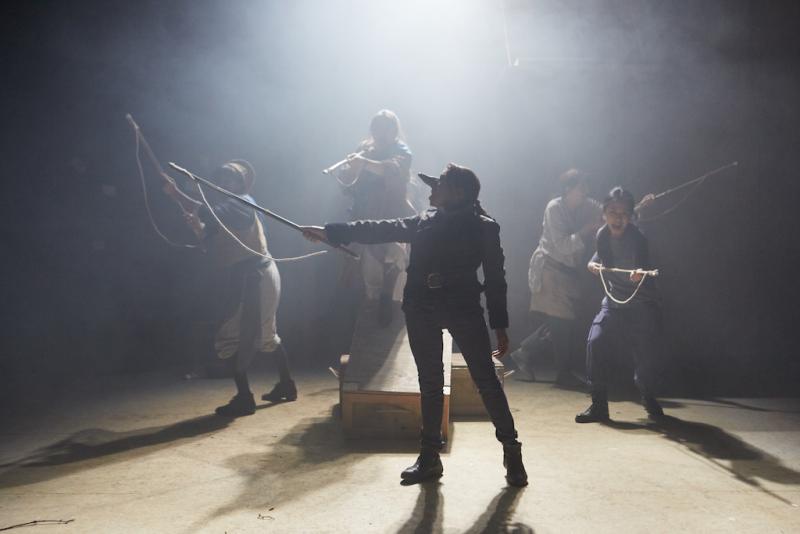 Ahead by a nose: Kathryn Hunter and cast in 'Cyrano de Bergerac'
Given that Edmond Rostand's 1897 tragicomic verse play Cyrano de Bergerac gave the word "panache" to the English language, it's an irony that panache is the quality most woefully lacking in Russell Bolam's production of Glyn Maxwell's adaptation. It ought not to be so.
With its all-female cast and stripped-down staging, it ought to feel radical and fresh, stimulating new lines of enquiry into the nature of role-play and what constitutes maleness and male heroism, shedding new light on a familiar text.
The story of Cyrano de Bergerac, the soldier-poet who selflessly uses his literary gift to woo his beloved for another man, traditionally offers few roles for women beyond that of Roxane, the object of both men's longing. Yet in this production women supply all the characters, not just nuns and maidservants, but pastry cooks and clergymen, foot-soldiers and cavaliers, as well as the titular, famously ugly anti-hero, here burdened with a carbuncular conk in the shape of a parsnip.
Kathryn Hunter's performance as Cyrano just about holds the evening together. Never mind that she is less than half the size you expect a soldier to be. Never mind that the Lancashire accent she adopts, combined with the effect of the tie-on prosthetic, gives her the adenoidal comedy twang of the Clitheroe Kid. She is riveting to watch, darting about on spidery legs, persuading us of Cyrano's swordsmanship with a few jabs of a bamboo cane. Somehow – who knows how, given that we can barely see Hunter's face under her hat – she makes us feel the pain and shame of a man so hideous that he dare not reveal his love. This is true make-believe.
This is a play that should rally its audience to laughter and tears in equal measure Alas, that brilliance is squandered on a staging that smacks of a Drama GCSE assessment in a girls-only school. The hotchpotch of costumes and poor-school props we can cope with. Ditto the DIY-look chipboard set. But Bolam's cast, with a few exceptions, deliver their lines as if they were in a pantomime, not a classic story of the Age of Romance whose message is that poetic truth will out, and that a beautiful soul will, in the end, trump a handsome face.
The worst of the directional decisions are wince-making: the spoken announcements at the head of each act, sometimes delivered in tatty unison; the half-hearted engagement with audience members, the supposedly randy "soldiers" picking out women from the front few rows and escorting them halfway backstage. You wondered who was more embarrassed, the victims or the actors. Even the best ideas are lacklustre and uneven in tone. At bottom, no one seems to know what kind of a show they're in, except that it involves a frantic number of costume changes, swapping nuns' wimples for fake moustaches and frock coats with tiresome rapidity.
Among the better efforts from individuals, Ellie Kendrick stands out for her frank, unhysterical portrayal of Christian, the empty-headed but handsome cadet who is only too happy to let Cyrano write his love-letters for him. Kendrick also shows good comic timing in the balcony scene in which Cyrano, hiding in Christian's shadow, feeds him both the words and the gestures he requires to win over Roxane (Sabrina Bartlett, pretty as a picture, but far too bouncy and robust to be the object of courtly love).
In short, this is a play that should rally its audience to laughter and tears in equal measure. In this sorry production, despite the star quality of Hunter, it does neither.
Never mind that she is less than half the size you expect a soldier to be, Hunter is riveting to watch
rating
Explore topics
Share this article