Twenty Twelve, BBC Four |

reviews, news & interviews
Twenty Twelve, BBC Four
Twenty Twelve, BBC Four
Enjoyable comedy satirising the countdown to London's 2012 Olympics
Siobhan (Jessica Hynes) and Ian (Hugh Bonneville) getting to grips with the Thousand Day Clock
As it turned out, Irving Berlin's jauntily fatalistic Let's Face the Music and Dance proved the perfect theme tune for BBC Four's new six-part comedy series. A mock documentary following the people responsible for delivering a successful 2012 London Olympics, the basic premise of Twenty Twelve was simple: give practically any loose coalition of personalities £9 billion to organise an event of global significance and they will almost certainly turn into gibbering idiots.
If, indeed, they aren't already.
Written by John Morton, the pen behind the fondly recalled People Like Us, Twenty Twelve was set in the glistening steel-and-glass "engine room" of the Olympic Deliverance team, the ideal environment for several comedic archetypes to report for duty.
This wasn't a critique on the Olympic bid so much as a chance to marvel at the age-old comic staple of bumbling British bureaucracy
Hugh Bonneville played – with his usual doleful plausibility - Ian Fletcher, Head of Deliverance, a thoroughly modern title for a very old-fashioned job spec: to bring in the goods on time and on budget. Fletcher was the kind of evasive, post-Blair blank canvas who lamented that a weekend in Barcelona with his wife had been "rebranded as a romantic mini-break". Wrestling gamely with the on-message executive's must-have transport accessory, the folding bike, he clung fast to his vision of a decent, upstanding, defiantly middle-brow Britain despite the fact that it was disappearing in front of his eyes faster than Eddie the Eagle on black ice.
The ever-admirable Olivia Colman was his subservient PA Sally, a surrogate wife fattening him up with suitably Olympian sandwiches and desperately trying - and failing - to break down his utter indifference with sheer efficiency. But the star turn came from Jessica Hynes as Siobhan Sharpe, ur-PR and Head of Brand. After the disaster of her primetime BBC One sitcom According to Bex, it was cheering to see Hynes back on form. "Mmkay, here's the thing..." Siobhan continually hymned, without once having the faintest clue what "the thing" might be. "Totally, totally," she nodded manically at every passing comment as she frantically attempted to put a positive spin on each looming catastrophe.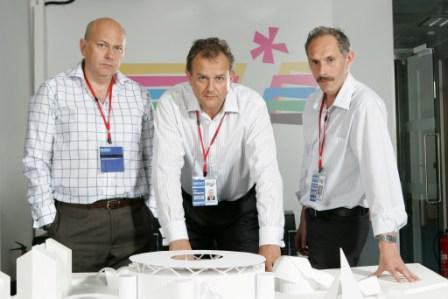 The rest of the cast were similarly excellent, even if they all employed those familiar mock-doc tropes: furtive glances at the camera; painfully pregnant pauses and long, uncomfortable silences. We've seen it all before, of course, but it's rarely been done better, perhaps because it was Morton who, pre-The Office, was partially responsible for popularising this style with People Like Us.
The fact that Ian was the model of efficiency compared to his colleagues told us all we needed to know about the disastrous trajectory of the project. Nick, Head of Contracts, (pictured above on the left) was an unreconstructed Yorkshireman whose blunt impatience was expertly personified by Vincent Franklin.
Nick had a bee in his bonnet about female high fliers, who he preferred to call "luv" lest he appeared in any way cowed, but his eccentricities paled next to Head of Infrastructure Graham (pictured above on the far right), a rodenty loose cannon played by Karl Theobald as the spiritual soul mate of MacKenzie Crook's Gareth from The Office. With his panicky stare and circular babble about "surgical bullets" you wouldn't have trusted Graham with a potato peeler never mind phasing London's traffic-light system, a task he likened to "doing open heart bypass surgery only with the patient actually alive". He duly unleashed capital-sized chaos from his laptop: by the end of the episode the patient was firmly dead and everyone from his boss to Boris Johnson and Seb Coe was snared in its corpse.
Yes, these were broad stereotypes and the naturalism came with a blaring neon trim, but the laughs were strong and frequent. It helped that Morton displayed a keen eye for "on-trend" absurdities, which meant the real joy of Twenty Twelve lay in the details. Siobhan's PR company Perfect Curve was brilliantly evoked, from hapless online guru and geek-chic slave Barney to the racks of artfully Minimalist shelves. The see-what-sticks list of national heroes also had the horrible ring of authenticty: "Bruce Forsyth, Stephen Fry obviously, Gok Wan, Trinny and Susannah..." There was some confusion over Carol Ann Duffy and Duffy the singer; Peter Andre ended up as principal torch bearer.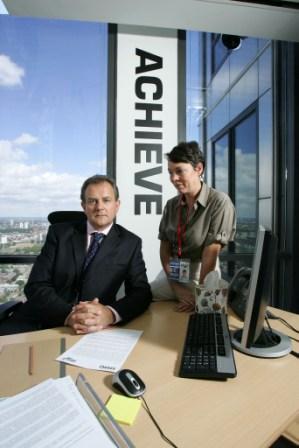 Everyone was glued to their mobiles or hunched in meeting rooms speaking fluent Nathan Barley. If they weren't "breaking open the google-juice and going viral", then it was all about "2012, 2.0". Sally (pictured left) seemed to have a take-away low-fat decaf permanently glued to the place where her right hand used to be. The smugly intimate narration from David Tennant (who long before entering the Tardis was in People Like Us) was pitch-perfect, while the spectre of Boris hovered just out of shot, a cross between blonde bogey man and particularly demanding toddler, stomping his feet until he was invited to the party.
The party in question was held to unveil the Thousand Day Clock, a New Labour-style totem dripping with entry-level symbolism of the most excruciating kind. Designed to track the final countdown to July 2012 – "What we have here, guys, is a total game changer," barked Siobhan – it was an unusually ludicrous contraption, its ugly uselessness obvious to all except PR ("It's, like, totally sensational") and creator, a terminally chippy northern YBA beavering away on inane "installations" in his Shoreditch studio.
Rather than satire, it was this kind of slightly surreal silliness which prevailed. Twenty Twelve had no serious intent to wound. Next week's episode involves nothing more savage than the Deliverance coach getting lost on the way to the Olympic stadium. Seb Coe plays himself and escapes entirely unscathed. This, then, isn't a critique on the political and social ramifications of hosting the Olympics so much as a chance to marvel at the age-old comic staple of bumbling British bureaucracy and its peculiar gift for mismanaging a piss-up in a brewery.
The bracing opening episode was all about the comedy of incompetence and misunderstanding. The targets - corporate jargon, delusionally humourless PRs, idiot art prats - may have been soft but Twenty Twelve punched hard where it mattered and hit the most important target of all: it was actually funny.
With his glazed stare and "surgical bullets" babble you wouldn't have trusted Graham with a potato peeler never mind London's traffic-light system
Explore topics
Share this article