Tyrannosaur |

reviews, news & interviews
Tyrannosaur
Tyrannosaur
Paddy Considine's fearless directorial debut puts life under an unsparing lens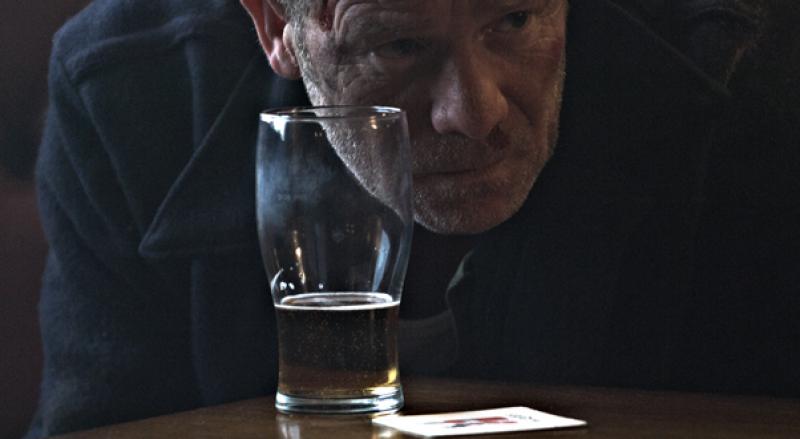 He's a glass half-empty kinda guy: Peter Mullan in 'Tyrannosaur'
If you can judge a man by his friends then the volatile Joseph would be something of a contradiction. His best mate is looking death in the eye, riddled with sickness and regret (and by all accounts left that way by the lifestyle they both shared). Then there's the wheeler-dealer prone to racist tirades. On the redemptive side is the charming, if porcelain-fragile friendship that he strikes up with dedicated Christian Hannah.
It's this friendship - and that which he also forms with a young, isolated boy on his estate – on which the film pivots.
In Tyrannosaur Peter Mullan plays embittered alcoholic and widower Joseph, who begins the film with an astonishing act of brutality: he kicks his own dog to death. After a trip to the pub turns predictably ugly he seeks refuge under the cover of a rail of charity-shop coats, where he is befriended by the shop's "goody goody" manager Hannah (Olivia Colman). Joseph's volatility means it's not long before he turns viciously on his new friend, laying into her supposedly cushy middle-class existence and callously attacking her inability to have children. Although Joseph is often vile he's hardly the villain of the piece - that falls to (the reliably brilliant and furious) Eddie Marsan as Hannah's monstrous husband James, a true venomous cretin concealed behind a businessman's slick veneer.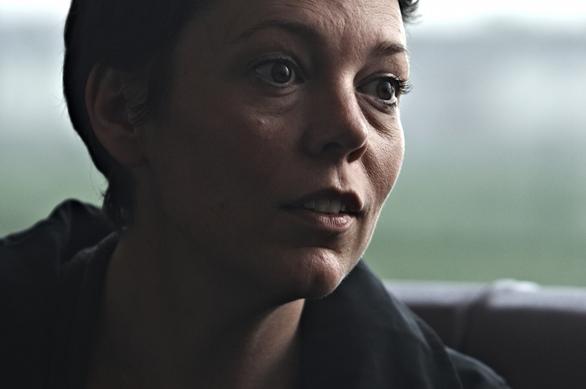 This debut feature from much-loved actor Paddy Considine is a fearless and nightmarishly plausible account of a man's ceaseless impotent rage and a woman's clandestine agony, which acts as a platform for a trio of superlative performances. It's an astonishing, ferocious, confrontational debut and is almost unbearably affecting in its emotional truth, compassion and integrity. With regards to its enigmatic, seemingly unrelated title, "Tyrannosaur" is the nickname Joseph cruelly assigned to his late, rather overweight wife but it might equally refer to Joseph himself; he often looms into the lens face first, which gives him a disproportionate look. After he's been on the jars, he has a very particular, exhausted scamper and lurches about in an ungainly, top-heavy manner which could have been lifted straight from Jurassic Park.
In Tyrannosaur Considine makes pure cinema out of the mire of the everyday
Considine marks himself out as an actor's director, unsurprising perhaps given his own experience in the field. Mullan is a performer of fierce charisma and unlikely grandeur and - under Considine's confident stewardship - his beautifully craggy face frequently fills the screen, just as his sonorous tones wrap round the movie like a well-worn but slightly shabby blanket. He is Hannah's knight in shit-kicked armour, her friend and sometime foe. As Hannah, the more commonly comedic Olivia Colman (TV star of Peep Show, Twenty Twelve and Rev) is a revelation, as gentle and full of innate goodness as Joseph is tough, cruel and raging. Her simple kindness and hideous domestic circumstances will no doubt touch the hardest heart.
In the impressively accomplished Tyrannosaur, Considine makes pure cinema out of the mire of the everyday. It's a film whose considerable power belies its mundane setting; it bristles with rage and teems with compassion and, though its protagonist might be a bit of a bastard, it shows us that bastards can be heroes too.
Watch the trailer for Tyrannosaur
Peter Mullan is a performer of fierce charisma and unlikely grandeur
rating
Share this article