Monkee Business the Musical, Opera House, Manchester |

reviews, news & interviews
Monkee Business the Musical, Opera House, Manchester
Monkee Business the Musical, Opera House, Manchester
Stage take on the manufactured band is more musical celebration than showbiz biography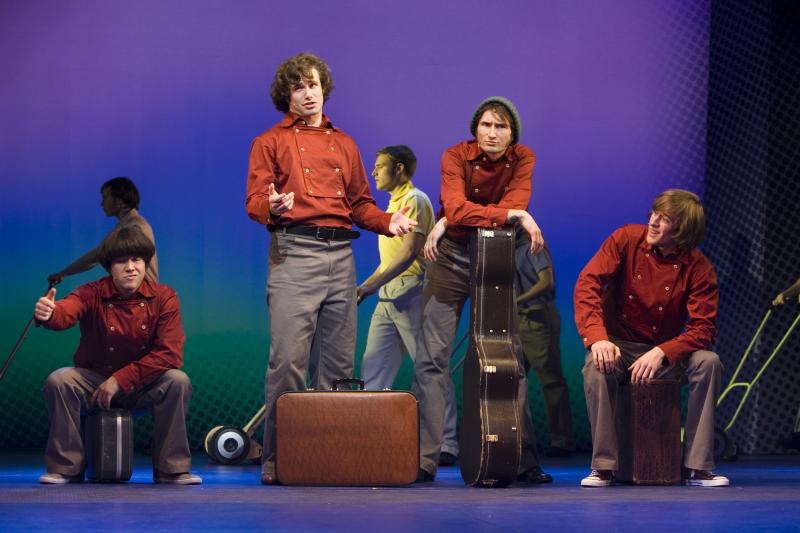 Monkee Business: Chuck (played by Ben Evans), William (Oliver Savile), Andy (Stephen Kirwan) and Mark (Tom Parsons)
The world premiere here of Monkee Business the Musical was planned long before the untimely death in February of Davy Jones, the Manchester-born member of the manufactured band that outsold The Beatles and the Rolling Stones half a century ago. The coincidence lends a poignancy to the event and the Manchester run has been dedicated to his memory.
The little jockey did well, reluctantly giving up horse-racing as a teenager, at his dad's insistence, to star as the Artful Dodger in
Oliver!
in the West End and Broadway before being signed up by NBC Television for the Monkees in 1966 when he was 20.
"The Monkees was not a band," said Micky Dolenz, "It was this television show about this band that wanted to be the Beatles." And Monkees the Musical is not about the Monkees as such: no showbiz biography. It is a celebration of their music – and you're never more than a few minutes away from one of their catchy, clap-happy numbers. There are 23 songs in a couple of hours or so.
The story, such as it is, features four young lads who are conned by a wise-guy producer into standing in for the famous group and going on a whistle-stop European tour in 1968. So, in a way, we have wannabes playing wannabes, stand-ins for stand-ins. There's Chuck standing in for Davy (played by Ben Evans), William for Peter Tork (Oliver Savile), Andy for Micky Dolenz (Stephen Kirwan) and Mark for Mike Nesmith (Tom Parsons). And the wise-cracking vaudevillian producer, Joey Finkelstein, is played with show-bolstering experience by Linal Haft.
What writer Peter Benedict has done, having abandoned his original plan to try to write a musical about the band, it to immerse himself in Monkees' hits, which sold more than 65 million albums and singles worldwide, as well as other sixties' hits, and come up with a thin comic adventure. The boys go on tour via plane, Orient Express (yes, there is a fatal shooting) and ferry. They play gigs, have romantic encounters and meet a motley crew of characters: sexy Russian spies, singing nuns, a Beefeater (with a dead raven), a Pearly King and a temptress of a traffic warden.
All the famous numbers are well performed, such as the signature song "Hey, Hey We're The Monkees", "I'm a Believer", "Last Train to Clarksville", "I'm Not Your Stepping Stone" and "Daydream Believer", as well as other hits of the period, such as Dusty Springfield's "You Don't Have To Say You Love Me" and Millie's "My Boy Lollipop". Staging and sets are minimal, capital cities being briskly depicted with an obvious backdrop and dancers in national costume. There's a small on-stage stage for the band's gigs. I found the first half pretty tediously stereotyped and perfunctory, but resisted the temptation to give up and, happily, the second half of the show was vastly better.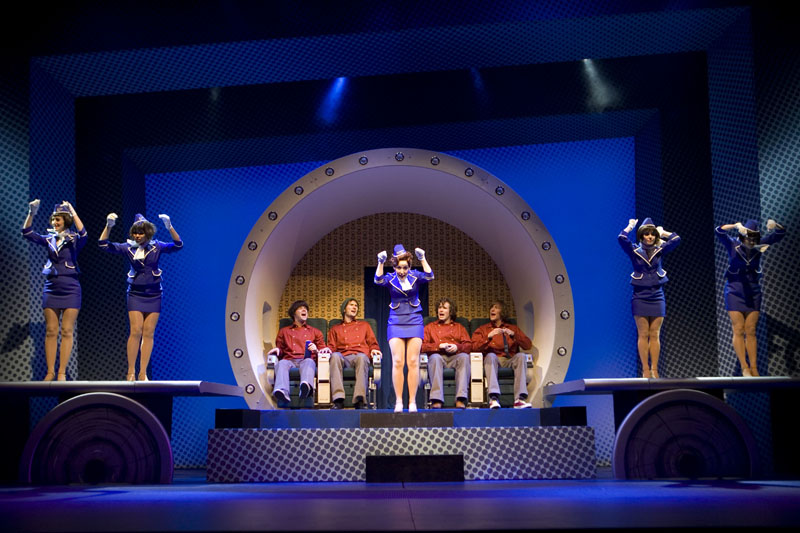 Benedict's script uses a lot of terrible jokes in an effort to raise laughs (like "didn't Lenin play with McCartney?"). He has a pop at gays and Jews and so on. But he does give the Peter Tork character a rather good running gag, this being 1968, about anachronistic gadgets. He gets derided by his mates for dreaming up crazy ideas of what we know today as mobile phones, email, decimal currency, burger joints and coffee chains.
The four lads perform engagingly and sing well, and the show ends on a high, musically and story-wise as the various characters reveal who they really are. Director David Taylor keeps the action moving along and musical director Richard Beadle delivers with his mere seven-man band.
This world premiere is part of The Ambassador Group's commitment to making Manchester "the UK's official city for launching theatre's biggest and best new musicals". Ghost the Musical was the first last year. Monkee Business is not in that target bracket, but the producers insist that this is only a try-out run. However, to be fair, I must report that it ended with a packed house around me standing, clapping, moving to the music, asking for more and tipping out into the cold night with obvious feel-good warmth.
Monkee Business the Musical at Opera House, Manchester until 14 April. Then touring to Glasgow and Sunderland