The Monkees, Royal Albert Hall |

reviews, news & interviews
The Monkees, Royal Albert Hall
The Monkees, Royal Albert Hall
A dignified reclamation of all that was great about the Sixties boy band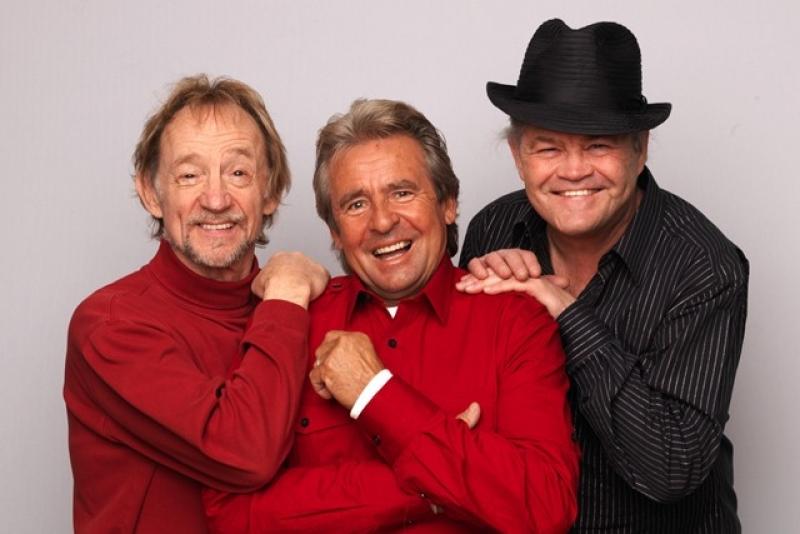 The Monkees: Peter Tork, Davy Jones and Micky Dolenz
The Monkees' Head was their celluloid suicide note. They chanted that they were a manufactured band with no philosophy. The film caught an authentic psychedelic vision which came to life again last night. Post-interval, the show continued with a stunning run through of the Head soundtrack songs, most of which had never been played live.
Reclaiming this maverick and wilful part of their career, The Monkees said last night that they were more than the puppets of those who had assembled them as TV-land America's answer to The Beatles.
This wasn't the pop band known and loved by many, but the underground-embracing Monkees that hobnobbed with Jack Nicholson and Frank Zappa. Live last night, Head's psychedelic, Middle Eastern-styled "Can You Dig It" was as freaky as on the original album, and accompanied on stage by a belly dancer. Micky Dolenz's strong vocal on "As We Go Along" highlighted the song's Tim Buckleyisms. The drifting, languid "Porpoise Song" was as seductive as the studio recording. The surprise of seeing this material played live was surpassed by how good it was in this setting.
Jones is a not-quite-catering-size ham, Dolenz was more reserved and Tork looked like The Wizard of Oz's straw man
The Monkees were never meant to be in charge their destiny. Created by hardened showbiz professionals and supported by backroom boys like impresario Don Kirshner, The Monkees were feeding an insatiable market. Songs came from gold-chip writers like Neil Diamond and Carole King. By the end of January 1967 The Monkees' first two albums had sold over five million copies, while their singles had shifted more than four million. Their debut single had been issued barely more than five months earlier.
Using session musicians led to the fake band tag that set the tone in the Sixties (players on their records included Stephen Stills and Neil Young). Such issues didn't bother The Beatles. Paul McCartney welcomed Dolenz into his house. Tork played on George Harrison's Wonderwall.
Another tension central to Monkee-world was their relationship with the underground. These leanings were all too apparent with the release of Head in December 1968, but The Monkees were old hands at freakery and psychedelia. They'd given platforms to Jimi Hendrix, Frank Zappa and Tim Buckley. Dolenz became one of the earliest domestic owners of a Moog synthesiser. With Mike Nesmith in the driving seat, they were also early adopters of what would become country-rock. But the teen-scream market defined them.
Head and the bonkers 1969 TV special 33 1/3 Revolutions Per Monkee publicly acknowledged that the chirpy small-screen Monkees were dead, but what's striking is the original band's drawn-out death. After Tork's departure in December 1968 and Nesmith's a year later, it took until September 1970 for the end to be acknowledged by the two-piece Jones and Dolenz Monkees. A non-Nesmith reunion in 1987 resulted in the Pool It! album, but that didn't last long. They reunited again in 1996 with Nesmith and played London the following year. They went their separate ways again and here we are, again without Nesmith, on the slightly chronologically wonkily titled 45th Anniversary Tour (they were assembled in November 1965).
All aspects of The Monkees' musical sprawl were on display last night, yet it was a seamless evening – even with the Head segment. The songs had been chosen and sequenced by Davy Jones. There were two sets, with a 20-minute interval. This celebration was total. In the context of the 39 songs aired, even the schmaltz-fest that's "I Wanna be Free" shone. Great song followed great song. The first half opened with "I'm a Believer", which gave way to a tough "Mary Mary". The eight-piece backing band – mostly drawn from Jones's live band – caught the flavour of the songs well by being straightforward.
Dolenz, Jones and Tork themselves were always mismatched – brought together to reflect distinct personalities of individual Beatles – but on stage in 2011 they appeared even more disparate. Jones is a not-quite-catering-size ham, always hoofing, jigging and ready to make a crack. Dolenz, in his hat and clad in black was more reserved - he probably had to be, as many songs called for him to sing while drumming. Tork looked like The Wizard of Oz's straw man and his asides were often cut off by Jones. The years have bred a familiarity bordering on curt. There was little banter between the songs. The evening moved forward without brakes.
Nesmith was absent, but his songs "What Am I Doing Hanging Around", "Listen to the Band" and Head's "Circle Sky" didn't miss him. Tork's vocals weren't strong, but he did the songs no disservice.
Pop songs like "Valeri", the psychedelic "Words" and "Shades of Grey" were glorious. "I'm Not Your (Stepping Stone)" was harder than it could have been. But it was "A Little But Me, A Little Bit You", halfway through the second set, that got the audience to its feet. "Last Train to Clarksville", "Pleasant Valley Sunday" and set closer "Daydream Believer" were what people wanted. "(Theme from) The Monkees" was played by the backing band as outro music. With its two halves, ads screened in the interval and outro music, last night echoed the structure of the TV show.
The cheese factor was low, the standard high. Just as it was with The Monkees in the Sixties, last night's show was better than it had any right to be.
Watch the "Porpoise Song" sequence from The Monkees' Head
All aspects of The Monkees' musical sprawl were on display last night, yet it was a seamless evening
Share this article