Music Reissues Weekly: The Sons of Adam - Saturday's Sons: The Complete Recordings 1964-1966 |

reviews, news & interviews
Music Reissues Weekly: The Sons of Adam - Saturday's Sons: The Complete Recordings 1964-1966
Music Reissues Weekly: The Sons of Adam - Saturday's Sons: The Complete Recordings 1964-1966
Definitive, long-overdue collection of the Sixties California garage punks
Sunday, 11 September 2022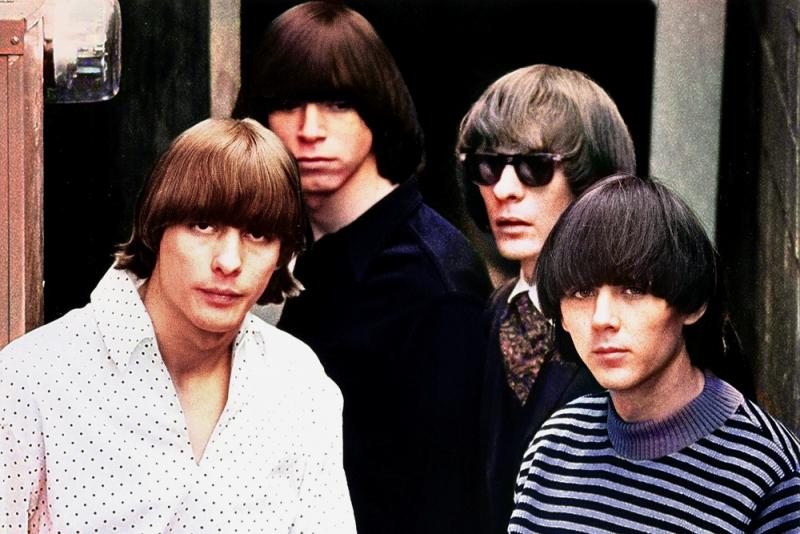 The Sons of Adam: watch out, loud guitar about
"We played the Rolling Stones concert at Long Beach Arena. The Stones came on, and it was the first time that any band had ever done better than us. I was very angry about that." Randy Holden was The Sons of Adam's guitarist. He was pretty certain of his own band's impact in November 1964.
The quote comes from the booklet accompanying Saturday's Sons: The Complete Recordings 1964-1966, a definitive, long-overdue collection of his band's work. The Sons Of Adam issued just three relatively obscure singles over 1965 to 1966 but their reputation was certified when "Feathered Fish," the topside of the last, was included on 1979's enormously influential Pebbles Volume 2. An EP of all six single tracks followed on Dave Gibson's illustrious Moxie label in 1980.
"Feathered Fish" turned out to be an Arthur Lee song Love never recorded. Later, it was discovered that Sons drummer Michael Stuart-Ware joined Love in time for their second album Da Capo. He was on Forever Changes too. Holden had left the Sons by when "Feathered Fish" was recorded and went on to The Other Half, made the wild Population II solo album and joined Blue Cheer. There's a story here.
Saturday's Sons tells this tale as it's never been told before and fully explains the Love connection. All six single sides are included, along with three studio outtakes. There are also seven tracks by the band's early surf(ish) incarnation, when they were called The Fender IV. This version of the outfit issued two singles. The comp kicks off with a Sons Of Adam live show recorded at San Francisco's Avalon Ballroom on 6 August 1966. Until now, the most comprehensive Sons collection was the all-studio 1997 Japanese CD Early Works '64-'66, which was credited to Randy Holden ("Feathered Fish" and its flip were not included).
The band which became Sons of Adam was originally from Baltimore and as The Fender-Menn IV moved to Hollywood in late 1963. Though they dealt in surf and instrumentals, their ability to accurately play Beatles covers from around February 1964 got them attention. There were some line-up changes and a first single as The Fender IV was issued that autumn. The top side was surf, the B-side a vocal cut with nods to The Beatles. They became The Sons of Adam in April or May 1965.
By their next recording session, in September 1965 under producer Gary Usher, they were a modern Stones-Yardbirds-style rock band as such. The first two Decca A-sides – "Take my Hand" and a crunching version of The Yardbirds's "You're a Better Man Than I" – didn't sell well in chart-busting terms, but they are essential California garage-rock rippers. After Holden was gone, the independently issued "Feathered Fish" was also wonderful, with its top-drawer "Seven & Seven is" vibe. For these three singles, The Sons of Adam deserve to be legendary.
Filling out the picture is the previously unissued raw and alive show opening Saturday's Sons. One of Holden's last performances with the band, it has great sound quality. This is no proto-hippie San Francisco ballroom band. The set begins with a version of "Everybody Needs Somebody to Love" which is more sharp edged than the 13th Floor Elevators's contemporaneous cover and features some tough Holden guitar towards its end. Next up, band original "Mr Sun" is punk-rock hard. Another angular band original, "The Long Road," shows an awareness of psychedelia and has a Love-like rising-falling structure. Best of all is "It Won't be Long," another band original with a Love feel but an additional late-Sixties-prefiguring heaviness. The set ends with a rollicking rave-up interpretation of "Gloria."
Holden was gone within three weeks of the Avalon show. His reason? "People were telling them [the band], we're gonna book you over here, you gotta turn it down. No. That is not what I do. That's not what I started out doing, and it's not where I'm going. I don't care if I do go broke, I'm not going to do that." He would not turn his guitar down. He was avowedly a loud player, so was off. After his replacement the band regrouped, recorded "Feathered Fish" (Michael Stuart-Ware had also left) and played their last show in June 1967.
Saturday's Sons: The Complete Recordings 1964-1966 is superb. Well-packaged, diligently mastered and put together, it goes into the full story in as much depth as possible. The Sons of Adam deserve this. They were not one of Sixties California's most commercially successful bands but, as confirmed here, they were one of the best.
Next week: the reappearance of 2001's Best of Roxy Music
The Sons of Adam were no proto-hippie San Francisco ballroom band
Explore topics
Share this article