Music Reissues Weekly: Goin' Round In My Mind - The Merrell Fankhauser Anthology |

reviews, news & interviews
Music Reissues Weekly: Goin' Round In My Mind - The Merrell Fankhauser Anthology
Music Reissues Weekly: Goin' Round In My Mind - The Merrell Fankhauser Anthology
Persuasive box set dedicated to the tenacious US cult hero
Merrell Fankhauser: he never gave up
Merrell Fankhauser's first outing on record was with Californian instrumental surf band The Impacts, who issued their sole album in 1963. Thereafter, he was the prime mover in an unbroken succession of pop, psychedelic and freak-rock bands. His first solo album arrived in 1976.
Commercial success? None that was measurable. The Impacts had a track titled "Wipe Out" but The Surfaris scored a hit with a different instro with the same name. His top-notch psychedelic-era band Fapardokly were only heard as part of an album with random other Fankhauser-related tracks which was issued in early 1968. The wonderful Merrell Fankhauser and H.M.S. Bounty album Things! was issued in early 1969 but barely sold. His early Seventies band Mu found him alongside his old friend Jeff Cotton, late of Captain Beefheart's Magic Band (Cotton had been in The Exiles from 1964 to 1966 with Fankhauser; Cotton left them for Beefheart). The sole US Mu album from 1971 was issued a couple of years later in the UK but, again, no commercial headway. Merrell Fankhauser fits the bill of a nearly man.
Nonetheless, attention was belatedly paid. A grey-area reissue of the Fapardokly album appeared in the UK in 1983. It was reissued a second time in 1986. Fapardokly's heavy psych gem "Gone to Pot" was on the 1986 NME cassette comp We Have Come For Your Children. The H.M.S. Bounty album was reissued – again in the UK – in 1985. Mu's re-released back catalogue started hitting British records shops from 1988. Sweden's Nomads had covered H.M.S. Bounty's "Driving Sideways (on a One Way Street)" in 1985. Merrell Fankhauser was receiving a sizeable amount of attention. Proof that traction had been achieved came when "Lila", from the Fapardokly album, featured in the films Chappaquiddick (2017) and The Trial Of The Chicago 7 (2020).
Now, a large chunk of his frequently fantastic back catalogue appears on the six-CD clamshell box set Goin' Round In My Mind - The Merrell Fankhauser Anthology 1964-1979. The Impacts aren't here, so the early surf era is absent. Even so, these 98 tracks are more than enough to get a flavour of this persistent musician.
For Goin' Round In My Mind the story begins with Merrell and The Exiles, who issued six singles over 1964 to 1967. Tracks by them which were unreleased at the time are also collected. Initially, the band traded in a melodic pop with Buddy Holly and Roy Orbison influences – a lot of the earlier tracks aren't far from Bobby Fuller or Ricky Nelson. A Beatles flavour is incorporated and, in time, The Byrds enter the mix. Not garage rock per se, but tuneful pop reflecting the times. Very nice.
Fapardokly also drew from the times but weren't served well by what was issued under their name. The schizophrenic 1968 album credited to Fapardokly featured sore-thumb Exiles tracks from 1964 and 1965. Nonetheless, the "Eight Miles High"-influenced "Gone to Pot" was a frazzled postcard from the freak-out zone. "Lila", "The Music Scene" and "No Retreat" were high-end pop with a marked psychedelic edge.
Next up, Fapardokly were renamed Merrell Fankhauser and H.M.S. Bounty. Their album Things! was not far from the Love of Forever Changes and is one of the great late-Sixties Los Angeles albums. Reviewing it, Billboard said "Here's another West Coast quartet that bears watching. Despite its cumbersome name, its music is clean and clearly inspired. Instrumentation consists of guitar, sitar, organ, bass guitar, drums and tablas, and all the instrumentalists are deft. Vocals are neatly handled". Despite the positive appraisal, a Canadian release of Things! and an Italian single too (pictured above left), H.M.S. Bounty did not click.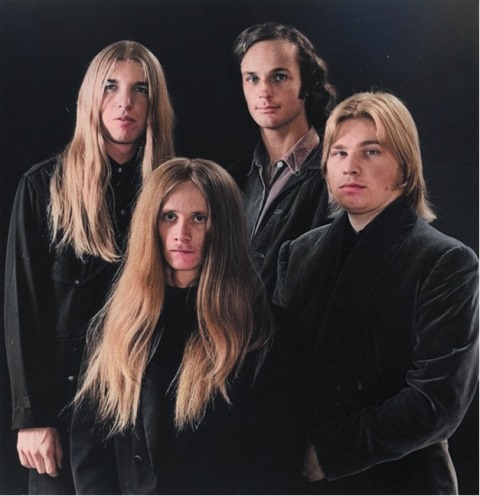 Mu succeeded H.M.S. Bounty. In Goin' Round In My Mind's booklet Fankhauser says "The new band had several name changes until we happened upon a 1930s edition of James Churchward's book The Lost Continent Of Mu. We were astonished to find that some of the beliefs of the ancient people of Mu, such as vegetarianism, matched our own. We decided we had a lot in common with the Mu people, so we took the name for our new band. Churchwood's book was a big influence, spurring our interest in other ancient cultures and religions. We learned, for example, that some North American Indian tribes claimed to have come from a now submerged continent in the Pacific Ocean". The band recorded their album in Los Angeles and moved to Hawaii in 1973, where more – unissued at the time: they are Disc Five – recordings were completed. (pictured right, Mu. Front left, Jeff Cotton; front right, Merrell Fankhauser)
Considering the esoteric framing and also that the post-Beefheart Jeff Cotton is in the band, the Mu album which was issued is not as freaky as might be expected. It's clean and melodic, with hints of Quicksilver Messenger Service and a subtle blues influence. It has aged well. The later batch of Mu recordings from 1974 are more ethereal, with a vibe similar to that of David Crosby's If I Could Only Remember My Name album. After Mu disbanded in late 1974, Fankhauser stayed in Hawaii and made the gentle 1976 solo set The Maui Album. It also has that Crosby feel.
If the music business side of things had worked out differently, Merrell Fankhauser could have been a David Crosby figure – the music here bears this out. However, Fankhauser's tenacity did not pay off and it was left to collectors to rediscover him. Ultimately, this helped bring a wider recognition which was out of reach when the records were originally issued. Culminating what began in the 1980s, Goin' Round In My Mind - The Merrell Fankhauser Anthology 1964-1979 is a recommended one-stop entry point into the world of Merrell Fankhauser. It does not disappoint.
Next week: Love's Expressions Tell Everything. Singles by Arthur Lee and the gang are collected in a box
If the music business side of things had worked out differently, Merrell Fankhauser could have been a David Crosby figure
Share this article