Reissue CDs Weekly: Harpers Bizarre |

reviews, news & interviews
Reissue CDs Weekly: Harpers Bizarre
Reissue CDs Weekly: Harpers Bizarre
A celebration of California's pop at its most flawless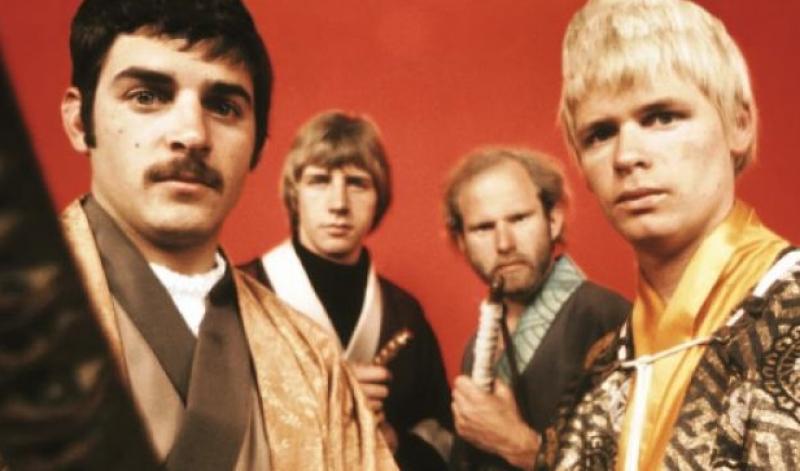 Samurai chic for the avowedly Californian Harpers Bizarre
While Harpers Bizarre's US Top 20 version of Simon & Garfunkel's "The 59th Street Bridge Song (Feelin' Groovy)" will always be their single turned to by American oldies radio, its follow-up "Come to the Sunshine" defines their sound and musical attitude. Written and previously recorded by Van Dyke Parks, it captures an irresistibly effervescent Californian harmony pop which painted a sonic picture of the West Coast in 1967 as balmy, beautiful and seductive.
In the same way as The Beach Boys' early surfing songs, it was as much invitation as postcard, one which said: bring yourself into an eternal glow.
Of course, the sunshine would soon be blotted out by Charles Manson and Altamont but the rosiness of this beatific portrayal of California touched almost everything recorded by Harpers Bizarre, as amply demonstrated by The Complete Singles Collection 1965-1970. The CD compiles their 28 A- and B-sides for the Autumn and the Warner Brothers labels in chronological order of release. All but two of the later tracks are in mono, as they were on the original 45s. The booklet's track-by-track annotation includes the input of band member Dick Scoppettone.
Despite being closely associated with Parks, Harpers Bizarre were not innovators and had no in-house prodigy like Brian Wilson to compose and arrange their recordings. After ending up on Warners in 1966, they recorded only five of their own compositions as sides for singles. Like their fellow former-Autumn label band The Beau Brummels, they transferred to Warners after their original imprint was bought out by the major label.
Also like The Beau Brummels – America's first convincing home-grown riposte to The Beatles – San Francisco was their original stamping ground. Parks, the songs of Randy Newman and Harry Nilsson, producer Lenny Waronker, arranger Perry Botkin Jr and the input of session players like Ry Cooder came their way after the move to Los Angeles and Warners. The band which recorded originally as The Tikis for Autumn would come to exemplify their new city's sound.
The version of "The 59th Street Bridge Song (Feelin' Groovy)" was so different to their Beau Brummels-styled, folk rock-ish recordings as The Tikis that a new band name was adopted. As Harpers Bizarre, their singles balanced a smooth, upbeat harmony pop with versions of old-time songs like "Chattanooga Choo Choo", Cole Porter's "Anything Goes", "Look to the Rainbow" from the soundtrack of Finian's Rainbow and the nostalgic-sounding "Battle of New Orleans". Their contemporarily written songs included Newman's quirky "The Debutante's Ball", Joni Mitchell's "Both Sides Now" and Parks' soaring "Come to the Sunshine".
Considering the mix of self-penned songs, those from hip contemporary writers and the covers of mum's-and-dad's music (a formula setting them apart from their fellow harmony pop travellers The Association), it is maybe surprising that Harpers Bizarre had a unified sound. The band were consummate, strong singers and their creamy yet solid harmonies define everything they did. They were one of California's best in the period, never went heavy and were never overtly fashionable. Those latter two aspects help keep their music fresh.
For anyone with an interest in California's pop at its most flawless, this is essential. For the less-historically minded, The Complete Singles Collection 1965-1970 will still be a joy.
Harpers Bizarre never went heavy and were never overtly fashionable
Share this article