Reissue CDs Weekly: The Free Design - Butterflies Are Free |

reviews, news & interviews
Reissue CDs Weekly: The Free Design - Butterflies Are Free
Reissue CDs Weekly: The Free Design - Butterflies Are Free
Wallet-friendly entry point into the esoteric harmony poppers
The Free Design: searching for some kind of universal truths
"Dorian Benediction" begins with a muted organ and spectral chorale. Minimal drums, an electric piano, vibes, melancholy saxophone and a jazzy solo guitar fill out the picture. Over its four-and-a-half minutes, the atmosphere is haunted and haunting. This is music which appears to have seeped from the walls of a baroque church.
It's the final track of
The Free Design
's third album,
1969
's
Heaven / Earth.
"An Elegy" is more direct but still as mysterious. It's also jazzy and strings colour the arrangement, but there's an epic quality as the song moves though a series of crescendos. This time, the mood is edgier and the lyrics are, indeed, an elegy: "when you went away for the last time, it wasn't so easy, words were hard to find." Musically, despite a kinship with sections of "MacArthur Park" and echoes of The Fifth Dimension this piece has its own disquieting identity. It's the final track of The Free Design's second album, 1968's You Could Be Born Again.
If this were all that America's The Free Design had recorded, their status would be guaranteed. As the 92 tracks of the four-CD set Butterflies Are Free: The Original Recordings 1967–1972 demonstrate, there was a lot more and most of it is as arresting. Included are their seven albums, mono versions of album tracks from singles, non-album single sides and a previously unissued track first heard on a reissue in 2004. This complete-recordings set comes in a slipcase with two albums on the first three discs, and an album plus the bonuses on Disc Four. The albums are: Kites Are Fun (1967), You Could Be Born Again (1968), Heaven / Earth (1969), Sing For Very Important People (1970), Stars / Time /Bubbles / Love (1970), One By One (1972), There Is A Song (1972).
An oft-noticed observation about The Free Design is that they may have influenced The Carpenters. Addressing this in a 1998 interview included in the booklet, the band's Chris Dedrick, who died in 2010, says "I've never spoken with Richard Carpenter myself but I've heard that they listened to us and were influenced and I think that other people have said that." However, their potential effect on The Carpenters is one aspect of The Free Design. The tracks discussed above confirm they were on their own path. "Elegy" was written for Chris Dedrick's brother, who died in Vietnam.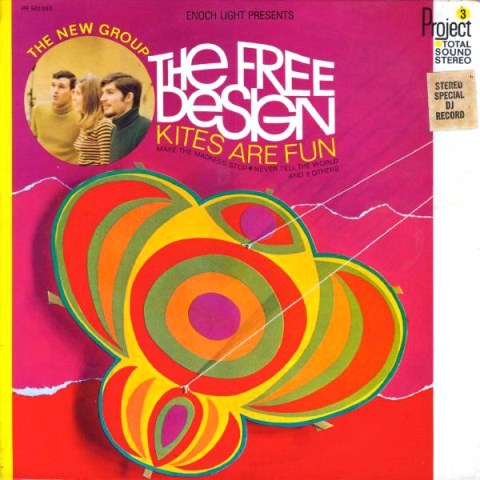 The Free Design had what Chris Dedrick called a "traditional Christian background" in the interview. His siblings and fellow band members Bruce (who left after the sixth album), Ellen (who joined after the first album) and Sandy "were all searching for some kind of universal truths or at least the next step in what might be the 'meaning of life' or 'purpose of music'." The eclectic palette Chris drew from while formulating the sound of The Free Design included The Hi-Los, Peter, Paul and Mary, big bands like the Sauter Finegan band and the Don Ellis Orchestra, as well as Yusef Lateef (a classmate of his at the Manhattan School of Music) and Benjamin Britten. The Free Design were not a cookie-cutter hippie-era harmony pop band.
Until the 1990s though, they were barely heard of. Although Kites Are Fun brushed the lower reaches of the US charts in 1967, originals of their other albums were hard to find. Thirty years later, word began getting around. In October 2000, Saint Etienne's Bob Stanley said "When I first heard it [their first album, Kites Are Fun] I thought it was really wet, but it's got beautiful, intricate harmonies and gorgeous arrangements. I'm hoping that The Free Design's Chris Dedrick might produce our next album."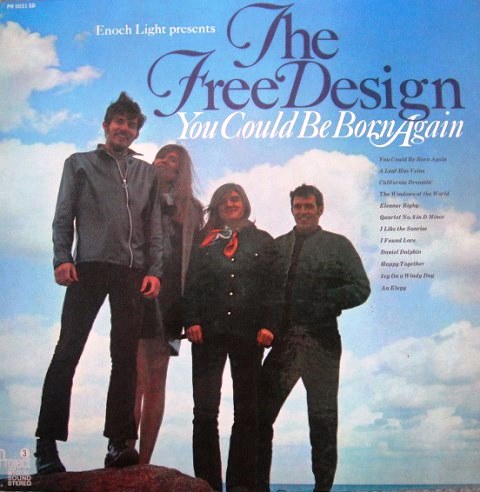 That didn't happen, and at that point The Free Design were still a largely unknown quantity – a name which was beginning to be bandied. In late 1999, Stereolab had issued an EP titled The Free Design. There'd been some Japanese CD reissues in the mid Nineties but it wasn't until 2003 that easily available reissues hit shops. By then, a reformed The Free Design had released 2001's Cosmic Peekabooo album. In 2005, the remix album The Now Sound Redesigned appeared. High-profile contributors included Danger Mouse, The High Llamas, Madlib, Stereolab and Super Furry Animals. The Free Design had belatedly arrived.
Of the deferred groundswell, Chris Dedrick says In the interview that "nationally, we hit the Top 100 but never the Top 40. I was told it was largely because we were having what was called a turntable hit: we had the airplay but we didn't have the sales. [The then-recent interest] is a bit surprising although it's something that I always held as an image that something might happen with these recordings, and they might somehow be rediscovered because they were not really like anything else. I've always felt there was a kind of magic, even in an embryonic form, in what was there in spite of us rather than because of us because we were really just doing one step at a time what we could do and so I've always felt it could find its audience again and maybe even a bigger one."
Everything which generated the overdue interest is collected on the wallet-friendly Butterflies Are Free: The Original Recordings 1967–1972. Get this entry point into this esoteric outfit. It won't disappoint.
Next week: Allen Ginsberg at Reed College – The First Recorded Reading of Howl and Other Poems

The Free Design were not a cookie-cutter hippie-era harmony pop band
Share this article