Brains: The Mind as Matter, Wellcome Collection |

reviews, news & interviews
Brains: The Mind as Matter, Wellcome Collection
Brains: The Mind as Matter, Wellcome Collection
Sliced, shrivelled, diced or scanned, the brain is a marvel to ponder in this fascinating exploration
Katherine Dowson's 'My Soul', a 3D representation of the artist's brain
The mind is a beautiful mystery. We think, therefore we are. But how is the mind and physical body related? How does a lump of matter give rise to consciousness? Naturally, it's a question that's exercised great minds over many centuries, and will, I'm sure, continue to do so for another few. Unsurprisingly, you won't find any answers in the Wellcome Collection's spectacular exhibition, Brains: The Mind as Matter. Instead it ponders a very different question, one that is, for historical, sociological and anthropological reasons, equally fascinating: it asks not what the brain does or how it does it, but what we have done to it. For here we're invited to regard the brain as a physical entity.
Divided into four sections, each of which are pretty self-explanatory – Measuring/Classifying, Mapping/Modelling, Cutting/Treating and Giving/Taking – the exhibition takes a historical overview that explores the radical interventions the brain has been subjected to in the name of investigation, treatment and cure.
We find tree-like branches and roots and tissue strata, and marvel at such replications in nature
That overview begins with a reminder of how little the brain meant to the ancient Greeks. Aristotle famously disregarded it as the seat of consciousness, claiming the heart and the liver as the twin seats of consciousness and emotion. By the time of the Roman Empire, however, a consensus was reached that the brain was indeed the engine room of consciousness, whilst Galen, the second-century physician/philosopher, identified the ventricals, the brain's fluid-filled cavities, as the location for the faculties of reason and memory.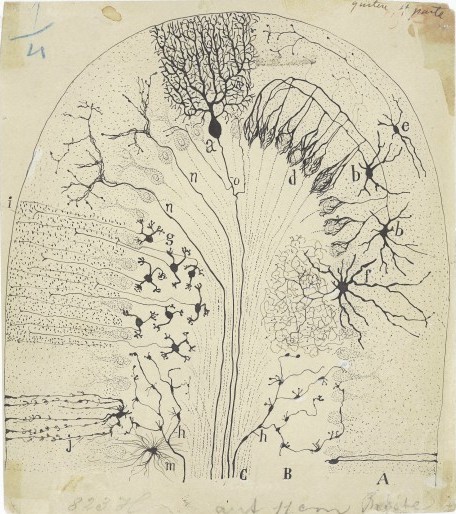 As we cover each relevant section, the exhibition provides an overview of the disputed territories of the brain, and thence to epic moments in the history of neuroscience. We encounter the work of the father of modern neuroscience, the Spanish Nobel Prize-winner Santiago Ramón y Cajal, whose pioneering research at the turn of the 20th century gave us an understanding of the microscopic structure of the brain. Having displayed an early talent for drawing and painting, Cajal had longed to train as an artist, but his father had insisted he follow the family tradition into medicine.
Cajal's intricate drawings of the brain's cellular structure show the hand of an impressive draughtsman – he made thousands of drawings on any scrap of paper he could find, accurately describing the brain's complex circuitry (see picture above, drawing 1894; bottom: box model of the brain, mid 20th century, University of Aberdeen). In these beautiful, sinuous depictions, which suggest a beguiling "garden of neurology", we find tree-like branches and roots and tissue strata, and marvel at such replications in nature.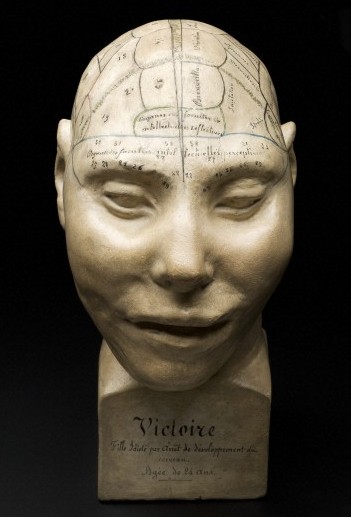 Inevitably we encounter a fair share of quackery as well as wrong turns, blind alleys and theories that are, with perhaps depressing inevitability, used for grotesquely inhuman ends. A heartbreaking section dwells on the thousands murdered in German clinics and mental institutions during the Nazi era as the theory of eugenics was taken to what some might argue its logical conclusion. There are letters to mothers telling them that their children had died of pneumonia, when, in fact, they had been starved or gassed or had been given drug overdoses, their brains subsequently harvested, preserved and examined by respected neuropathologists who went on to continue their eminent careers long after the end of the war.
It's also astonishing to discover that the British Phrenological Society was only dissolved in 1967. It was Franz Joseph Gall, the German neuro-anatomist, who founded phrenology in the late 18th century. His theories were to have a profound influence on the Italian criminologist Cesare Lombroso, whose cruder methods of measuring the shape of the skull were used to distinguish between the normal and the morally degenerate. Whilst Cajal was making his pioneering discoveries into the internal structure of the brain, these theories were being widely disseminated in England by figures such as the British psychiatrist Bernard Hollander. We see models of phrenological heads (pictured above: phrenological head, c 1825) and various implements that measure the skull and that were used by the British on colonial populations in gathering anthropometric data, sometimes with brutal force.
There are some wonderful contemporary artworks dotted throughout, including Katherine Dowson's captivating My Soul, a "floating" gossamer-like 3D representation of the artist's brain, laser-etched into two blocks of crystal glass (main picture); and Annie Cattrell's two silvered bronze casts (pictured left) which show an impression of the brain on the interior surface of the skull – the cabbage-like veins weaving a fine web across the cool metal surface.
Of course, the brain itself isn't much to look at: that sliver of Einstein's brain enmeshed in a slide, or that fraying fragment of a lump that once belonged to infamous body-snatcher and serial killer William Burke, or that mummified central hemisphere belonging to an ancient Egyptian, or indeed the segment of brain with a bullet lodged in it. But sliced, shrivelled, diced or scanned, it's certainly a marvel to ponder.
The overview begins with a reminder of how little the brain meant to the ancient Greeks
rating
Explore topics
Share this article
Subscribe to theartsdesk.com
Thank you for continuing to read our work on theartsdesk.com. For unlimited access to every article in its entirety, including our archive of more than 10,000 pieces, we're asking for £3.95 per month or £30 per year. We feel it's a very good deal, and hope you do too.
To take an annual subscription now simply click here.
And if you're looking for that extra gift for a friend or family member, why not treat them to a theartsdesk.com gift subscription?