Polyphonia/ Sweet Violets/ Carbon Life, Royal Ballet |

reviews, news & interviews
Polyphonia/ Sweet Violets/ Carbon Life, Royal Ballet
Polyphonia/ Sweet Violets/ Carbon Life, Royal Ballet
Double disappointment for two world premieres, despite the hype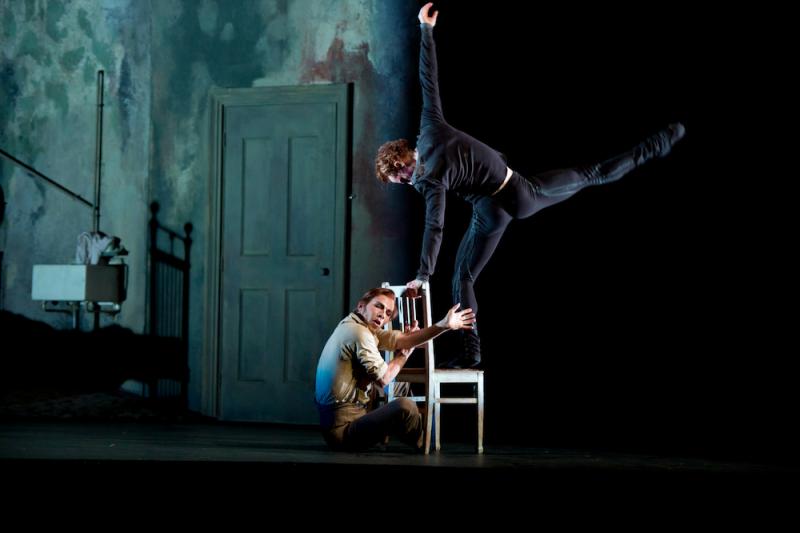 Not such Sweet Violets: Johan Kobborg and Steven McRae as the painter Sickert and "Jack"
All year we've had to wait for a world premiere, and two come along at once. Last night was built to make some noise about the three most impressive young names in Royal Ballet choreography, and that will be where the PR story ends, but not where the flat disappointment ends. For while Christopher Wheeldon is shown at his magnificent best in an early piece, both Liam Scarlett and Wayne McGregor's new creations are nowhere near the best that either has shown.
They're opposites, but alike in why they fail. Scarlett's Sweet Violets is an impenetrable jangle of narrative in the old style; McGregor's Carbon Life an unyielding jangle of amoeba-like dance in the new. Each is richly decorated, Scarlett's with fine theatrical sets for his psychodrama about Walter Sickert, a painter with a nasty turn of mind, and McGregor's with a grid that goes up and down and an array of today's popsters performing live on stage, Mark Ronson as composer and bass guitarist, Boy George, Hero Fisher, Alison Mosshart among the singers.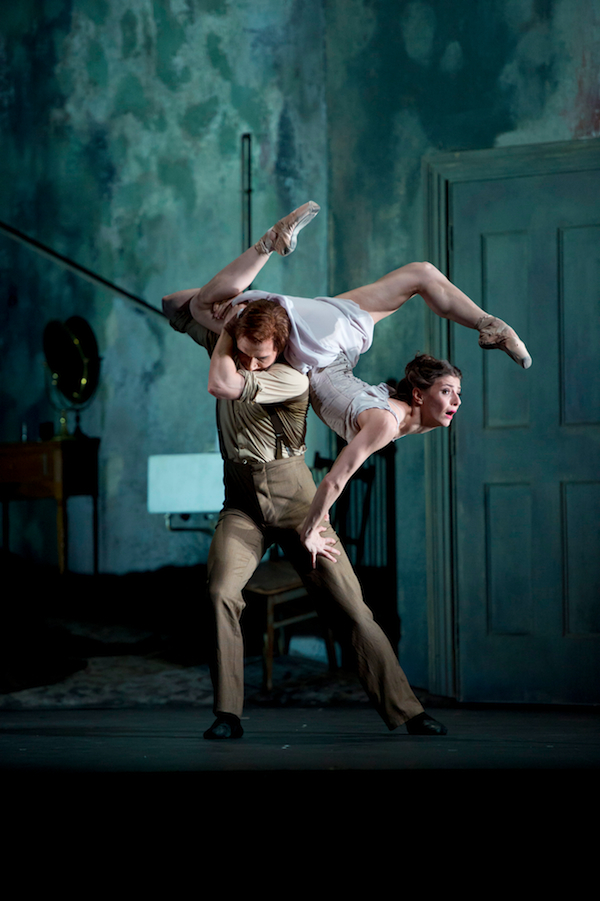 Each sinks under the ponderous weight of its own image-making, but Scarlett's is a sadder flop, being a youngster who has made an outstanding start in semi-abstract ballets for the Royal Ballet. Possibly he was urged to do a narrative because of the fatal attraction of the Kenneth MacMillan Mayerling tradition, but this is far too clotted a scenario about the forces that possessed Sickert's imagination, and his possible alter ego as Jack the Ripper (Johan Kobborg as Sickert pictured with Alina Cojocaru).
It's not at all a bad idea, actually: the sexual control that a creator allows his model or performer to have over his fantasy is an exciting theme, and the slanted, suggestive staging by John Macfarlane turns the audience neatly into peeping Toms. For 15 good opening minutes you watch the murder, see the artist torn in imagination and longings between "day" and "night" existences, addicted to recreating the newspaper reports for his own relish, peopling the fantasies with the drab prostitutes and shadowy men of his circle.
But then facts and names rapidly get in the way of a good story. The Prime Minister enters the scene, along with an evil spirit with black eyes ("Jack") and a man called Eddy, Sickert's model does a sexy striptease, another woman goes mad, and someone else murders someone else - all frenziedly complicated with gesture and mime, furtively lit, and with much scenery clattering importantly about.
Tamara Rojo relishes being 'partially nude' (warnings are given by the Opera House on this, for health and safety reasons)
Scarlett has a true and very promising choreographic talent, but a dance-maker isn't a News of the World reporter. He should have been firmly ordered by his seniors to stop trying to do a Mayerling-meets-Jekyll and Hyde, junk half the characters, change the music and distil to the emotional essence. The great Johan Kobborg is criminally underused in the main role, turned into a bufferish old Don Quixote wandering about the over-populated stage, observing his predicament rather than being in it.
The rest is typecasting: Thiago Soares as yet another handsome villain, Steven McRae yet another supernatural, Alina Cojocaru emitting sparrow-like misery in her translucently lovely way, Tamara Rojo relishing being "partially nude" (warnings are given by the Opera House on this, for the health and safety of the more fragile members in the audience). Laura Morera's madness is inexplicable unless you read all the programme notes later (she's had a baby by Queen Victoria's grandson - he's Eddy, that's why the Prime Minister came in...). All major artists in niggardly material.
Part of the problem is Scarlett's choice of music - piano trios by Rachmaninov, a man for whom excess is normal garb, but frankly, in this turgid, fraught obscurity, the three musicians had the best deal.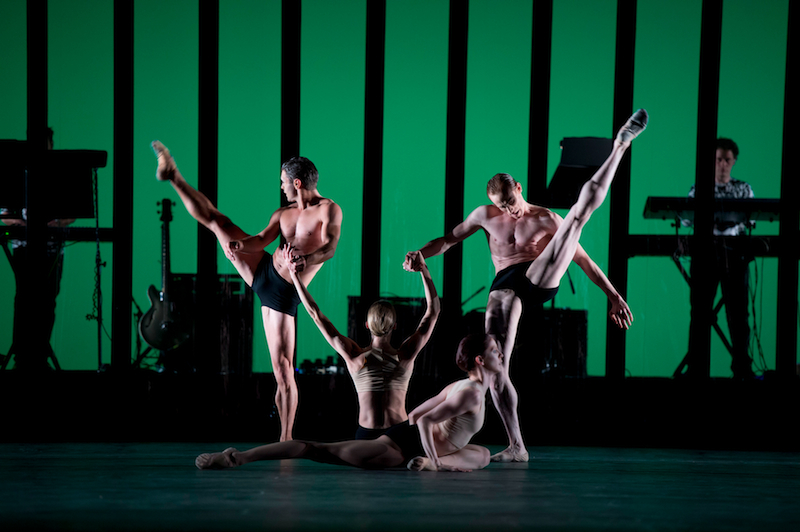 Above: Carbon Life, with Paul Kay, Melissa Hamilton, Olivia Cowley and Edward Watson
McGregor's Carbon Life is equally verbose, but in an anonymising way. Despite being vibrantly staged with live rock band upstage, and Ronson, Boy George and Alison Mosshart prowling the line, the piece's choreography is infuriatingly bland, turning its individuals in black bodysuits into an identikit unisex crowd. Every leg is similarly free and easy, every body similarly flexible, men and women merge in their mutant uniform (the shark fins and pointy hats are the signs of Gareth Pugh's involvement).
There are sudden but brief moments where humans replaced humanoids, such as an attractively spun duet for Sarah Lamb and Steven McRae. But generally it's a fast, sexless aftershock to the powerful disturbance Michael Clark was creating with similar ingredients 25 years ago, and yet again I feel that McGregor's choreography with the Royal Ballet looks ever more like a familiar house brand and ever less like a real inquiry (as he does show at his non-ballet company Random). This doesn't stop noisy love from the audience.
For true inquiry, true exhilaration, look no further than the programme's opener, Wheeldon's Polyphonia. Fierce, enigmatic, tender and provocative by turns, it is a spectacularly skilled and inspired exploration of balletic flexibility by eight dancers, in 10 clipped episodes that are indivisible from the spiky wit of György Ligeti's piano pieces, deftly played by Robert Clark. The acrobatics become magnetic pieces of dance by being so finely figured, Zen meets Cubism, as intricately tooled lifts catch the billow of a crescendo.
Leanne Benjamin, tiny and threatening, creates angles that apparently defeat possibility, Beatriz Stix-Brunell shows a gorgeously unhurried air of mystery in a rare (for Wheeldon) solo, and Alexander Campbell's musicality and Itziar Mendizabal's boldness show how well Wheeldon encourages individuality, even within highly controlled patterns. But oy vey, the rest of the evening after it.
Scarlett has a true choreographic talent, but a choreographer isn't a News of the World reporter
Share this article