France Remembers Claude François |

reviews, news & interviews
France Remembers Claude François
France Remembers Claude François
Biopic and DVDs fuel interest in the all-singing, all-dancing composer of "My Way"
Claude François: the constantly dancing dynamo known as "Cloclo"
If you're not French, there are probably two things you know about Claude François: that he wrote "My Way" and that he died from electrocution when fiddling with a lighting fixture while in the bath. In France, however, he's been part of pop-cultural furniture since the mid-Sixties and has remained so since his death in 1978. He's even more ubiquitous right now due to a biopic, DVD box set and TV specials dedicated to the constantly dancing dynamo known as "Cloclo".
Posters for
Cloclo
line Paris's streets.
Unlike Serge Gainsbourg, François has remained a local delicacy. It's unlikely the film will lead to wholesale reappraisals in the Anglophone world. His place in the entertainment world was roughly analogous to Cliff Richard, with a dash of Tom Jones. He first scored success as part of the early Sixties yé-yé scene, based around white-bread home-grown French pop that was a washed-out counterpart to what New York's Brill Building pumped out. Many yé-yé hits were covers of US songs with French lyrics. Unlike Johnny Hallyday, François was never a rocker.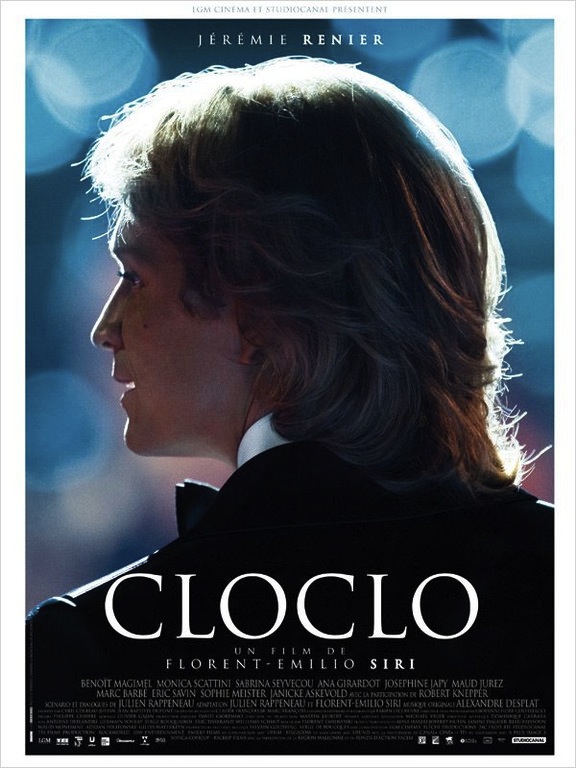 François began performing as a percussionist under the name Kôkô - which morphed into Cloclo - and initially hitched himself to the twist bandwagon. But his longevity was ensured by being able to write songs (even though masses of his recordings were covers of US or Brit hits) and dance. Boy, could he dance. For every performance, he constantly moved without breaking a sweat or missing a line. His all-girl dance troupe Les Claudettes (or Clodettes) accompanied him from 1966 onwards. The closest he got to UK success was a sold-out Royal Albert Hall show in early 1978.
He wasn't shy. He ran his own label, dated pop singer France Gall, had his own modelling agency and was the proprietor of smut mag Absolu. The American singer Paul Anka recognised the quality of Francois's "Comme d'habitude" and his recast of it as "My Way" was just one facet of what kept the blond dynamo on top at all times.
Watch the trailer for Cloclo
The biopic was released in France last month to coincide with the anniversary of his death on 11 March in 1978. It's two and a half hours long and stars Jérémie Renier – recently seen in Potiche and The Kid With a Bike. It's inspired casting as Renier was already a spitting image for François. He had to train hard for the film to keep up with the pace François set himself in live performance. This month's City of Lights, City of Angels French film festival in Los Angeles opens with a screening of the film, retitled My Way for export. Sinatra shadows François during the film, as a sort of spirit guide.
Florent-Emilio Siri's film has already been described by the Hollywood Reporter as "long-winded". It's probably not going to have the impact of the Piaf biopic La Môme (released in the UK as Piaf) or Gainsbourg (Vie Héroique) outside France, but it would be a shame if this opportunity to appreciate an important aspect of French culture slipped between the cracks in the Anglo-Saxon world.
Cloclo's release is accompanied by a DVD box set, compiled from live TV footage and a complete 1974 Paris concert. The package's book includes tributes from numerous well-known names, from the likely to the super-unlikely and deceased. President Valéry Giscard D'Estaing is quoted as saying François was, to him, the equivalent of The Beatles. A deadpan Françoise Hardy offers little more than that she was signed with François's own label.
Generation Cloclo is extraordinary. Live, François is James Brown with a soul bypass. He used to fake Brown-style on-stage collapses to grab headlines. Twenty-three slabs of full-on François leaves you gasping. He was unique. Thrilling, too. Next time you're in Paris, pay your respects at the Place Claude-François. The building he died in is on one side of the square. And, if you fancy going further, you could adopt the "Look Cloclo".
Watch Claude François perform "Reste" (his version of The Four Seasons's "Beggin'")

President Valéry Giscard D'Estaing said François was, to him, the equivalent of The Beatles
Explore topics
Share this article