Titanic Round-Up |

reviews, news & interviews
Titanic Round-Up
Titanic Round-Up
Shipwreck centenary prompts epidemic of TV programmes
Titanic prepares for her maiden voyage in 1912
I suspected that Julian Fellowes' Titanic (ITV1) would improve as it went along, but it hasn't. Sunday night's third episode churned along monotonously, listlessly keeping tabs on a list of characters who became less interesting the more you saw of them. We got a bit more of Italian waiter Paolo Sandrini and his instant undying love (just add water) for lady's maid Annie Desmond, plus the entirely spurious appearance of Latvian terrorist Peter Piatkow.
Supposedly he'd been at the Siege of Sidney Street in 1911, but dropping him onto the Titanic from a great height made it seem as if Fellowes was writing this stuff by throwing dice and picking names out of a hat. For the third week running, the credits rolled over a sinking ship.
There's far better value in some of the documentary programmes about the great liner currently peppering the schedules. Oceanographer Bob Ballard, who located the Titanic's remains in 1985 (pictured below), presented Save the Titanic (National Geographic), in which he made a convincing case that the wreck should be left undisturbed as a memorial to the 1,500 people who died in the disaster. Rich tourists can visit the remains by paying $60,000 for a trip in a submarine, but these excursions have already caused visible damage to parts of the ship, while artefacts lifted from her are being traded for huge sums.
Ballard visited descendants of the Guarantee Group, a squad of engineers and technicians from shipbuilders Harland & Wolff in Belfast who sailed on Titanic's maiden voyage to make sure all systems were functioning properly. None of them survived, and their relatives are emphatic that the wreck should be treated as their grave. Protective legislation has been mooted, but it's a long time coming.
Film director and explorer James Cameron gave full vent to his geekish obsession with the wreck in Titanic: The Final Word (National Geographic). He had gathered a group of fellow fanatics with backgrounds in science, oceanic research and history, to try to analyse exactly what happened to the vessel after she hit the iceberg and sank to the ocean floor four kilometres below. For instance, how had large chunks of keel been ripped off and deposited hundreds of yards away? How had the rear of the ship been shattered as if by huge explosions?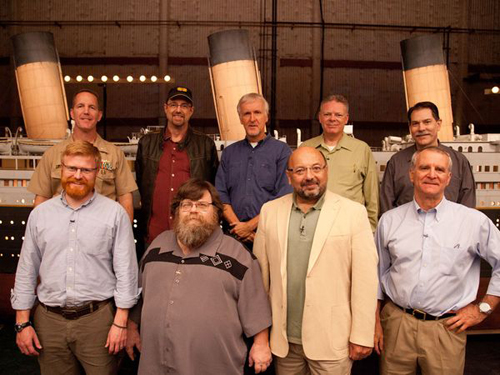 Cameron (pictured left in middle of back row), leading his troops like an irascible wartime admiral, was determined that their conclusions would be unhampered by historical baggage. "What is history?" he demanded. "History is this kind of consensus hallucination." Whether Jim & co successfully lifted the delusional fog from Titanic's final plunge remains moot - some of his technical conclusions must be speculation, despite the monsoon of digital analysis he has hosed over the case - but the passionate commitment of his team was extraordinary. Ken Marschall, a "visual historian", has been painting pictures of Titanic since 1967, and recalling the shock at seeing the mangled state of the once-beautiful vessel still moves him to tears. Similarly, researcher Bill Sauder sobbed as he recalled opening a perfume bottle retrieved from the wreck, and how its still-fresh smell momentarily banished the reek of death emanating from other Titanic artefacts in his laboratory.
Coming up on 10 April is Titanic: The Band Played On (Yesterday), in which the relentlessly chirpy Suggs (from Madness) seeks to peek behind the myths about the ship's musicians who kept playing until the end. Irritatingly, the film still can't confirm that they really were playing "Nearer My God To Thee" as waves lapped over the deck (the wireless operator reckoned they were playing "Autumn"). It's symptomatic of a dearth of hard evidence that leaves the programme wallowing in the water.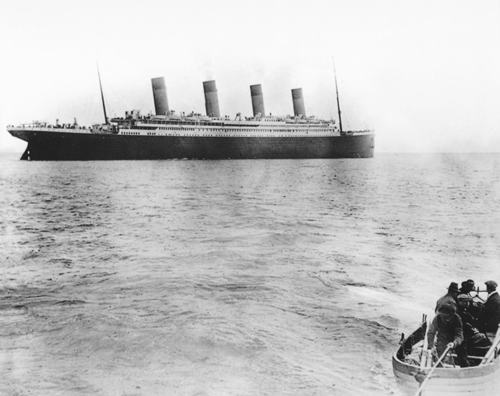 The most original film on view is Titanic: Case Closed (National Geographic, 10 April), in which Titanophile author Tim Maltin advances a novel theory about how freakish atmospheric conditions could have played a critical role in the sinking. The extraordinarily calm sea, plunging temperature and unnatural brilliance of the stars on the fateful night were remarked upon by survivors and crews of other vessels in the area, and Maltin argues that the phenomenon of the "cold water mirage" may have prevented Titanic's look-outs from spotting the iceberg in time (the last picture of Titanic, above). This could have been the result of the ship passing through an Arctic High weather front, while also encountering the effects of the freezing Labrador Current (which carried icebergs down from Greenland) as it met the warmer Atlantic waters.
Maltin also suggests that visual refraction effects may explain the mystery of why the nearby ship SS Californian failed to come to Titanic's aid, bearing out its captain's claim that he could only see what looked like a small cargo ship, although this wouldn't explain why Californian ignored Titanic's stream of distress rockets. One thing you can rely on, though, is that "Case Closed" means nothing of the sort in the endless Titanic mythology.
Titanic: The Band Played On (Yesterday, 9pm 10 April)
Save the Titanic with Bob Ballard (repeated on National Geographic, 5pm 10 April)
Titanic: Case Closed (National Geographic, 10pm 10 April)
Watch trailer for Titanic 3D
Oceanographer Bob Ballard argued that the wreck should be left undisturbed as a memorial to the 1,500 people who died
Share this article